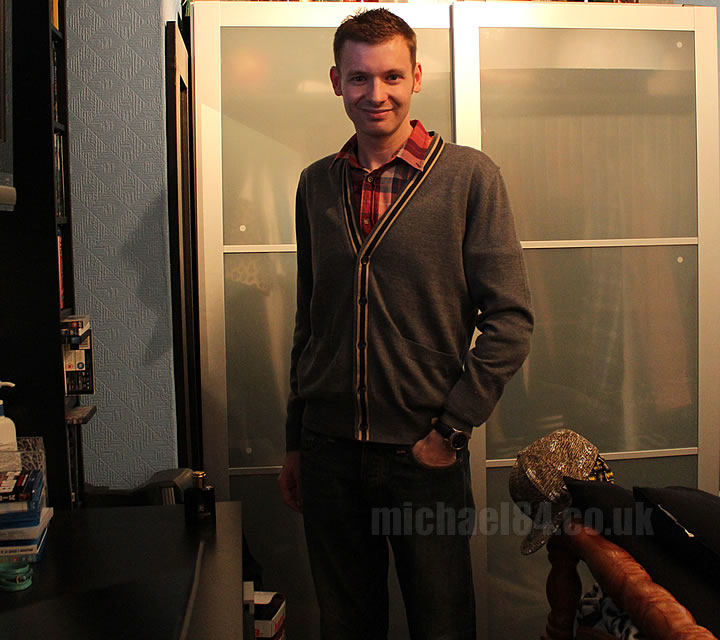 He By Mango Cardigan, DR Denim Shirt, Versace Watch, MR KG Kurt Geiger Shoes, Nudie Jeans
Hello blog 🙂
Shit I am tired! We were out last night, I can't remember what time I got in, maybe around 2am, but make the mistake of listening to music until 4am! Then made the further mistake of waking up at 9am and not bothering to try to go back to sleep, so I feel shattered!
Last night we went out in Newcastle as we do, and started off in Jesmond and went to Osbournes. It was pretty good. We had intended on going to As You Like It, but the hilarious taxi driver convinced us to go to the town. For the entire journey he was telling us about how The Diamond Strip was the place to be, it was the place with the girls, and we needed 18 year old hot girls

He was an old guy, and was talking constantly about younger women, I tried telling him I like older ones who have something interesting to say about themselves but he was having none of that 😀 He then told us "When I was 21 my wife was only 5" and we all laughed!! The taxi driver was a legend, as many of them are.
We went to places like Tokyo which is always pretty good, and Perdu. The taxi driver should go into predicting the future or something because we did meet some girls, they were cool, one girl in particular who I met 😉 I did not get her number/give her mine, I have such a paranoia about giving my number out

I really should have though. I should be like the other losers, "I'll add you on Facebook…" haha :p
It was so hot out in Newcastle last night! I knew it would be quite warm beforehand because I checked, so I did not wear a coat but I did wear a shirt and a cardigan…My got I was boiling! The night ended like most do, a Subway sandwich, I have such love for their flatbread now 😀
Thanks For Reading...Want More? 🙌
Hi, I'm Michael 👋 I'd love you to subscribe to my newsletter for exclusive content & updates on my blog straight to your inbox. (No spam, I promise!)