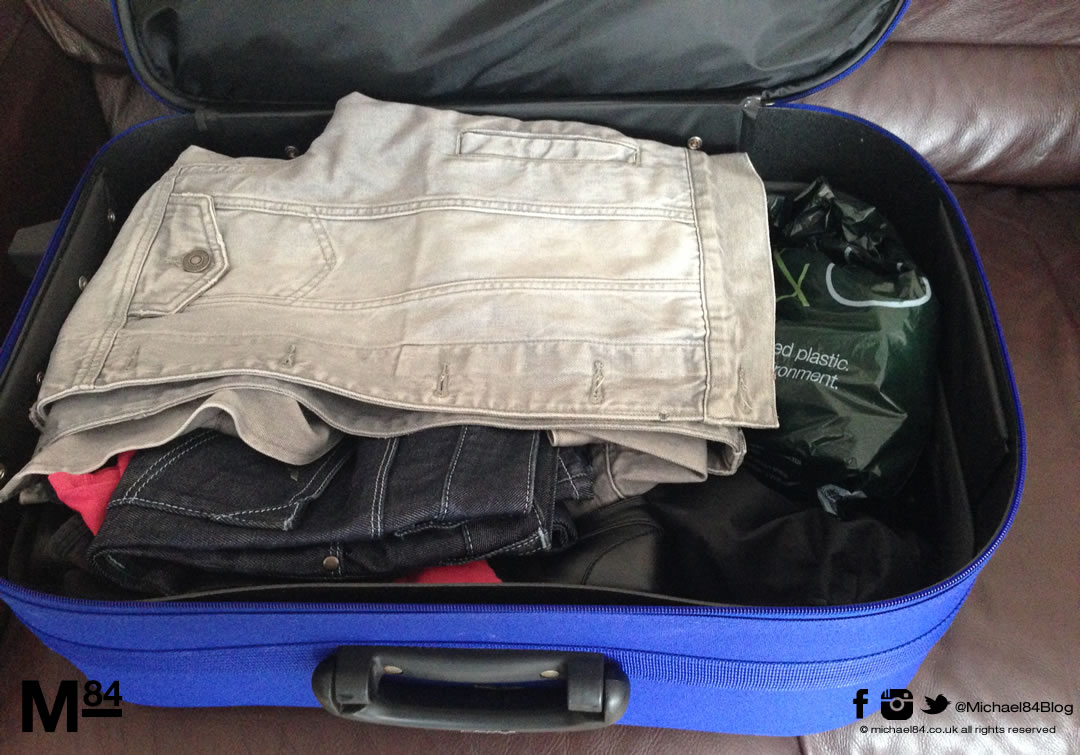 A Stag Do is all about that last night of freedom, out with the lads for one last big night. However the stag night is now changing, we used to have a big night, and now we're having big weekend's away, some are even going away for a week for their stag do. Going away for the weekend means packing, so you need to know what you'll need to take with you and make sure you don't forget anything.
Here is my handy checklist and essential guide to how you should prepare for a weekend away.
Know Your Itinerary
Where are you going? What are you going to be doing? These are two pieces of essential information you need to know before you start to pack. Different types of weekends will require different types of things; If you're going to be going skiing in January it's probably safe to say you can leave the flip flops and sun tan lotion at home. It's key to know where you are going, and if there's any planned activities which you may need to pack for.
Pick Your Baggage
If you're taking a flight then there's two different types of baggage you can choose from; A carry-on, and hold baggage. A carry on will be smaller, fits on the plane and will be included in the price of your ticket. If you want something bigger, you'll usually need to pay extra for hold baggage, but you'll be able to take a suitcase which can hold a lot more (usually 15-22KGs depending on the airline).
Which you choose will depend on how light of a traveller you are, and the amount of things you will need for your weekend. If you're travelling with a group, it may be worth seeing if you can get one hold bag between two or three; Then you'll be able to take more things, a shared suitcase and carry-on bag each, and it will save on the cost.
For the carry-on bag I love weekend bags with shoulder straps, and then there's backpacks too. If you are going down the stylish route and want to take something which looks cool and is practical then the Little America backpack from the Herschel Supply co is the one to choose. It's spacious, and has a luxurious pocket inside which is designed for a laptop, but can easily be used for a tablet or all your other gadgets.
Remember you'll have to carry your baggage around with you, so a small suitcase with wheels and bag with a shoulder strap or two would be the preferred options to keep things light and easy.
Money, Keys, Phone, Passport, ID, Tickets
Probably the most essential things you'll need to take. Remembering you're keys should be a given, but you never know how forgetful you could be when packing in haste. Passport and tickets, again something you should not be forgetting; Keep them on you, or in a zipped pocket in your hand luggage. Take some ID too, a passport should be OK, but if you plan on driving you'll need your drivers license too, and remember a lot of countries require you to be carrying ID.
Most EU countries use Euros, so you'll want to get some of those, but don't forget to take some Pounds too. You'll need money for a taxi, at the airport and also a taxi home too. Check the currency of the country you're going to; Some places don't use Euros. These include Bulgaria (LEV), Denmark (Danish Kroner), Iceland (Icelandic Kroner), Norway (Norwegian Kroner), Sweden (Swedish Kroner), Poland (Zloty), Turkey (Turkish Lira) and if you're going further afield then you'll need other currencies.
Don't forget your phone. It's not the 90's, you don't need to leave it at home switch off, calls and texts are not too expensive, and you'll want to have your phone so you can keep in touch with people on the stag weekend because it's almost a certainly that someone will get drunk and get lost, or you'll need to contact someone about something at some point.
EU Health Card/Travel Insurance
The boring part. You'll need to take some travel insurance, and don't forget your EU health card. It's free, entitles you to free basic healthcare abroad and you can carry it around with you. Travel insurance is not expensive, so there's no excuse not to have any.
Medical Supplies
Another boring but essential thing to take, a couple of medical things. If you think you'll be walking around a lot then you'll want blister plasters, trust me you'll be glad you've packed them if you're doing a lot of walking! 😀 Other general medical supplies too, such as painkillers or things for hangovers should be packed.
Electronics, Gadgets And Chargers
Remember you're on a stag do, so you'll want to keep the gadgets down to a minimum on this one, but still, you may want to take a couple of things. Mobile phone as mentioned above, and you might want to take a camera, but I'd keep it to a compact and not a DSLR; it's about fun capturing the hilarious antics rather than getting a perfect photo. You'll probably not want to take a tablet, you'll probably only use it on the plane, and it could get damaged/lost. Whatever you're taking, remember the chargers and travel adaptors.
Clothing
Clothing is probably going to eat into your luggage the most, so you'll only want to take what's necessary, as well as some extras in terms of underwear. I would pack an extra pair of socks and boxers, but the rest only essential items. Plan out what you're going to wear, remember you'll already be wearing your airport outfit on the day, and you'll need clothes to travel back in. If you're going to be going to a strip club or night club, check their dress code in advance if you can, as shoes may be required.
Pack clothing for the occasion. If it's a summer thing you may want to pack a couple of T-Shirts, a pair of chinos and smart shorts. If it's Autumn or Spring you might want to pack a bit warmer, and of course if it's freezing you'll need to wrap up. Remember that fancy dress or stag T-shirts could also be on the cards, so you'll need room in your luggage if you're dressing up.
Grooming And Hygiene
You'll want to look your best on the stag night, so don't forget your usual grooming regime. That means taking a bottle of your favourite scent, as well as the usual deodorants, hair product, shaving kit as well as the essential shower gel, toothbrush and toothpaste.  Remember you can get small travel sizes of the essentials, and they're worth it for the space you get to save. Put them all in a wash bag, and put that in your luggage.
That Covers It!
I think I have covered everything which you should be taking, or at least thinking of taking on a stag do away. Pack a day or two before hand, get everything ready and you'll take a lot of stress out of the whole situation, not forget anything and be all set when travel day comes around. You can check out the Expedia guide which covers the essential stag checklist, to make sure you don't forget anything here.