The other day I got this box from Adidas, and I was as excited as a child!

Adidas launched the new kits for all their international teams, including my team, Spain. I went down to the Adidas store a couple of weeks ago on launch day, but they only had the standard home shirt in, and I wanted to get the Adizero version this time round. I've had the players editions before, last time I did not bother because I bought a standard top, so this time I decided I would only get the players edition, so had to wait for the delivery, and they finally came!
If you've been reading my blog since day 1 you'll know that I always buy the Spain shirts, and when I say I buy them, I get virtually as many as I can! 😛 Being a Spain fan in the UK has been tough, it's always been a challenge to get some of the shirts, especially things like the goalkeeper shirts which Adidas don't usually market in the UK; Last time round they did one which I got, and had to send off to the USA for the other (which cost a fortune plus duty & import tax!!). I've bought direct from Spain a few times which always costs a lot more plus lots of shipping, so this time round I was so happy that Adidas UK are finally selling a lot of Spain gear in the UK 🙂
Of course that means that I bought a lot…A hell of a lot! I got the Adizero home shirt, the standard away shirt, and the standard goalkeeper shirts, both home and away. I got the 'keeper shirts with printing, and of course it had to be no.1 Casillas as I've had on my previous few shirts. I got a training top too, and I have a further two training tops which I have given to my mam to put away for me for Christmas 😛
Official Home Spain 2016 Shirt Adizero Players Edition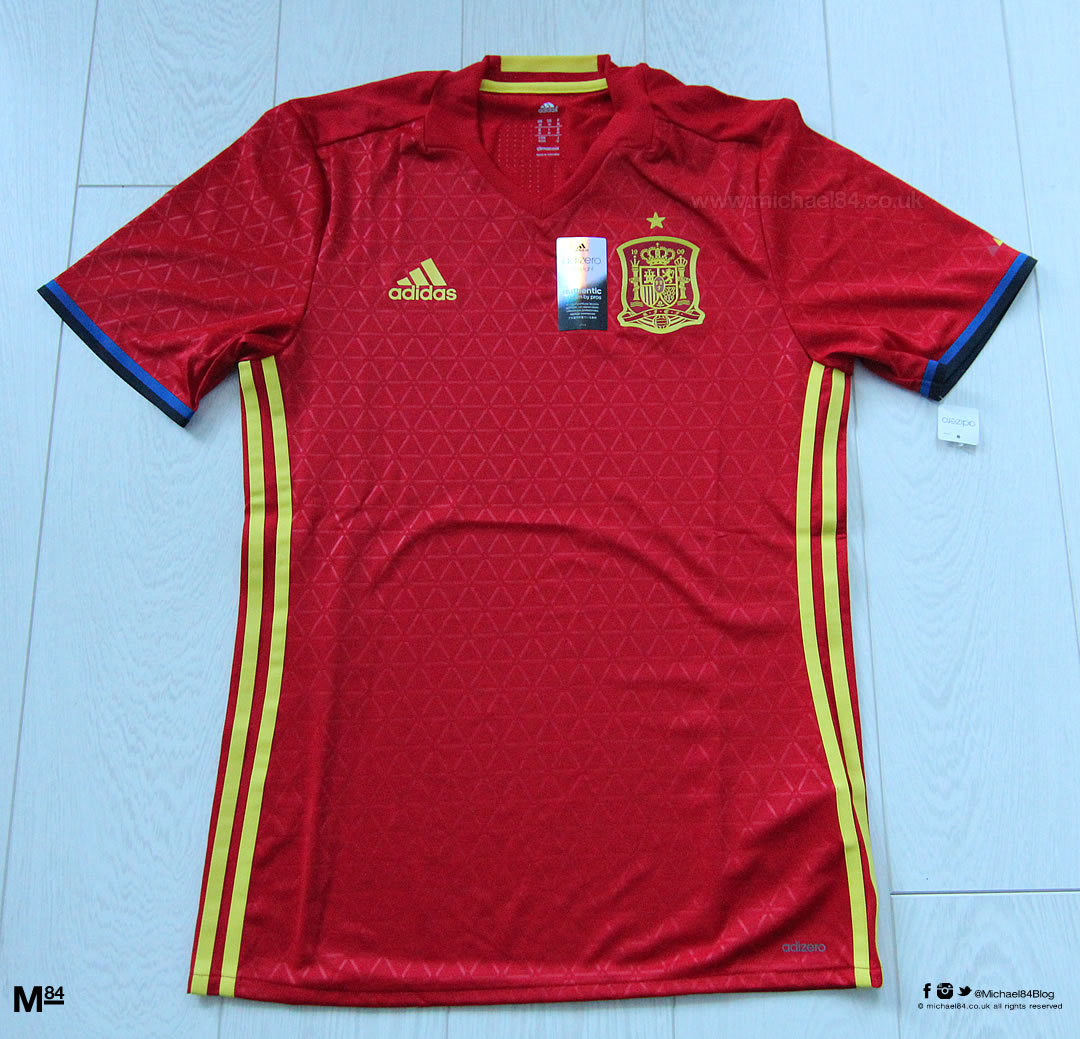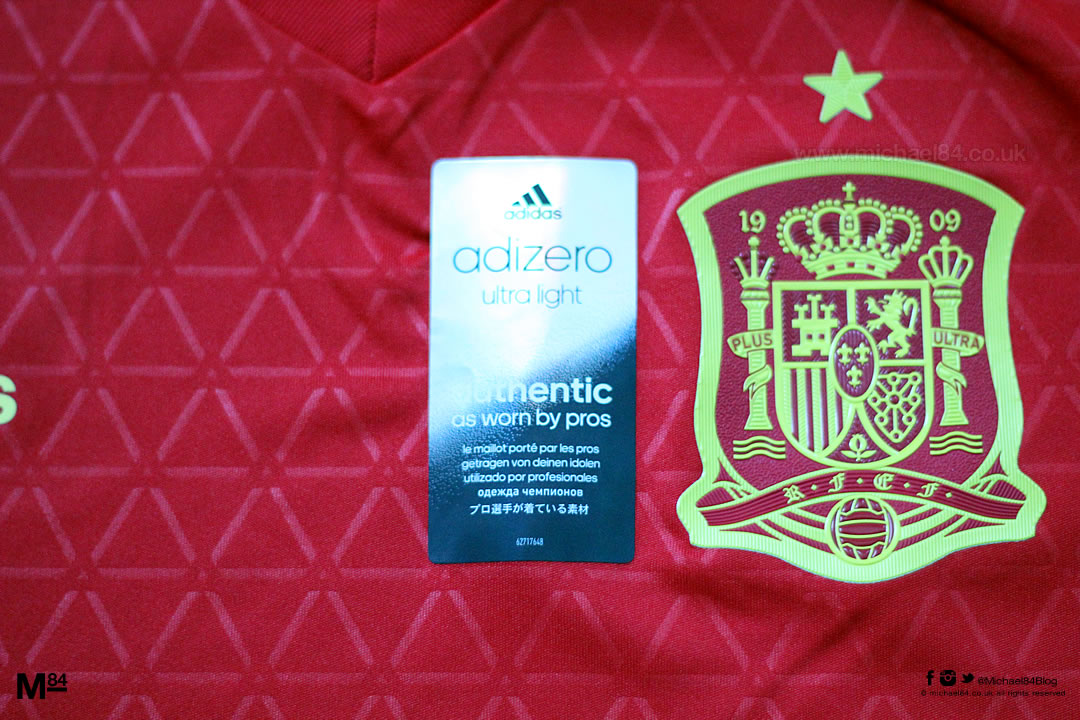 The Adizero players version is a lighter shirt, with a vented back, a better, tighter fit and the badges are heal seals rather than embroidered.
Spain 2016 Away Shirt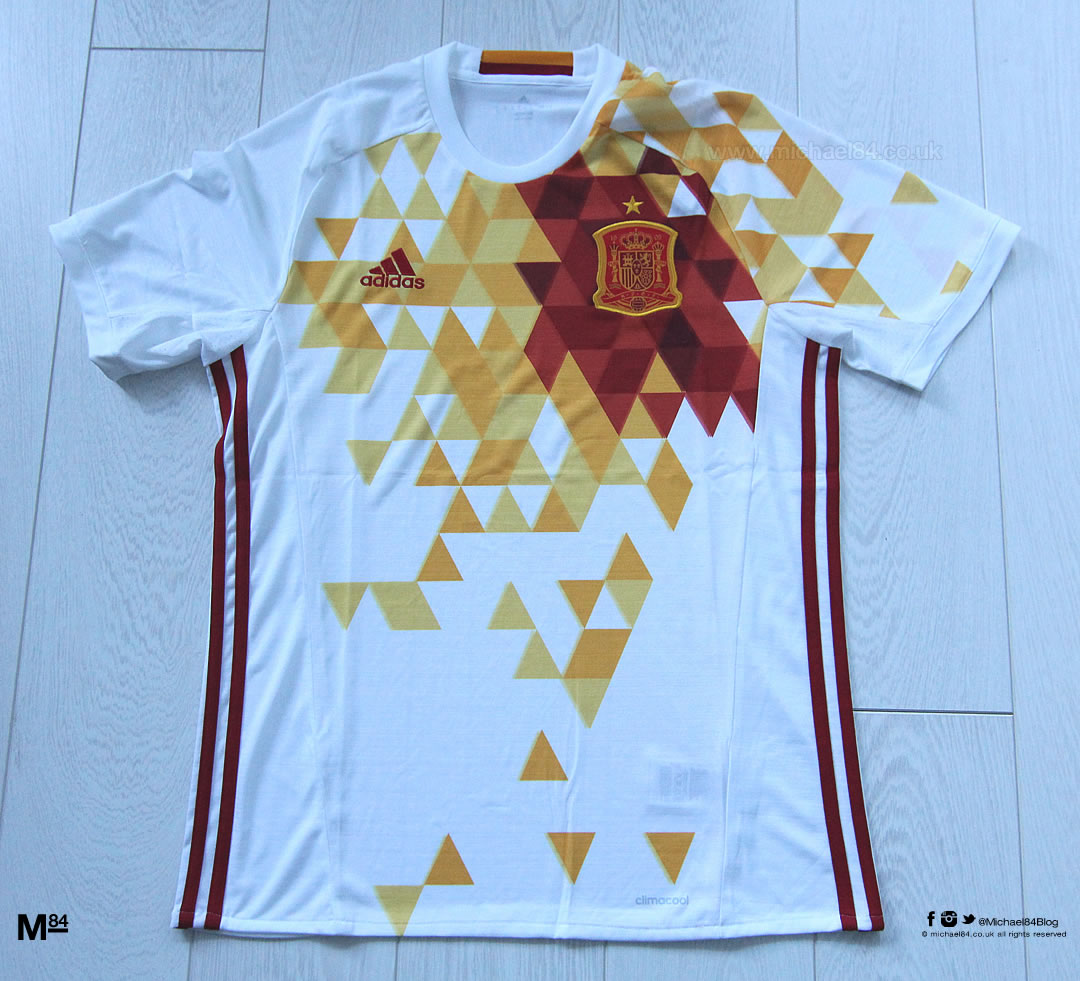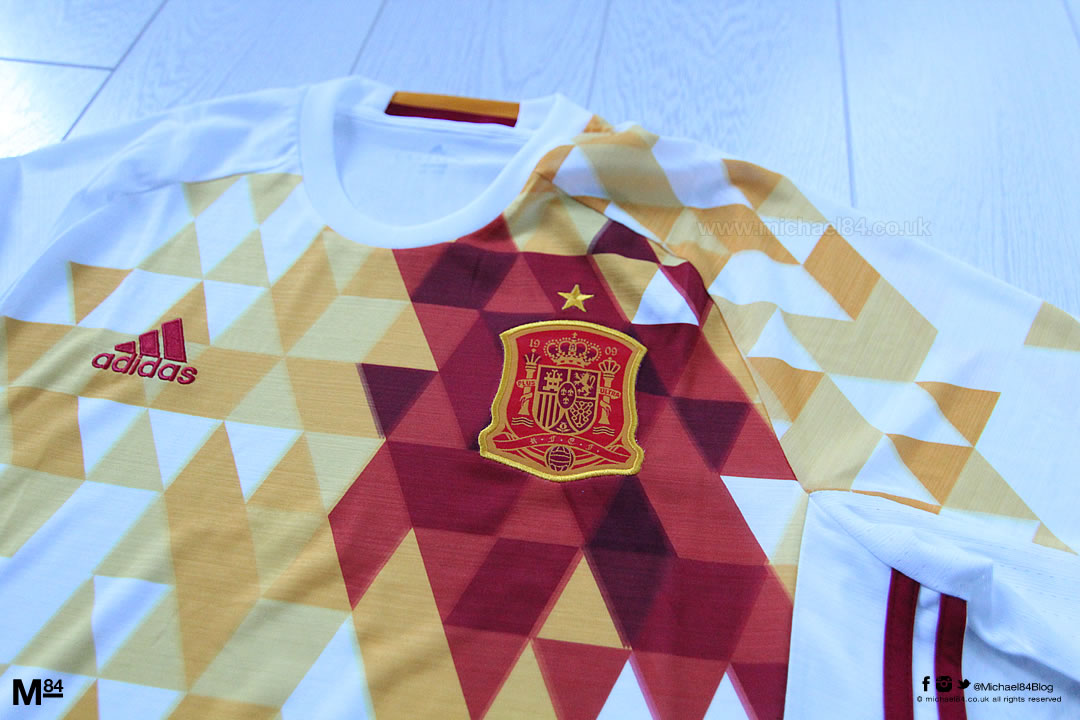 The away shirt looks like a weird quirky design, but it comes together when you understand the story behind it. It's a heat map of Fernando Torres when he scored the winning goal in the final of Euro 2008. I didn't really like this design before I knew that, but now I do it's growing on me more and more. It's now iconic, and everyone remembers Fernando Torres for that winning goal 🙂
Spain 2016 Home Goalkeeper Shirt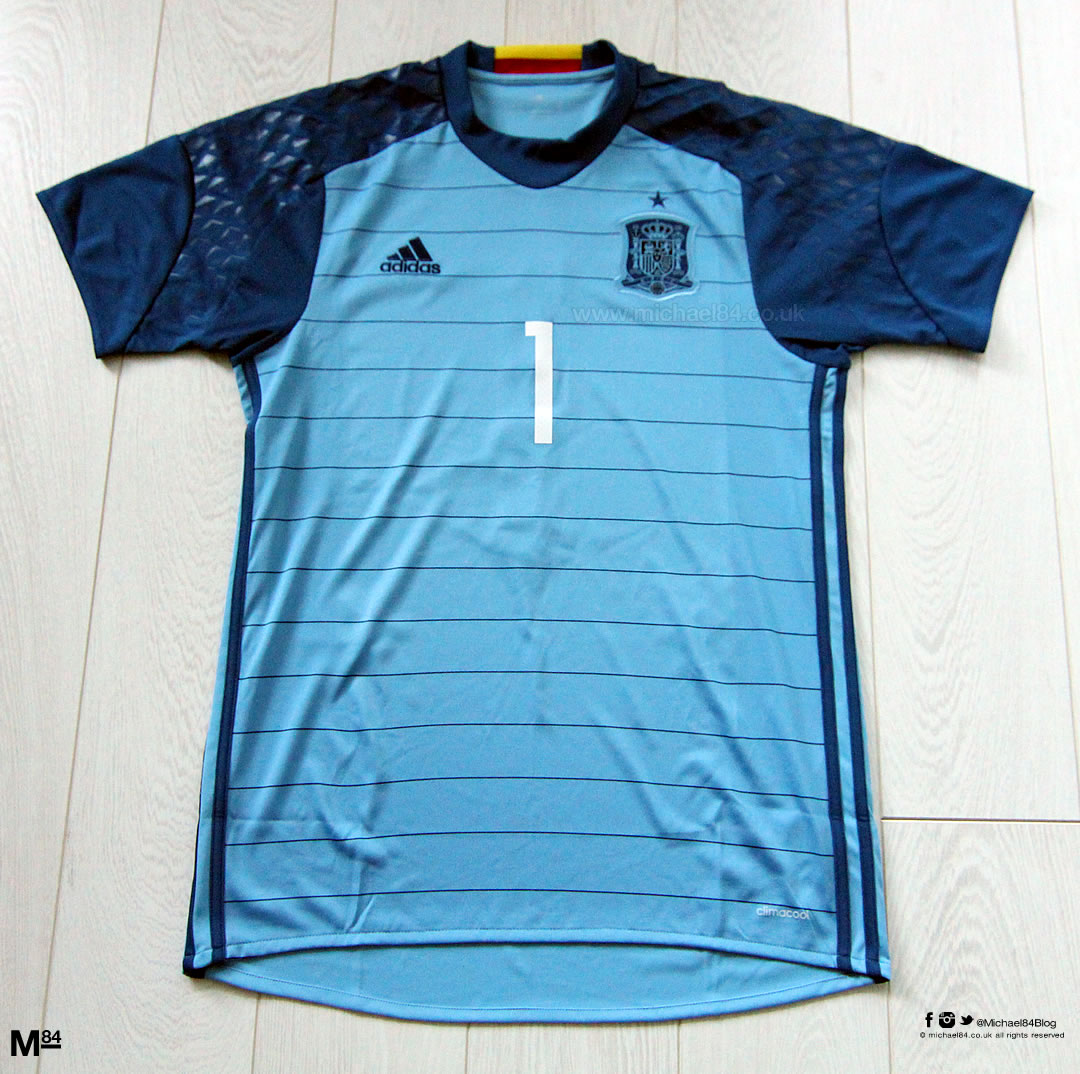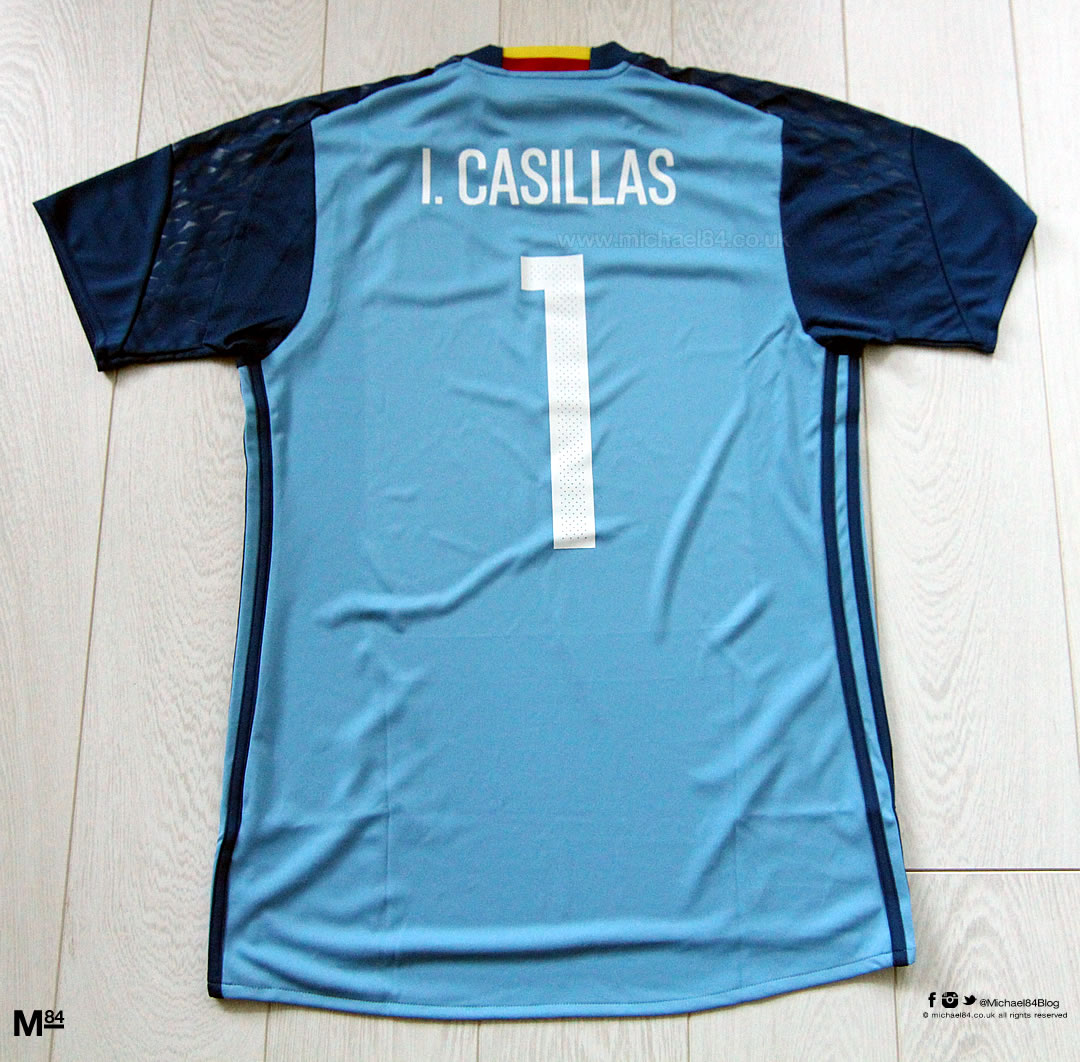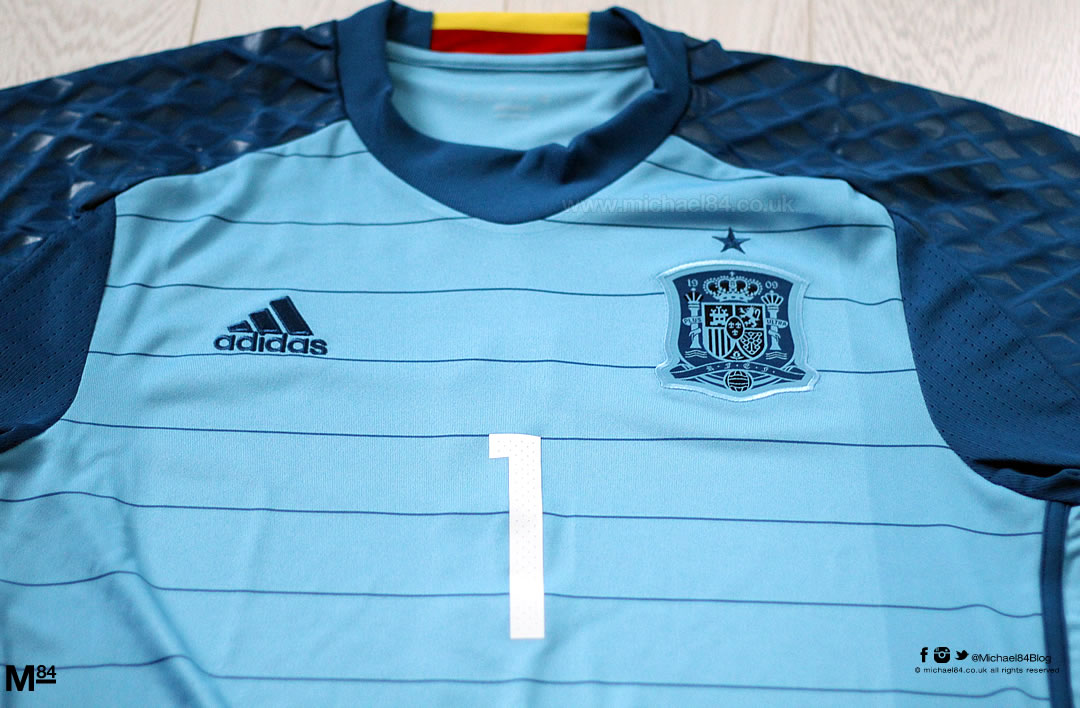 The home goalkeeper shirt is a really nice blue with pin striping, and dark blue trim and sleeves. I got a number 1 and Casillas printed on the shirt, as I've done for several years now. The number is perforated and a different style to the away number which is odd. It's a similar colour to the previous one.
Spain 2016 Away Goalkeeper Shirt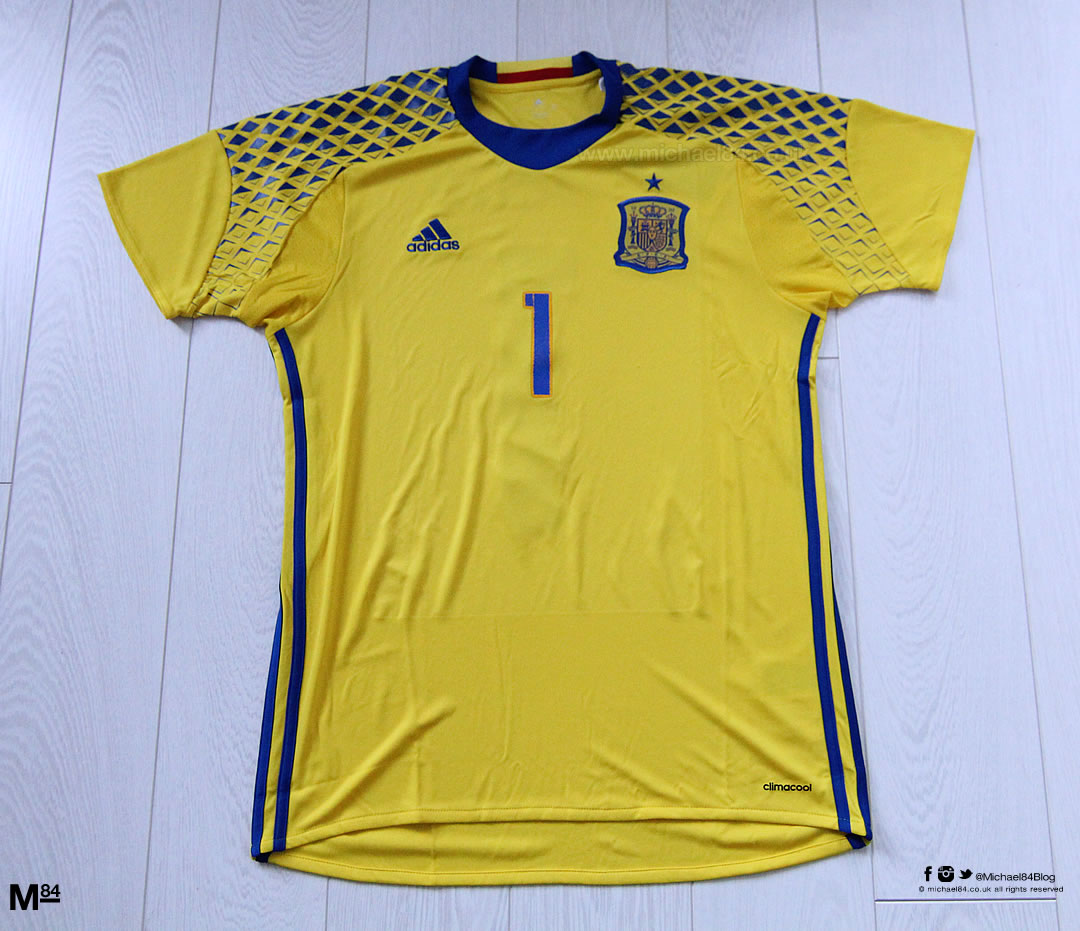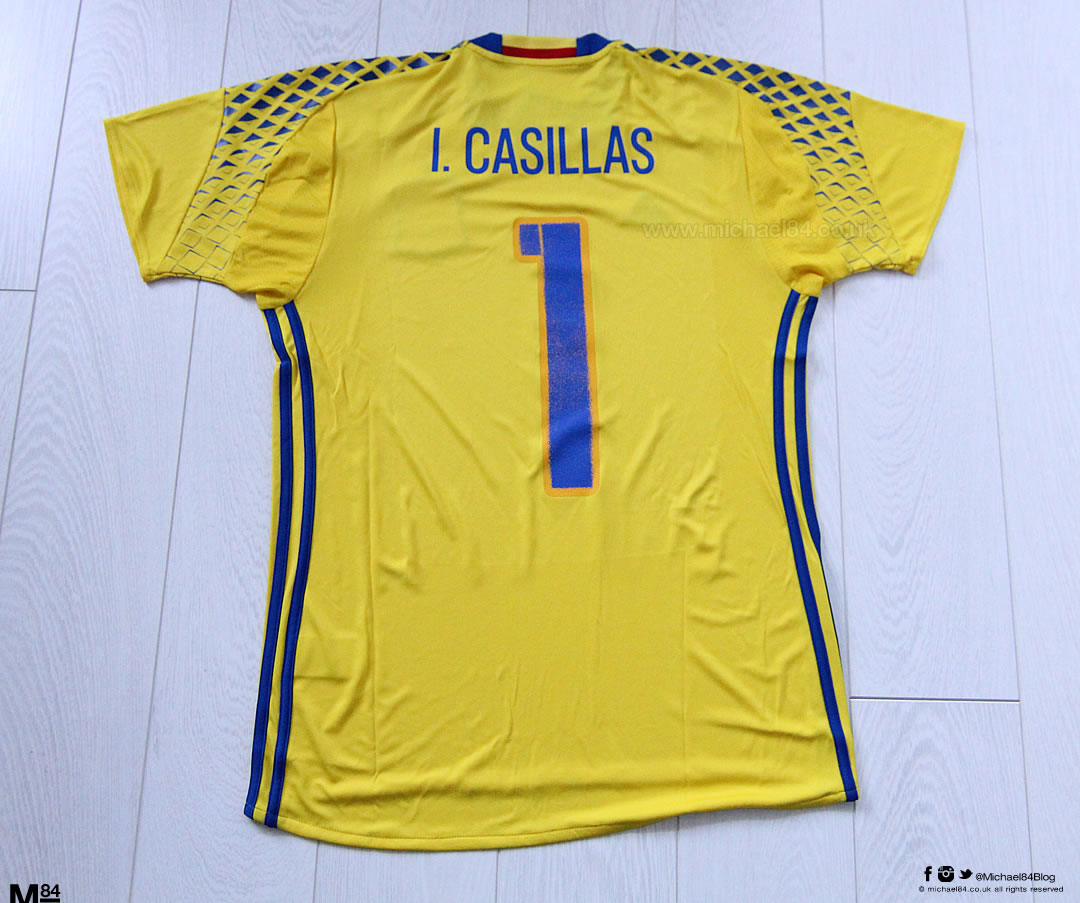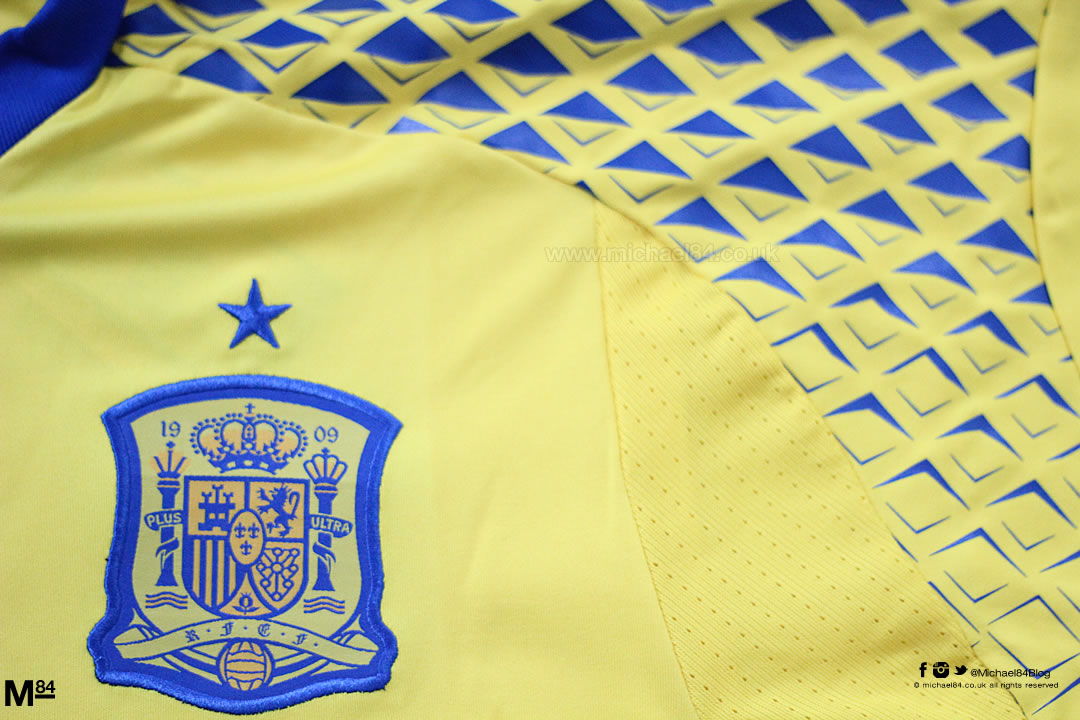 The away goalkeeper shirt is yellow and blue and I love it! The colours work really well, and has the diamond pattern on the shoulders as seen on all the other shirts. Once again I went for the number 1 and Casillas print, as mentioned this is a different style number to the home shirt, it's sort of a block with speckled paint effects within it.
Spain 2016 Blue Training Shirt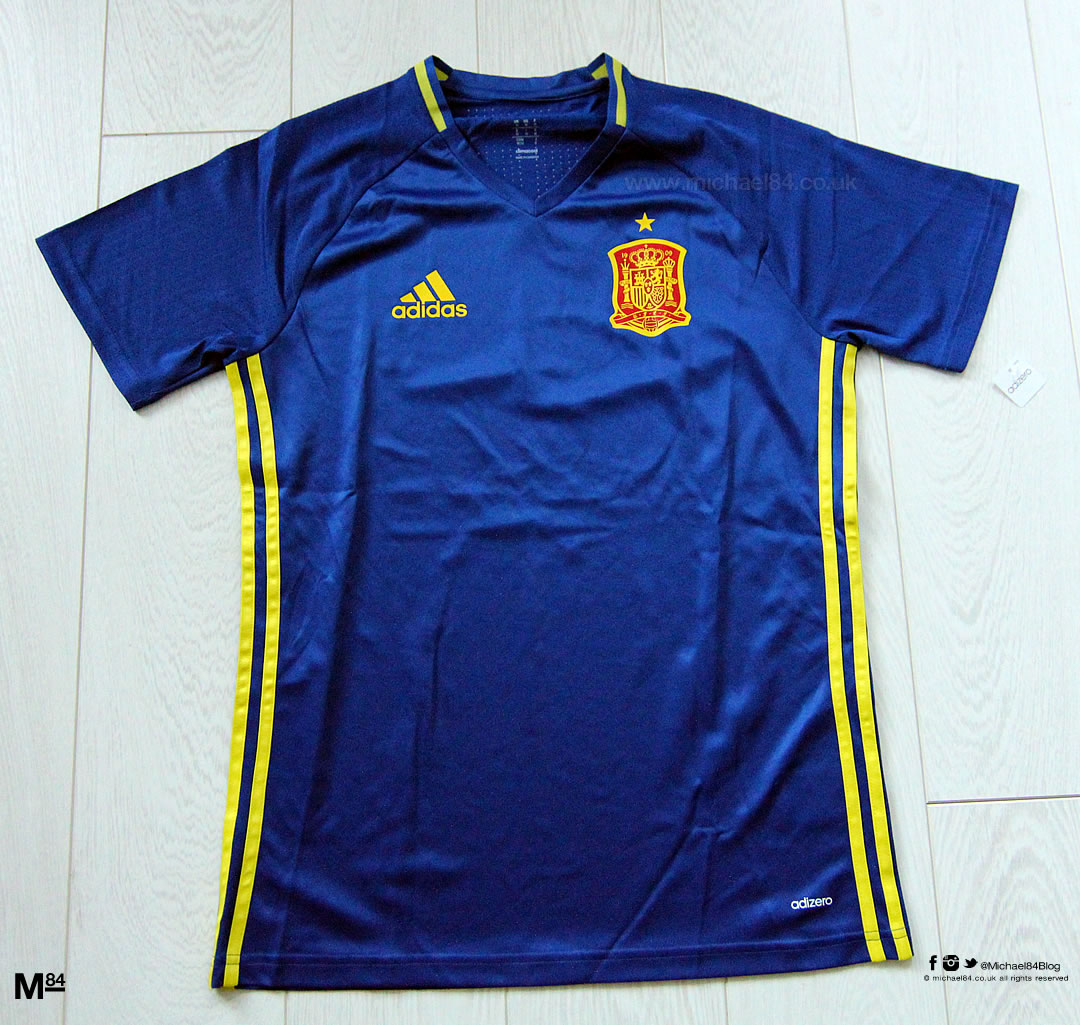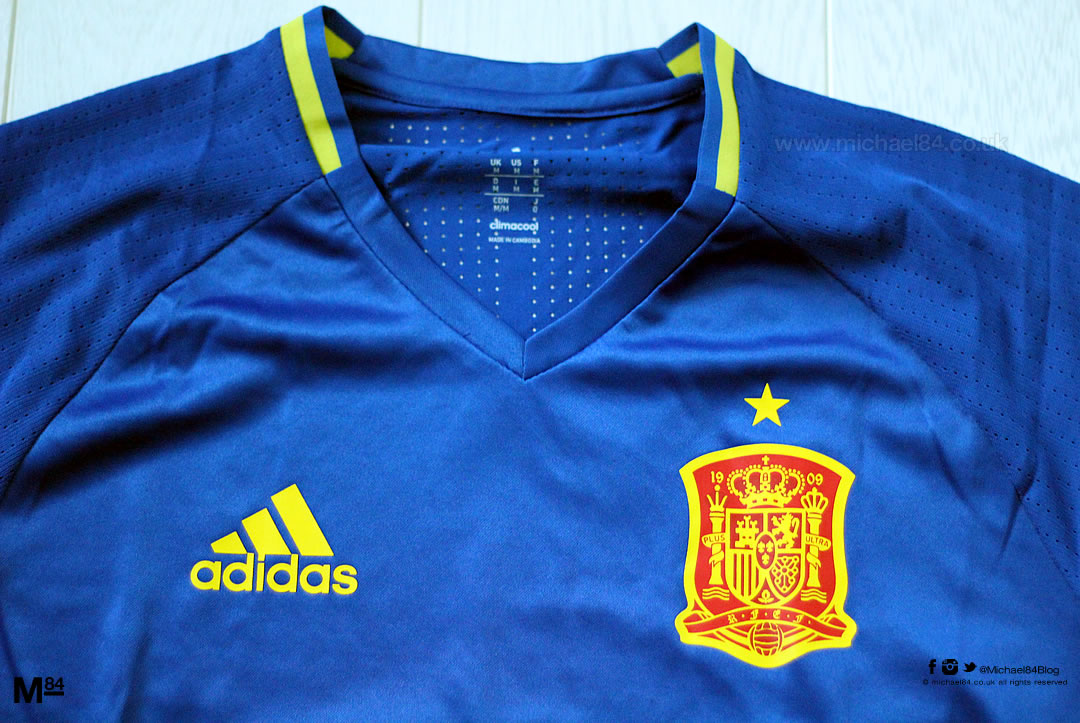 I love this colour blue! The picture does not really do it justice, and a lot of the training gear is this colour. This is the royal blue training top, an Adizero shirt which means it's a really good fit, and has vented perforations in the back the same as the official home shirt does.
Unboxing!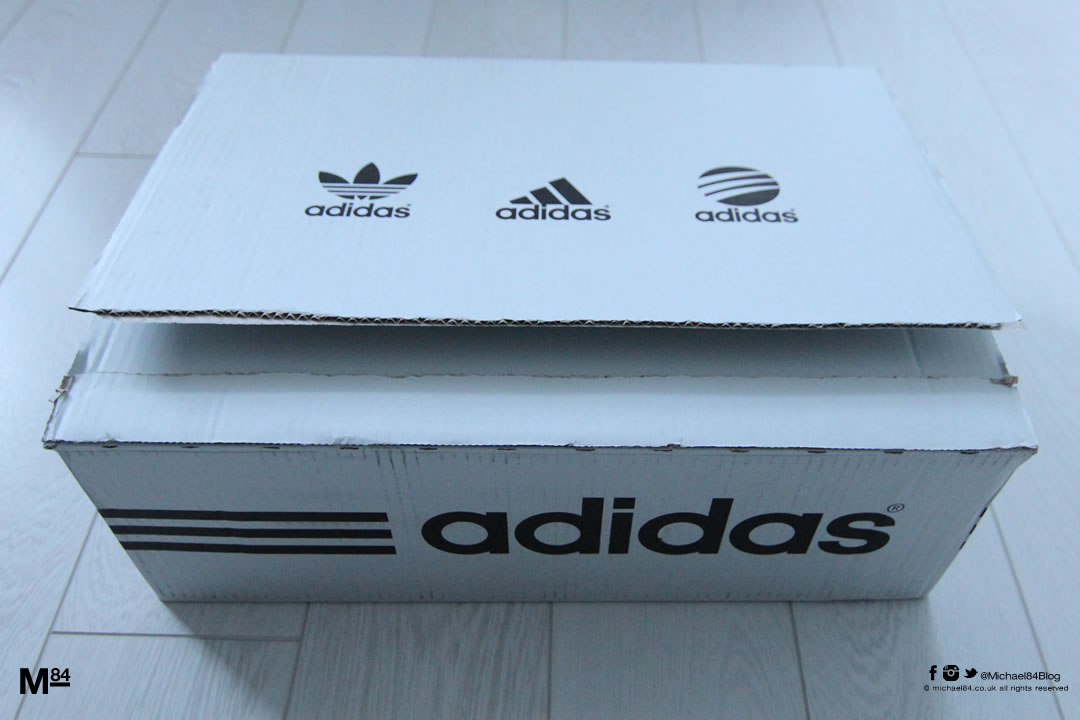 The biggest box ever from Adidas! 😛
Thanks For Reading...Want More? 🙌
Hi, I'm Michael 👋 I'd love you to subscribe to my newsletter for exclusive content & updates on my blog straight to your inbox. (No spam, I promise!)