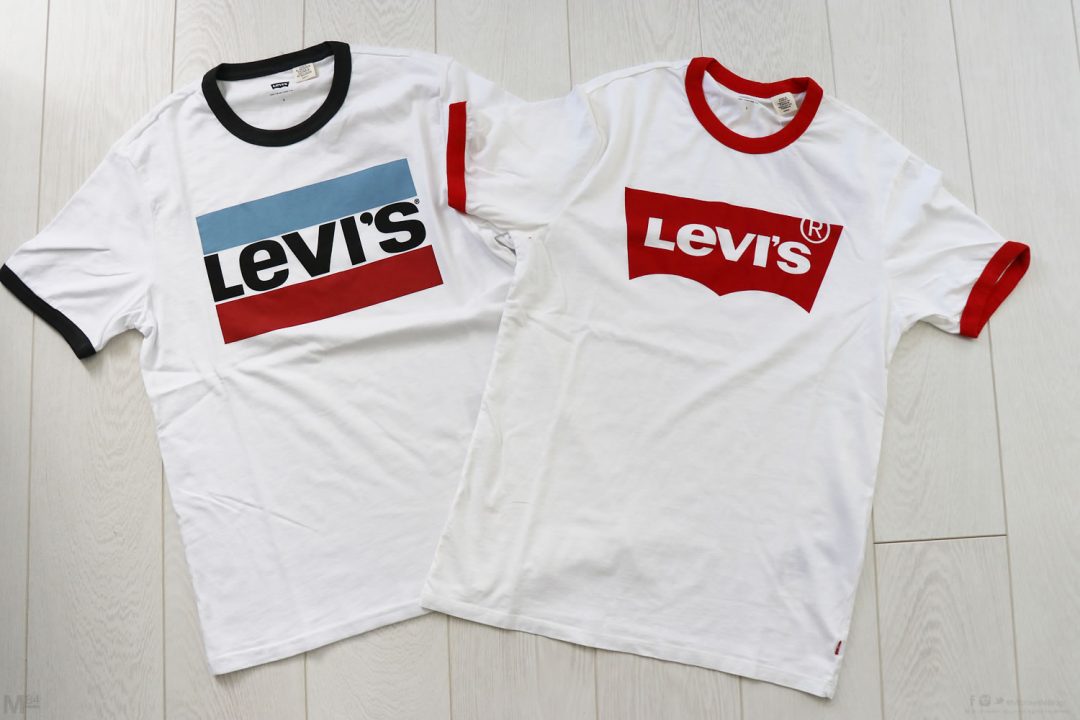 Happy Easter! I hope you're having a good one.
I got myself a couple of Easter presents, and got some of the new Levi's ringer T shirts for Spring and Summer this year.
I really love ringer tees. They were popular in culture and fashion in the 70's where they really made their mark, and were still big in the 80's, but since then, they've never really been that hot in menswear fashion or life in general.
But I've always really like them, and never really owned one, and now I've got two. Both of these feature two of the Levi's logos which have been gaining in popularity over the past year or so. You'll remember I got two levi's t-shirts last year, plain tees which have these logos.
The one on the left I've been looking at getting for several weeks. I really like this logo, it's one Levi's used which takes inspiration from the Olympics. This time the colourway has changed, they've gone for a lighter blue colour which I really love on the white tee. This is complimented by the ringer neckline and sleeves being a navy blue, I really love the colour combinations and think they work well.
The second one is all about classic Levi's. It's white with the contrast being red, with the traditional housemark logo. Red and white is so timeless and synonymous with the brand, and once again I think they've got this right. I was lucky to get this, I was only going to buy the first one, then happened to see this one which was brand new, so I am glad I got both when I did.
The sizing is quite strange. I have the same size in all 4 T-shirts, however the classic housemark logo tees is slightly bigger and the Olympic logo tees are slightly smaller, that might be worth thinking about if you're looking to get one.
With their "Live In Levi's" campaign they are really going forward in terms of popular culture, until last year it wasn't really a brand which I'd buy, they have a lot of history but sometimes that's not a good thing; However it seems now Levi's has brought themselves back into being fashionable and cool again. You'll have read all about my thoughts in my Levi's story I wrote last year. But I am now a fan, with their selvedge denim which is nice and the 511 being a great fit, the tees are back to being cool and at only £25 each, they're worth the investment for the warmer weather.
I can't wait to wear these and I'll feature them in outfit posts soon.
What Is A Ringer T-Shirt?
If you don't know what a ringer T-shirt is, or haven't already guessed, it's pretty simple. The body of the tee is one colour, the sleeves are the same colour too, apart from the very end of the sleeves, the 'bands' or ribbing which are a contrasting colour, as is the neckline of the shirt. Popular combinations are a white body with blue, red or black ribbing, and alternatives with different colour bodies and contrasting colours.
Let me know what you think of these and ringer T shirts in general.
Thanks For Reading...Want More? 🙌
Hi, I'm Michael 👋 I'd love you to subscribe to my newsletter for exclusive content & updates on my blog straight to your inbox. (No spam, I promise!)