Happy Saturday guys!
Autumn is here, and so it's time to start thinking about changing the wardrobe around, or getting a couple of new items. I wanted a pair chinos which are a lighter shade, to I got myself these beige chinos.
I already have a couple of pairs of white and off white colours, and wanted something light but not too bright, and I think these fit the bill.
They're from Mango Man, and they're my favourite style of chinos – 5 pockets.
The usual smart chinos come with trouser style pockets which are slanted, and the usual for dress trousers. But I prefer jean type pockets, which are straight cut, for practicality reasons, so things don't fall out.
Anyway, These are similar chinos to what I already wear and have featured a lot. I've already got a pair of black, navy and light blue, and now I've gone for the beige too.
I recently got a beige Henley from Mango Man too, but I probably won't be pairing them together, since it may look a bit odd pairing two items of the same colour.
The good thing about wearing light bottoms is that wearing a darker top will not make the overall outfit look really dark.
I do like a dark colour scheme in what I wear, but when you want to brighten things up, light coloured bottoms do the job well.
I've worn them here with my slim fit navy T Shirt, along with a pair of brown brogues.
This colour will work well with all kinds of blues, the dark shades as well as the lighter colours. They'll also work with grey, or white, for a really light and airy kind of look, and other neutral colours too.
These chinos are really easy for autumn style, pairing them up with a lot of different clothes to create a large number of easy to wear outfits.
I still have a couple of pieces of clothing I want to get for Autumn and Winter. Hopefully I'll be getting those soon, and then it will be time to get the jumpers and all my other knitwear out and sadly retire my T-shirts until next year.
Have a great weekend 🙂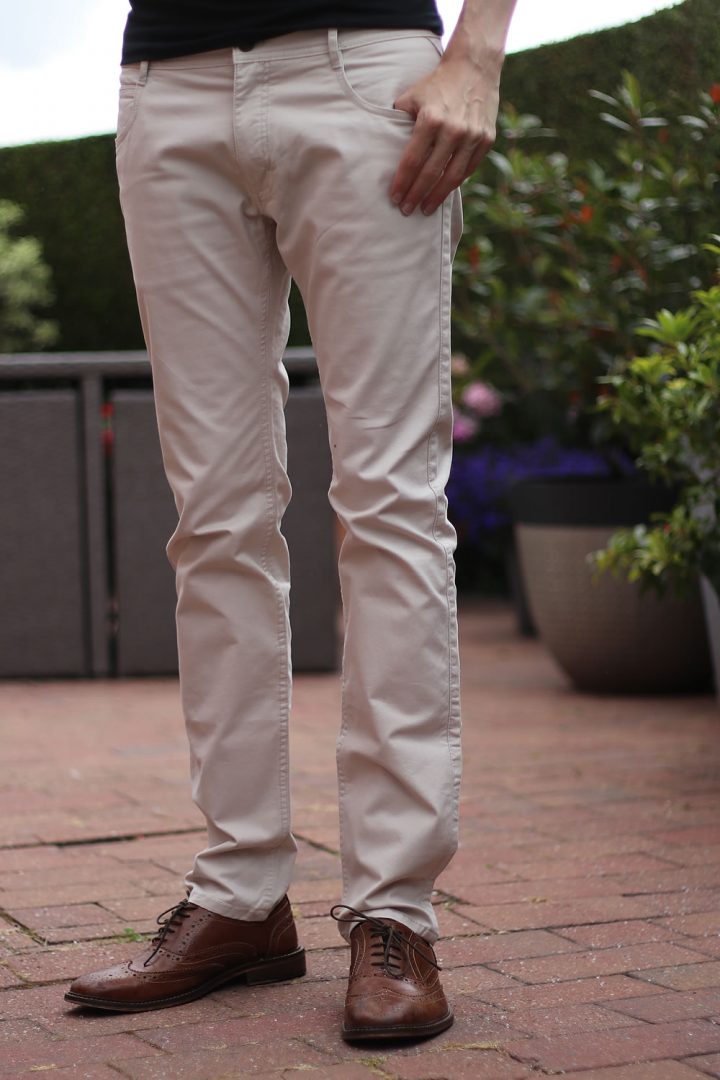 Thanks For Reading...Want More? 🙌
Hi, I'm Michael 👋 I'd love you to subscribe to my newsletter for exclusive content & updates on my blog straight to your inbox. (No spam, I promise!)