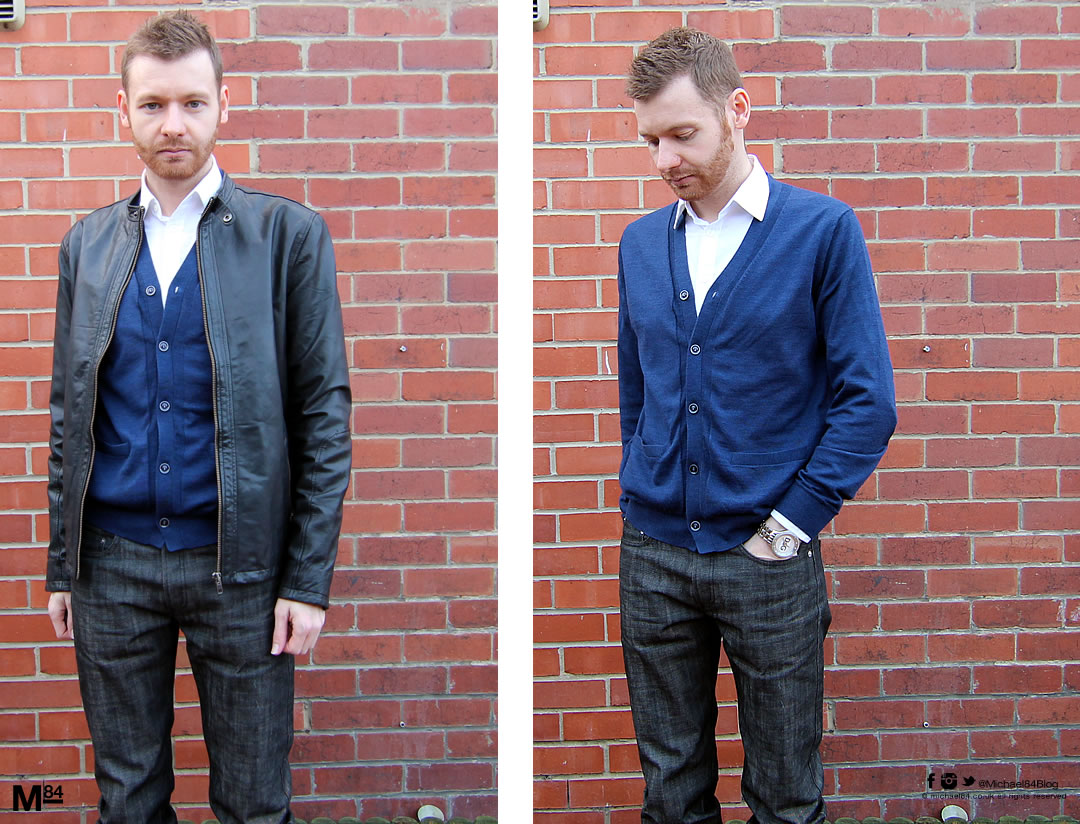 Hey!
On Saturday night it was my first weekend night out in 2016, I have been hibernating and I think I should go back to hibernating for a few more weeks! The proper Winter weather is now setting in, we seemed to have had endless rain for weeks, and now it's becoming icy cold with sub zero temperatures. It's definitely a time to layer up, which I actually love from a fashion point of view, if it could only warm up just a little and never rain 😉
On Saturday night I wore this blue cardigan which I got a while back from Mango which I love. The crisp white shirt is from Jaeger, after I got one I liked it so much I had to get another. The leather jacket is a piece I really like, and it's actually a really light jacket which is better in the Spring or Autumn but is fine to wear as long as you layer up. It's from Selected Homme and I added this to my collection around this time last year.
I'd actually love to wear my suede jackets, I have a couple and I really love them, but they are no good when you know it's going to rain. Hopefully I will get my wear out of them this year, and we'll have some cool but dry days and nights. You can check out the rest of my looks on the street style blog here.
On Saturday night we went to places like The Long Bar, The Union Rooms, The Milecastle (that's a lot of "the's" haha 😉 ) Revolution and Mimo, and it was really good as it always is in Newcastle. It started off quiet in the town, which you'd expect straight after New Year and Christmas, but then picked up a bit later on. In Revolution the tunes were amazing! The DJ was really good, playing a proper mix of everything from Tinie Tempah to The Jackson 5, the track selection was so good, and that's what a DJ is about, playing music! He had his name on his laptop, so If you wanna check him out (or maybe you've heard him in Newcastle before) it was DJ LKP
Thanks For Reading...Want More? 🙌
Hi, I'm Michael 👋 I'd love you to subscribe to my newsletter for exclusive content & updates on my blog straight to your inbox. (No spam, I promise!)