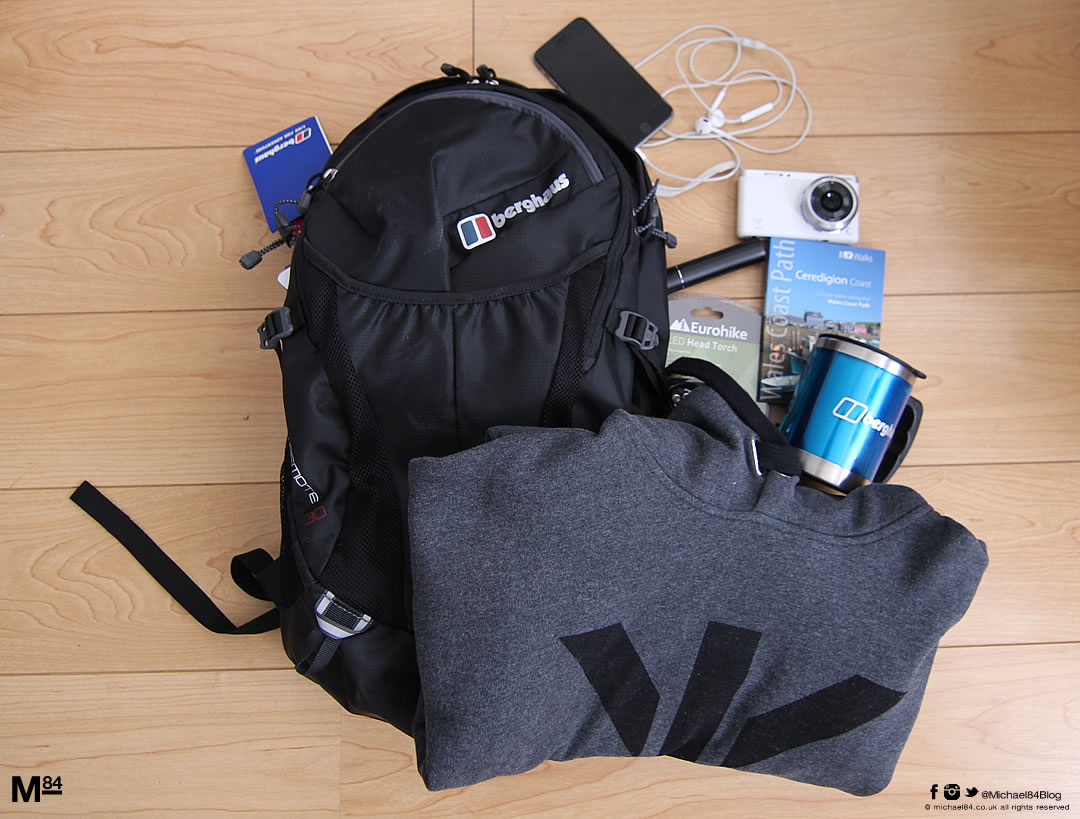 My idea of a good holiday has changed a lot since I was younger. There was only a handful of things I wanted to do when going on most holidays, that included sunbathing and relaxing by the pool, doing the same at the beach, and having a big night out, every night of my holiday.
As I have got older I actually want to go and see places I go to, and do things. As you will remember if you're a regular reader of my blog I recently went to Reykjavik, it's such an amazing, unique place, somewhere I definitely recommend visiting.
Visit Wales recently got in touch for their latest campaign, and asked what I would pack for a trip to Wales. I have a really sturdy, quality backpack from Berghaus, with some essentials inside, what would I pack for Wales?
I have never been to Wales, there is a lot of scenery and an outdoorsman kind of place, with plenty of walks to go on, and some breath-taking scenery as your backdrop. For an outdoors kind of break, there's quite a bit of things to take, and being a tech lover and blogger, there's even more! 😀 Here's my essential things I would have to take:
Camera – There's a lot of really cool scenery, so a camera is a must. I would probably pack my Canon 600D DSLR, if not then definitely my little Samsung NX Mini which produces some brilliant images.
iPad – Every time I travel I have to take my iPad with me, in fact I don't use it all too much. There's always too much to see or do, I would rather enjoy where I am, and if I get some downtime I use my iPad. It's always good knowing it's there though 😉
Phone & Headphones – The obvious piece of tech to take; The good old mobile phone. I take full advantage of having maps on my phone and have used them a lot on recent trips. I need music with me wherever I go, so taking headphones is a must.
Rechargeable Power Brick – This is one of the best inventions ever! If you don't know what this is, it's basically a small, stylish battery which you can charge up before you leave. It has a USB port and when your device (tablet or phone) is running low or ran out of charge, simply plug it in and it will charge it! This is probably the most essential piece of kit you need in the technology-loving world we live in.
Head Torch & Flask – Heading off for a long hike means not knowing when you'll be back, and it could be dark or at least starting to get dark. A head torch can come in useful, and there's some really good quality, LED ones available these days. Depending on weather conditions keeping warm may be something to think about, Berghaus have this great mug to keep you warm with a favourite beverage.
Hoodie/Sweatshirt – Being exposed to the elements is refreshing and liberating, but the wind makes it quite chilly. Packing a hoodie or sweatshirt is a must. I would go for one of my favourites, either my electric blue Adidas or grey Onepiece.
All Weather Notepad – Taking notes is something I occasionally do when thinking about blog posts, if something springs to mind I try to write it down; I can't tell you how many times I've forgotten a post or had an idea then it's gone out my mind. A Rite In The Rain little notebook is perfect and will come in handy in any weather to write down some notes if I get inspiration for a blog post.Life's A Beach In Wales
There's not only the walks and traditional outdoors activities on offer, in fact Wales is home to a lot of blue flag beaches, perfect for relaxation. Blue flag beaches are internationally recognised and awarded the coveted blue flag award. In 2014 Wales was home to 33 blue flag beaches, one of which is Tenby Castle beach.
It's an all rounder which offers something for everyone, whether you're into relaxing and building sandcastles, you want a paddle in the water or do something a bit more adventurous such as power boating and underwater activities, it's all on offer at Tenby Castle beach. There's plenty on shore too, with cafés, pubs, restaurants and shops, it's a cool little seaside town.
If you want the ultimate seclusion and want to visit one of the most unique beaches in Wales, and even the UK Barafundle Bay is said to be one of the coolest there is. The nearest car park is half a mile away, and once you're in the bay it may feel like another world.
Sand dunes and pine trees, it's lack of any facilities and complete isolation from everything is one of it's plus points, there's no distractions other than the spectacular views and tranquillity.
I couldn't talk about Wales without mentioning something which might be on a tourist checklist… Depending on where you go in Wales, a trip to that town and train station may be worth going to!

You can find out about what Wales has to offer in great detail on the Visit Wales website.
In collaboration with Visit Wales