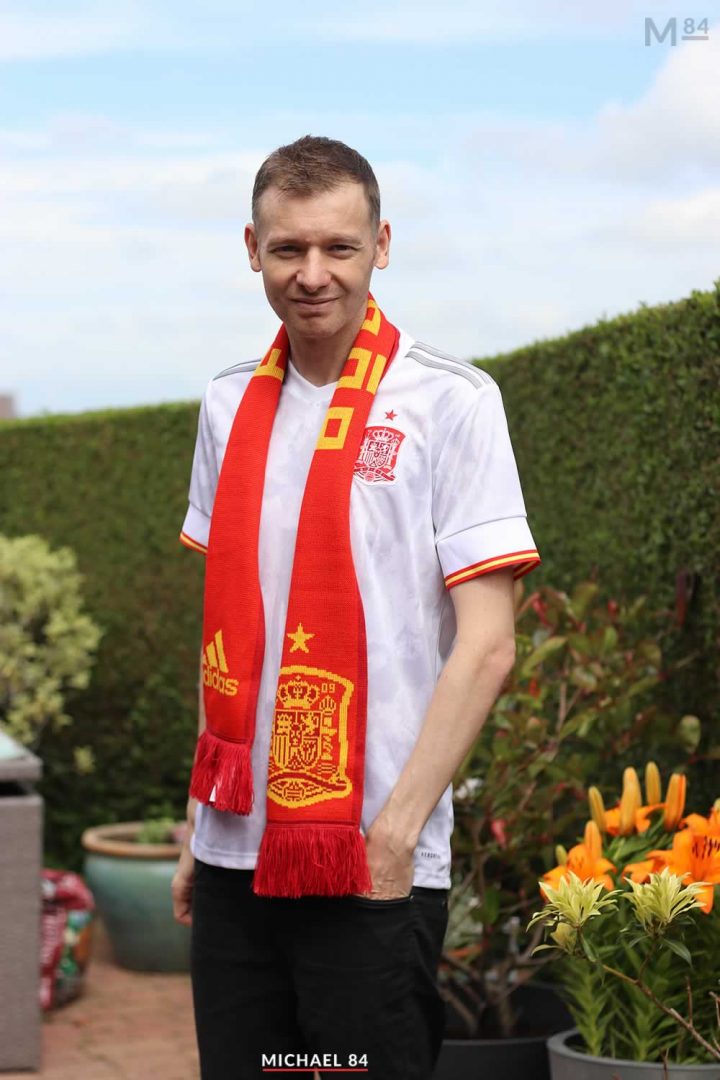 I can't believe we're into the Euro 2020 quarter final which takes place today! We've had a couple of days rest, and now it's back to the football. The first game of the quarter finals will be Switzerland vs Spain.
Spain are apparently the away team, so I am once again wearing my white Spain away shirt for today.
This isn't a bad thing. Spain have wore this white away shirt in the past 2 games, and won those 5-0 and 5-3. It's kind of becoming a lucky shirt! I also really like the Spain away shirt, so it's good to be wearing this top again.
As I am writing this there's no confirmation, but I assume that they will be wearing this rather than the red home shirt. Either way, I will be wearing it.
It's always strange to be the first team to play. It kind of sets the standard, and my mood for the rest of the games. If it's a win, I can relax and be happy and watch the other games. If not, then I'll be sad, and watch the other games with a different feeling.
I forgot all about this scarf until recently. I have so many Spain scarves and flags, but this is the last one which I bought.
What about the match? It's hard to say. Luis Enrique once again changed the team in the last game, so there's no idea who will play. It's kind of exciting, and must make it harder for the Swiss to prepare.
I think I will go for a Spain win, 2-1. As with the other games, there could be more goals, but I'll go a bit more conservative with this one.
A place in the semi finals is at steak, where the winner plays either Belgium or Italy.
As for the other games: Belgium will play Italy later tonight, and then tomorrow it will be Denmark vs Czech Republic, and the Saturday night game is England vs Ukraine.
It's all getting even more exciting!
Thanks For Reading...Want More? 🙌
Hi, I'm Michael 👋 I'd love you to subscribe to my newsletter for exclusive content & updates on my blog straight to your inbox. (No spam, I promise!)