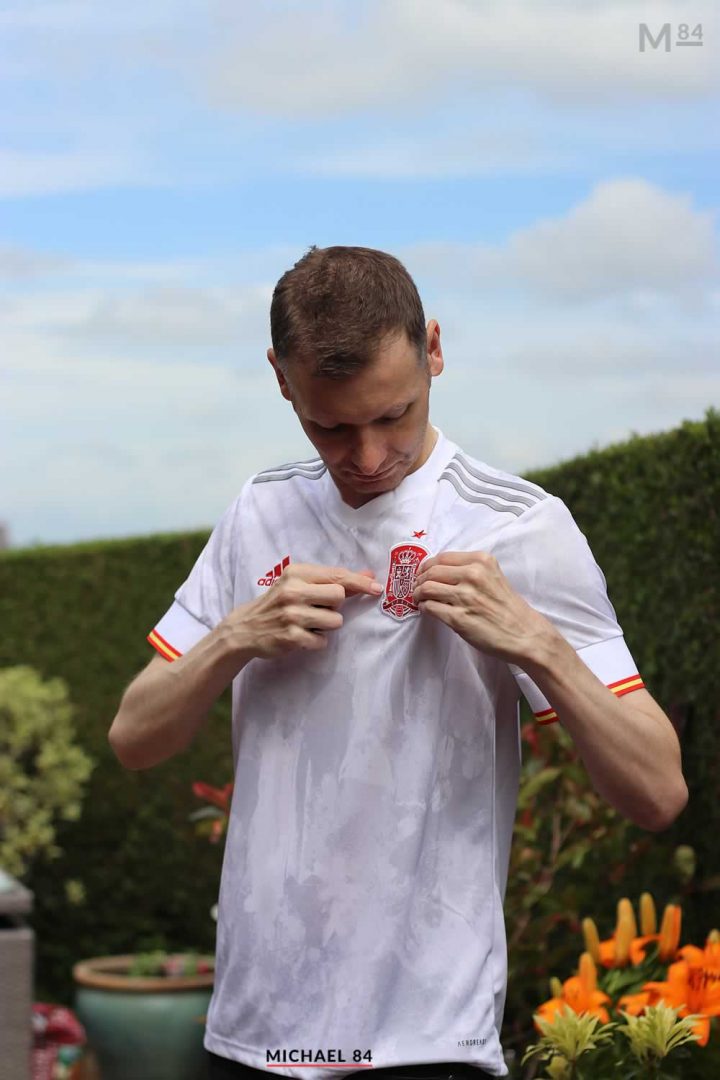 Happy Monday!
Today is yet another big day, it's another Euro 2020 day! Later today Spain play against Croatia in the last 16, the other game is France against Switzerland.
I am of course most excited about the Spain game which kicks off at 5PM, not long to go now.
Today I am wearing the Spain white away shirt.
Could it be a lucky shirt? Spain wore this in their last game against Slovakia and won 5-0. It was such a great victory, and a boost for morale winning by such a big margin. It was what Spain really needed.
Croatia don't look the same side that got to the final of the last World Cup. So far in the Euros they have lost against England, drew against Czech Rep and beat Scotland 3-1.
But Croatia aren't a bad side. They've got some good players, so this could be the biggest test Spain has had so far. They could be just getting into their stride in the competition, so might be dangerous.
Who will start for Spain? Since the team has changed in every match, it's hard to make a guess.
I am looking forward to the match, it will hopefully be a good one. In my predictions I have gone for a 1-0 win to Spain. I think that it could be a tight game, but it's really hard to tell.
If Spain do win, they will play against either France or Switzerland, whoever wins that game.
Yesterday there were some good games at the Euros. Czech Rep surprised everyone, beating Netherlands 2-0 after De Ligt got sent off for hand ball.
The 2nd game of the day was Portugal vs Belgium. That was a much closer game, slower and was pretty tense. Thorgen Hazard put Belgium 1-0 ahead, and Portugal couldn't find an equaliser. They left it too late, with plenty of attacks but couldn't make the most of them.
The matches tomorrow will be good to watch too: England vs Germany and Sweden vs Ukraine.
Not long to go now. Have a good day!
Thanks For Reading...Want More? 🙌
Hi, I'm Michael 👋 I'd love you to subscribe to my newsletter for exclusive content & updates on my blog straight to your inbox. (No spam, I promise!)