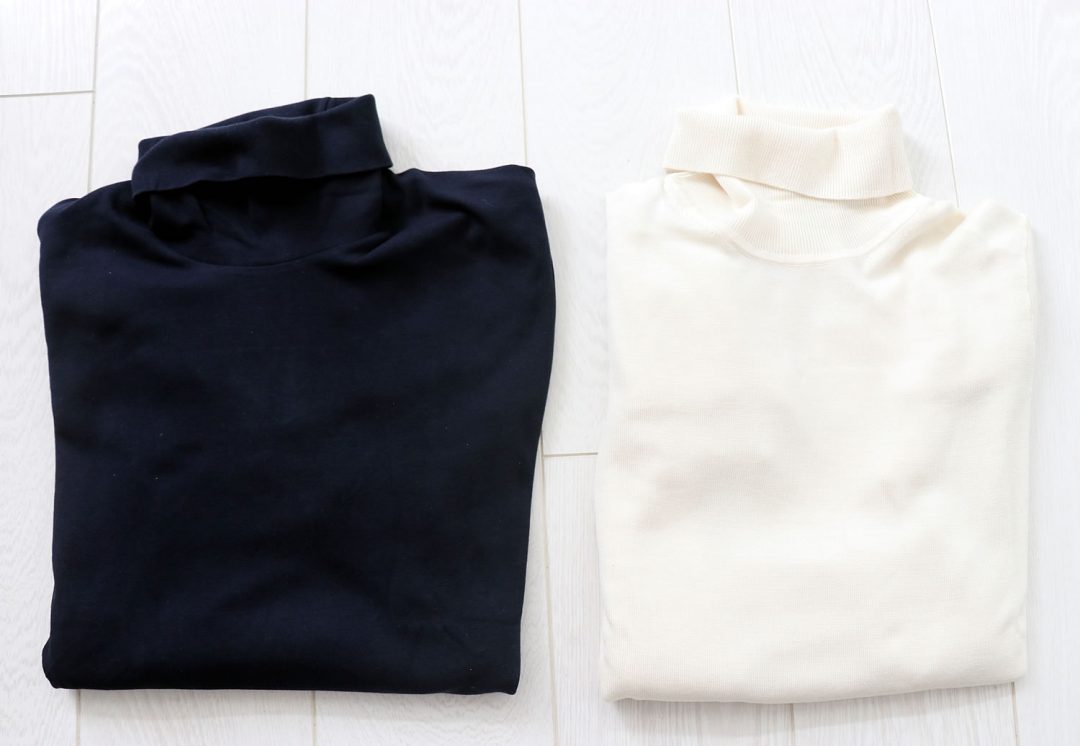 It's starting to get cold…How is the weather treating you?
If you haven't already got your Autumn and Winter clothing out, now's a good time, and if you're looking for something fresh, there's no better time to start looking. Uniqlo got their brand new roll necks in for this season, which includes their infamous 100% merino wool roll neck jumpers, along with some roll neck T Shirts.
I wanted to bolster my own wardrobe by adding these essential style pieces, so I grabbed one of each!
Both the merino wool roll neck and cotton T-shirt roll neck are brilliant, I can't speak highly enough about them, especially for the price.
Here's a more in-depth look at the two.
First of all, roll necks…In menswear they are a bit hit-and-miss when it comes to their popularity. They can go in and out of trends, and they seem to be something which are either liked or loathed.
I will be honest, I never used to like them. However last year I got myself one, and really liked it, so bought another, and now I really do like them a lot. Back then I got one from ASOS, it was pretty decent quality, so I picked up another.
Now I've added a cream/off white merino knit from Uniqlo to my collection.
100% Merino Knit VS 100% Cotton Roll Neck Tops
I knew all about the 100% merino knit roll necks and it was my intention of buying one, but as I was looking, I also came across a 100% cotton roll neck T Shirt. it was cheap, so I decided I would also get that. It's never going to come in wrong, and it was a great chance to see the difference of the two.
The merino wool knit jumper was £30, whereas the T-shirt was only £10 – So quite a big price difference, but they are of course 2 very different garments. Having said that, you can almost wear them in the same way, as a nice roll neck option where the only difference is the material which is used.
I probably wouldn't layer the tee, as it's weird wearing a T-shirt under another T-shirt, but the sweater can definitely be layered. You can check out how to wear a roll neck here.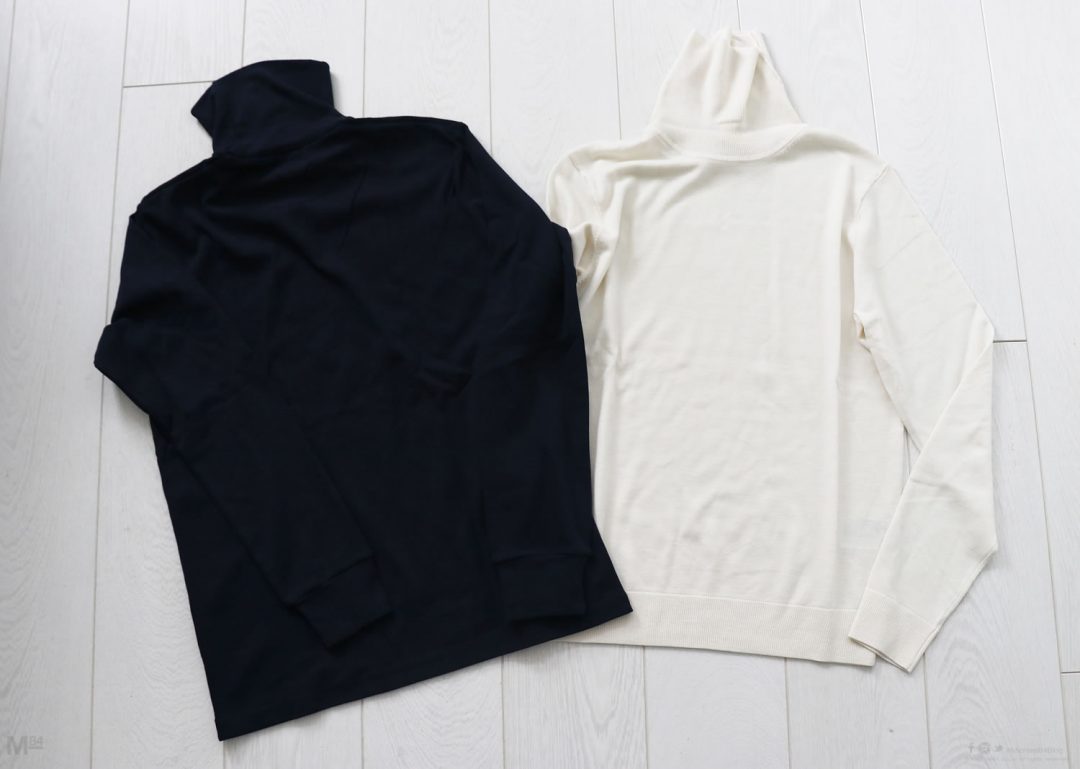 The Merino Roll Neck Wool Jumper
The merino wool is so fine and soft, it's finer than the t-shirt but you can feel that the quality is there. It's going to be a piece which is layered, an under shirt and more than likely a coat or jacket over it.
I like the fit, despite it being fine it feels well made and will hopefully stand up to wear quite nicely, although that's never the best feature of merino wool. Extra care is usually needed.
I got it in the cream off white colour so it's perfect for wearing with any of my jackets and coats, most of white are dark in colour, and will set off this jumper so well.
It will work in a smart casual setting, evenings out or to wear through the day. If you're looking for a new sweater for Autumn/Winter, having a roll neck is a good option, and the Uniqlo 100% merino offering is one to look at, available in plenty of colours to suit your style.
Roll Neck T Shirt
The T-shirt is super soft, plush and you can really feel the quality is there too. If you've ever had or heard of Uniqlo's T-shirts, you'll know they're famed for having that luxe touch at a low price point. The cotton has some stretch in it, and the fit is good.
When it comes to getting something for a casual affair, the tee will work wonders. I got it in navy blue which looks so good, it's a staple colour which will work with anything.
Which To Buy?
I think that they are both worth the purchase. They both have their own qualities, they're both plain, and can be used to pull of that minimal style which I like, and know many others do too. Having a roll neck tee is a good option to have, as it's not going to be a traditional piece, so will add some individuality, and for the price, well worth having in your wardrobe.
Verdict
So, roll neck T shirt or roll neck jumper? I say both! Let me know what you think of these, and how you'd style them. I'll be posting some of my outfits wearing these in the up coming weeks.
Thanks For Reading...Want More? 🙌
Hi, I'm Michael 👋 I'd love you to subscribe to my newsletter for exclusive content & updates on my blog straight to your inbox. (No spam, I promise!)