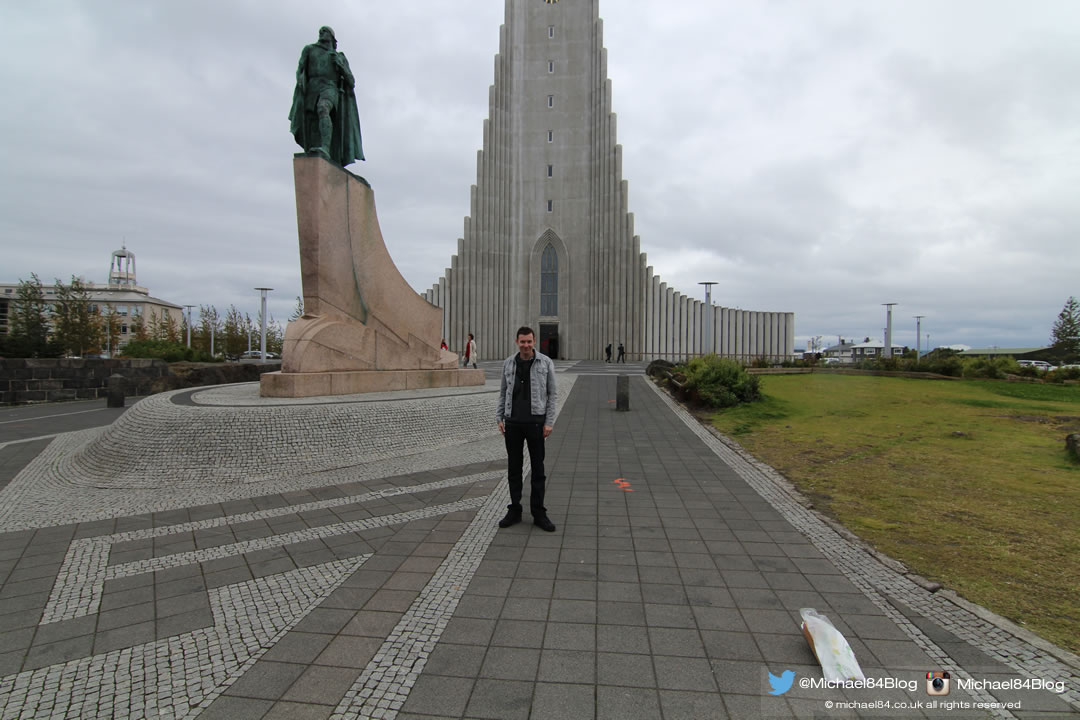 So you've read about my days and nights in Reykjavik, but there is so much more I must of missed out! What about the general things in Reykjavik, Iceland, prices, living and so on. So here it goes!
Is it expensive?
The first thing people ask, and most of Scandinavian and Nordic countries are notoriously expensive in comparison to the UK.
The answer is yes and no. It is, but you should remember that it's a capital city, and compared to Barcelona/Amsterdam/Stockholm it's quite similar, and not outrageous. We had this joke, "Everything's a G" because almost everything we bought cost 1,000k or around that;
e.g. A large beer (0.5L, pretty much a pint) in most places was 950kr, even B5 a trendy bar bottles were 1,000kr. 1,000kr is just over £5, so I guess that's expensive for UK pint prices, but it's not astronomical and you can expect to pay that in a lot of other capital cities. Large soft drinks were around 500kr (£2.50-ish) with fish and chips from a restaurant costing around 1,900kr (£10-ish).
What is the money like?
It's strange! First of all it's around 180kr to the pound, so as mentioned above 1,000kr is just over £5. But they also do coins! You can get a 100kr coin (about 50p), a 10kr coin which is about 5p, and even a 1kr coin which is about half a pence!
That means most of the change you'll get will be worthless, the 100kr coins are not so bad but you'll need a few just to buy a drink. The notes are what you'll be using most of the time, there are 500, 1,000, 2,000, 5,000, and 10,000 notes, although I never actually saw a 2,000 or 10,000, and only ever had the 500, 1,000 and 5,000 ones.
Apparently most Icelandic's just use cards for everything.
Is Reykjavik a big city & how do you get around?
The main central part of the city is easily walkable, it's quite small and has one main street in the centre called Laugavegur, and changes it's name parts of the way down.
Most of the shops, bars and restaurants on the street are small independent boutique-feel types of places, there's no huge department stores or flagship worldwide known brands here.
If you go on trips to attractions such as the Blue Lagoon, Waterfalls or National Parks then you'll have to get an organised trip bus or hire a car, because those are obviously outside the city.
The Golden Circle Tour – Tips
The Golden Circle Tour is a must do but wrap up warm! It is cold, and when you're at the waterfall there will be some spray.
There's not necessarily a need for waterproof clothing, just dress as you would for the weather which there is, you don't really need anything special such as boots (unless you go in winter and it's icy!).
There are a couple of stop offs through the day where you can have a bite to eat and drink, but you can of course take your own on the bus.
Make use of the toilet breaks, you could be on the bus for a while between seeing things. Wear comfortable shoes, because you will be walking, not a huge amount all at once, but most of the day in parts.
I recommend getting some protection for you camera, at the Geysir there's every chance you'll get splashed if you go close up, and the Waterfall produces lots of spray.
The Northern Lights – Will I see the Aurora Borealis?
We went and it was cloudy every night, it was not terrible weather but I suppose not good enough.
There was not any chance of us seeing it, obviously when we booked months in advance and even on the nights we were going to try we did not know this. When we were there I overheard someone saying there probably would not be a chance to see them for the rest of the next week, it's obviously very much weather dependant.
My advice would be to book it on your first night or ASAP, and if you don't see it they may offer to take you on the next night (and next), giving yourself the best chance. Don't hold your breath about seeing them and be prepared to not see them and have an alternative thing to do.
The Blue Lagoon Spa
I loved the Blue Lagoon Spa when I was there. It's one of the attractions and I think it's something you have to do when you go.
If you're not a spa kind of person don't worry, neither am I. There are pampering spa type facilities inside and a section of the pool outside, but for the most part it's about enjoying the geothermal pool, and of course the swim up bar 😉
We went on the Sunday, our last day, and it was the perfect thing to do to relax after the Saturday night out, it beats wondering around trying to kill time for a flight 😉
The smell of rotting eggs
If you run the hot water for a shower for example you'll get a horrible smell of rotting eggs.
This is because there's sulphur in the hot water, which is what you smell. It's very noticeable, if you have a hot shower you'll smell it in the shower (you won't smell of it) and don't leave the bathroom door open or the smell will drift.
If you're washing up with the hot water from the tap you'll smell it too.
Is it always cold, snowy, and icy?
We went at the start of September, so it was a bit cold, but it was the wind chill factor which made it seem even colder. There was no snow or Ice, but obviously if you go in the middle of winter you might expect that.
Do people speak English?
Yes! From what I seen and heard, basically everyone can speak and understand English. Of course when Icelandic's speak to each other they speak in Icelandic 😛
Reykjavik Nightlife
A lot of the bars are open until after 3am, some even after 4am but only on Friday and Saturdays.
Monday – Wednesday some are open until midnight, Thursdays most seemed to close at 1AM at the latest and Sunday early closing for many; So if you wanna have a night out there, probably best not to go through the week.
We went out Saturday night in Reykjavik as well as Thursday and Friday night.
Are the bars busy? What about happy hour?
It seems most bars had happy hour, and it was usually from 16:00 until 18:00, 19:00 or 20:00 depending on the place. It looked like a few people went to the happy hours, but would then go home after, as when we went out the bars were quite quiet even at 22:00, most go out late apparently as places are open late.
Places at the weekend don't seem to get busy until after 23:00, and if you go out at peak times to the trendy bars you could have a long wait…
Did you really queue to get in a bar for almost 2 hours?!
YES! We went to B5 on the Friday night, it was early-ish but it had a few people in, and we got in no problem.
On the Saturday night we walked past twice, and the second time it was starting to get a good few people in but we decided to go back. When we did there was a queue, there was only around 8 or so people in front. The problem seemed to be that once the place has people in, they don't leave!
It's not like in Newcastle or anywhere else I have been where people are coming and going all the time and the queues move fast. In fact we only moved up the queue because most the people in front got sick of waiting!

I got in with my friends only 1 place behind, and it took another 30 minutes for them to get in! 😀
One of the good things is that it is free entry everywhere, which is quite unusual these days.
Shopping for clothing and fashion in Reykjavik
There's plenty of shops on the main street, but almost all are small or local types of shops, there's no large international brands on the main street.
The main brand over there seems to be 66 Degrees North, which as you can tell from the name is winter clothing shop a bit like North Face or similar. It's not a city to go to if you want to shop till you drop on the main strip.
There are a couple of shopping centres which we did not visit, we did see Debenhams from the bus which is in Smáralind, however these are outside the city so you'd need to get a bus. There is also Kringlan which has lots of shops from big brands.
Thanks For Reading...Want More? 🙌
Hi, I'm Michael 👋 I'd love you to subscribe to my newsletter for exclusive content & updates on my blog straight to your inbox. (No spam, I promise!)