Traditionally a vodka bar, Revolution is one of the finest bars in Newcastle. Located on the corner of Collingwood Street, It's in a prime location situated close to the Central Station with plenty of nearby bars.
Recently refurbished you can enjoy the décor including the huge pillars and amazing ceiling of this building, which is a former bank.
The Place
Going in on a Pay week weekend (Last weekend/first weekend of the month) you can expect to queue at peak times, and in fact queue most weekends as this is a very popular bar. Queues are not usually too long, and you will be in there in good time, and it will be worth the wait.
Walking in there is a huge long bar on the wall to the right, which is usually packed and you may have to wait a while for a drink, there is also a smaller bar up the stairs. There are plenty of seating areas, however since this place gets busy you may not be able get a table, and there is standing room throughout where most people stand.
Drinks – Cocktails And Shots
There is a huge selection of drinks at Revolution which caters for all. From beers to bottles, wine, champagne and more, however the specialities are cocktails and shots. You can get a cocktail in a glass, or if you're with your mates the best thing to do is get a pitcher and share it, you can easily get 6 glasses out of most of the jugs of cocktails.
A personal favourite is the Absolut Chambulls; Champagne, Redbull and vodka, it's worth getting that! 😀 Glasses of cocktails include the Del Boy, Purple Rain and Strawberry Woo Woo.
As this is a traditionally a vodka bar you would expect vodka, and it has plenty. Stoli, SKYY, Ciroc, Belvedere and Absolut are just a small selection you can get. But if you want to try something different to most bars, you have to get a rack of shots.
You can get different flavours of vodka shots, including parma violet and the hideous chilli vodka. You can make up your own rack or choose from one of the selections, a 10 shot rack is worth getting to share with a couple of mates, although it could blow your head off!
The Crowd & Music
The music has changed in recent times. It was a place that used to just play house music, which got fairly boring. Now you will hear house and electro with a mix of other styles and genres including hip hop and urban pop. The crowd is usually 21-30 year old, with a casual-smart look for the guys, and ladies always looking good.
Revolution is a place you have to go on a night out in Newcastle. If you are here on a weekend it's something you should experience.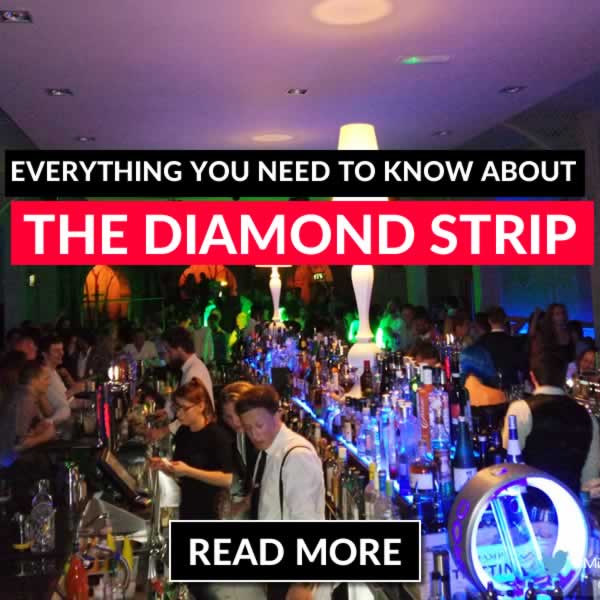 Revolution Dress Code
The dress code is smart casual, which is similar to the bars in the area.
Essential Info
Opening Hours: 7 Nights A Week, 'Till 2AM (Weekends)
Weekend Entry Cost: £FREE!
Music: House, Chart, Hip Hop, RnB
Recommended Age: 21-40
Guestlist/VIP: YES
Bottle Service:NO
Stag & Hens: Dress Smart (Fancy Dress may be allowed at discretion)
Address / Directions
Revolution, Collingwood Street, Newcastle, NE1
Closest Metro Station: Central Station
Other Nearby Bars: Jalou, Tokyo, Mimo
Official Website: revolution-bars.co.uk
Thanks For Reading...Want More? 🙌
Hi, I'm Michael 👋 I'd love you to subscribe to my newsletter for exclusive content & updates on my blog straight to your inbox. (No spam, I promise!)