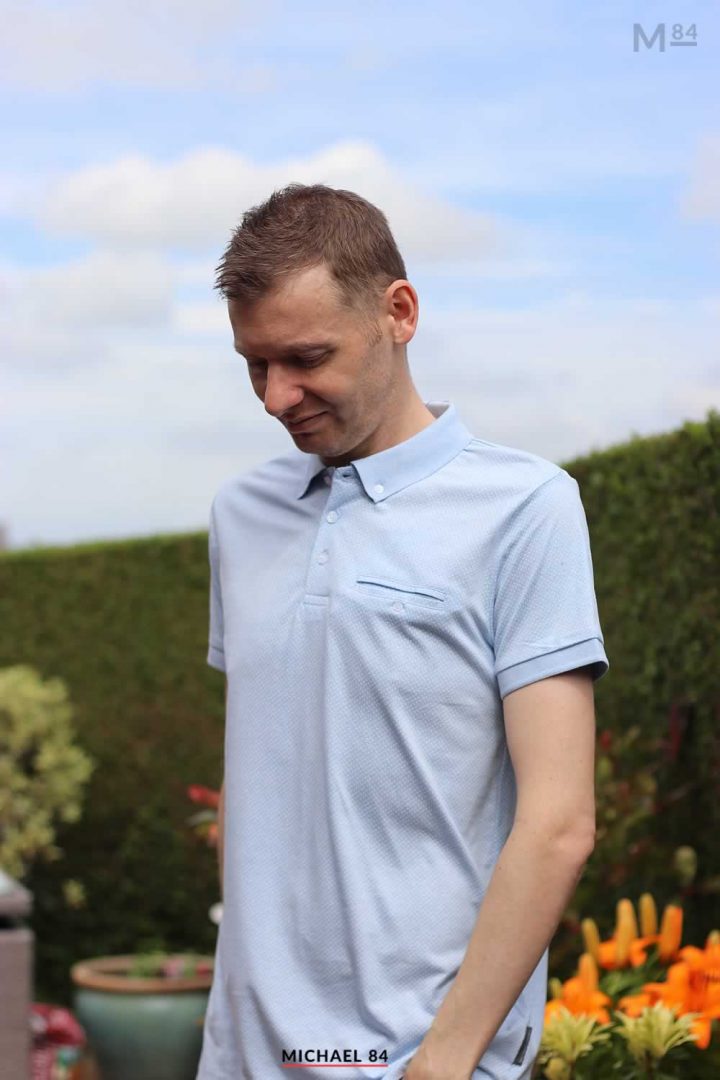 Smart summer style for today's outfit! I've gone for another new option, this is the micro dot polo shirt from French Connection.
Here's a closer look to this smarter option for a summer's day.
As you'll know if you've read my guide on polo shirts, they're a great choice to go for if you want to wear something a little smarter than a regular T Shirt. When it comes to a dress code, they could be considered smart casual, and can be worn in a number of situations.
I like to wear polos as an alternative to a T-shirt, and for smarter occasions I will go for a full shirt.
When it comes to brands, French Connection isn't known for their polo shirts, but this one is pretty nice. First of all I have to mention the colour, sky blue. It's a good colour for this season, and it's one which I don't already own.
For the design on this one, it's not just a solid colour. This has a micro dot pattern all over the shirt. It can be difficult to see from a distance, but trust me, it's there. This is different from a polka dot in that the dot pattern is really tiny.
It comes with a pocket to the front too, which is buttoned. This gives it a more of a casual style as you'd see with pocket shirts.
The collar also comes as a button down option too, which will help retain it's shape. As for the bottom of the polo, it does have two small side vents, and the French Connection branding in a tab on the side of the shirt.
It's a 60/40 construction of cotton and polyester, which gives it a really soft feel to the shirt.
I can wear this polo shirt with a pair of chinos, or a smarter pair of shorts which will keep the overall look of the outfit looking proper.
The weekend is almost here, have a good Friday!
Thanks For Reading...Want More? 🙌
Hi, I'm Michael 👋 I'd love you to subscribe to my newsletter for exclusive content & updates on my blog straight to your inbox. (No spam, I promise!)