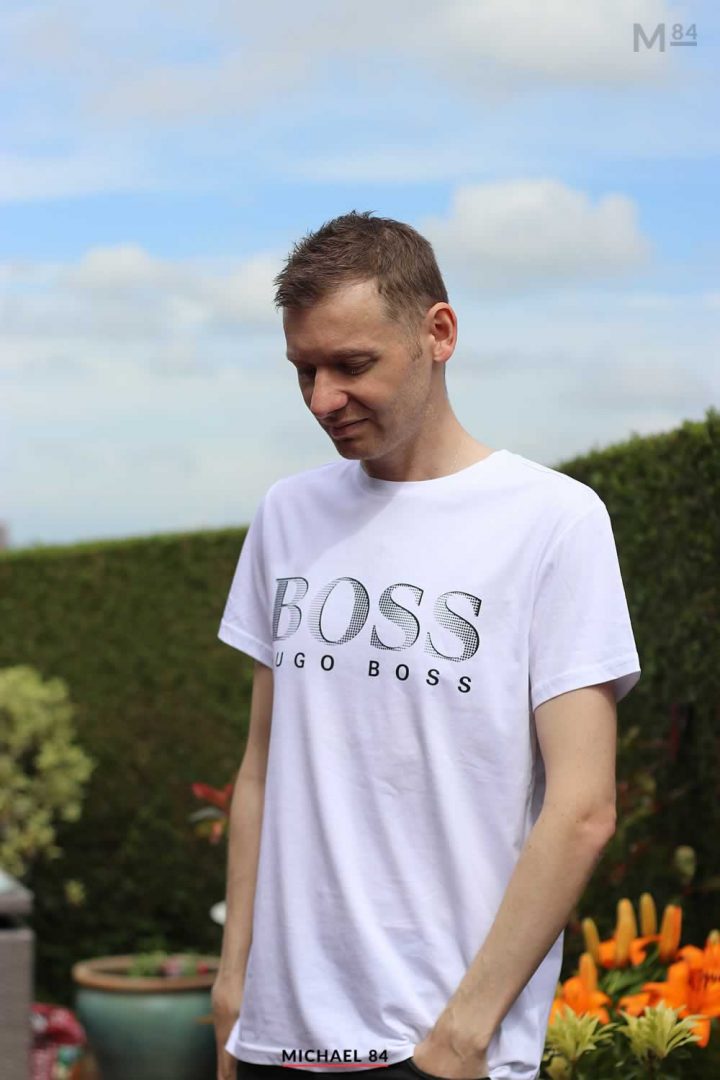 I have to showcase yet another new T Shirt which I have recently got. It's this one from Hugo Boss, and it's a large logo print T-shirt.
Nice for a casual outfit, this is what I like about it.
When it comes to T Shirt design I have had a new found love of minimalist and basic designs. These are usually plain, or a very small logo or branding. But every now and then I do like a bit of logomania, and like a large graphic or logo.
With this Hugo Boss T Shirt, that's exactly what you get.
There's nothing wrong with a bit of large branding every now and then. Sometimes I can be a bit brash, but I think in this case that it's done in a way which is perfectly acceptable.
First of all it's a white tee. A simple, classic colour which is almost always going to look good. You'd have to try pretty hard to spoil a white T Shirt.
Then the style of the branding which is the word BOSS in a large style. It's in a nice contrasting word type, in grey and navy blue colours which work well with the rest of the shirt.
Finally there's the smaller Hugo Boss wording under it, which works equally well.
For this type of T Shirt, I wear it in a casual manner. It's good for a summer's day, out and about and for casual days. As I've already said, it's the clean and bright white of the shirt which really does the graphic print justice. It doesn't feel like it's loud or shouting, like it may have done on another colour.
In terms of the quality, there's no complaints at all. It feels like a smooth rich cotton, nice to put on an wear. The fit is standard and has a nice amount of room, good for a laid back look.
And there you have it, my outfit of the day: The Hugo Boss Logo T Shirt.
Thanks For Reading...Want More? 🙌
Hi, I'm Michael 👋 I'd love you to subscribe to my newsletter for exclusive content & updates on my blog straight to your inbox. (No spam, I promise!)