So I finally had a little break last weekend, and went to lovely Stockholm 🙂 I was there for 3 nights, which was plenty to see a lot of the sights and the cool city which is Stockholm. I will write a different post for each day, so this is how it began, Day 1….
You cannot fly to Stockholm from Newcastle, so I had to fly from somewhere else and chose London; There are probably closer places which do flights, but I picked London because even though it is the biggest and busiest place I have been a few times and know it better than somewhere like Manchester for example; However the airport, Heathrow, I had never been to. It also means I could do some sightseeing in London on the return 🙂
So I had to get the train at around 04:45, which meant getting up at around 03:30 and then spend around 3 hours on the train so I would be in London in plenty of time. It was strange getting the train so early in the morning, there were people still on their night out trying to get home, girls walking around with their shoes in their hands in their skirts, while I was starting my journey

So I got on the train, and I was the only one in my coach for a really long time; I was in the quiet coach but it was really quiet, since I was the only one in it

I got to Kings Cross, then headed for Heathrow Terminal 5 via the Tube.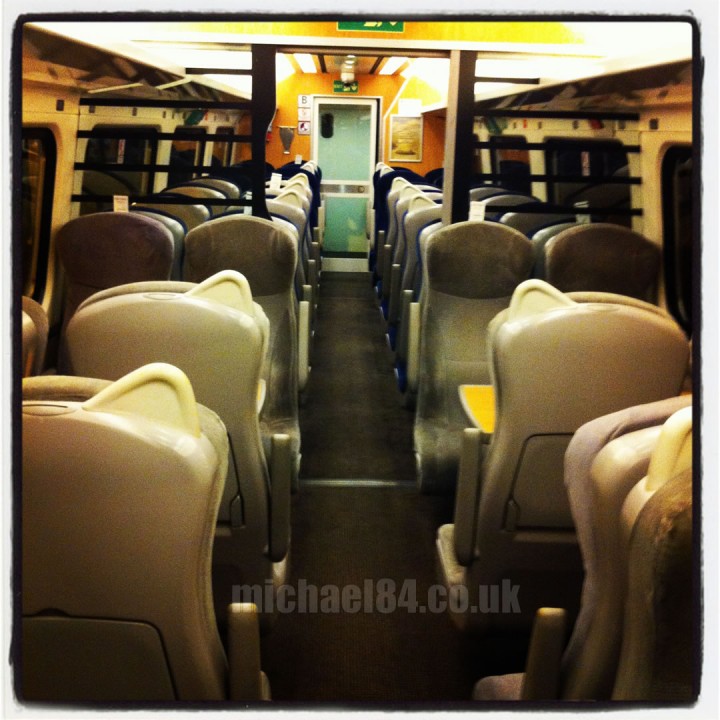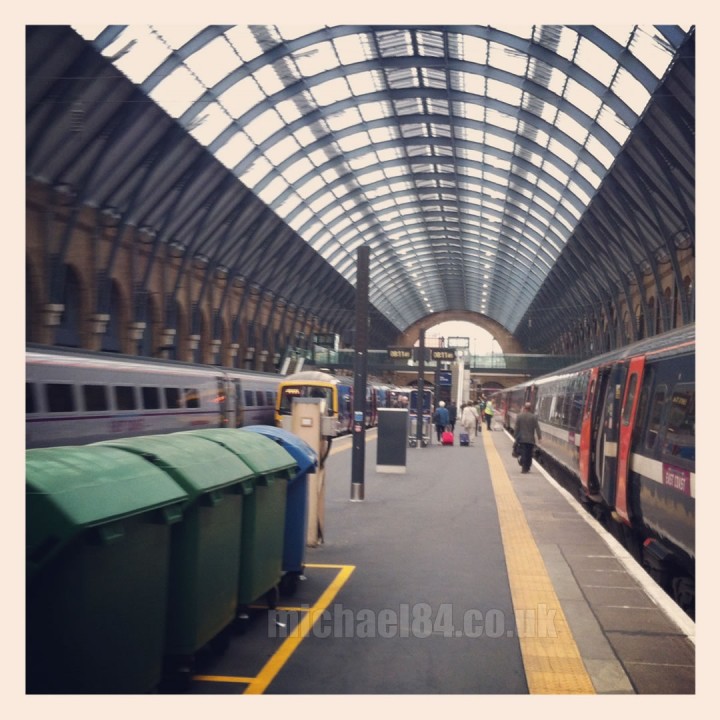 I got to Heathrow T5 and I thought it was quite quiet; I imagined that it would be hectic and chaotic but actually it was not too bad, slightly busy, but just like any airport. There are a few shops and things before security, but it is after security where most of the shops and restaurants are.
I saw the Gordon Ramsey restaurant, "Plane food" which looks quite cool, but I did not go in. I was too busy browsing in Harrods and other shops 😉 I found the vodka which I have wanted for a long time, Smirnoff Gold (with the gold flakes) and bought a bottle. Terminal 5 is pretty big, but it is quite open, so it's easy to find your way around, there is 2 floors of shops restaurants and bars.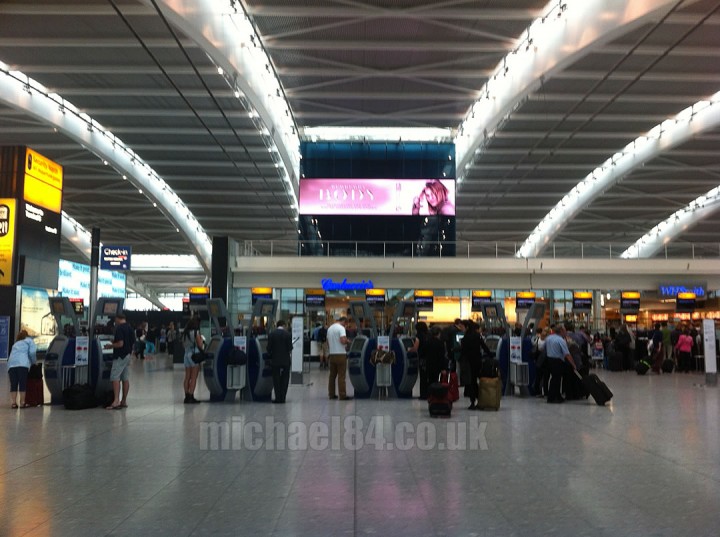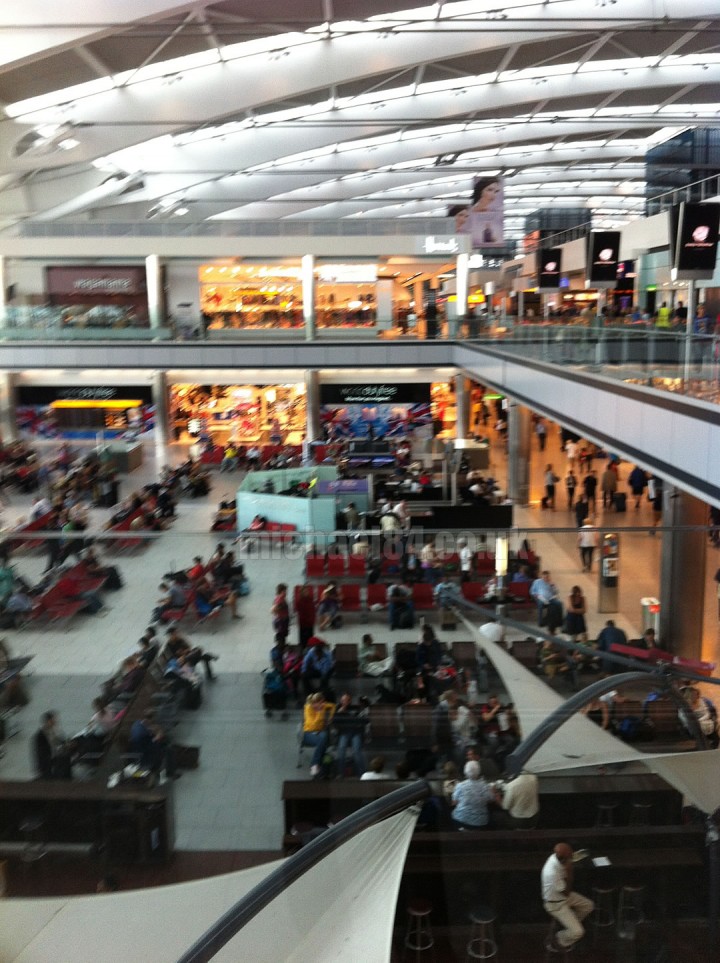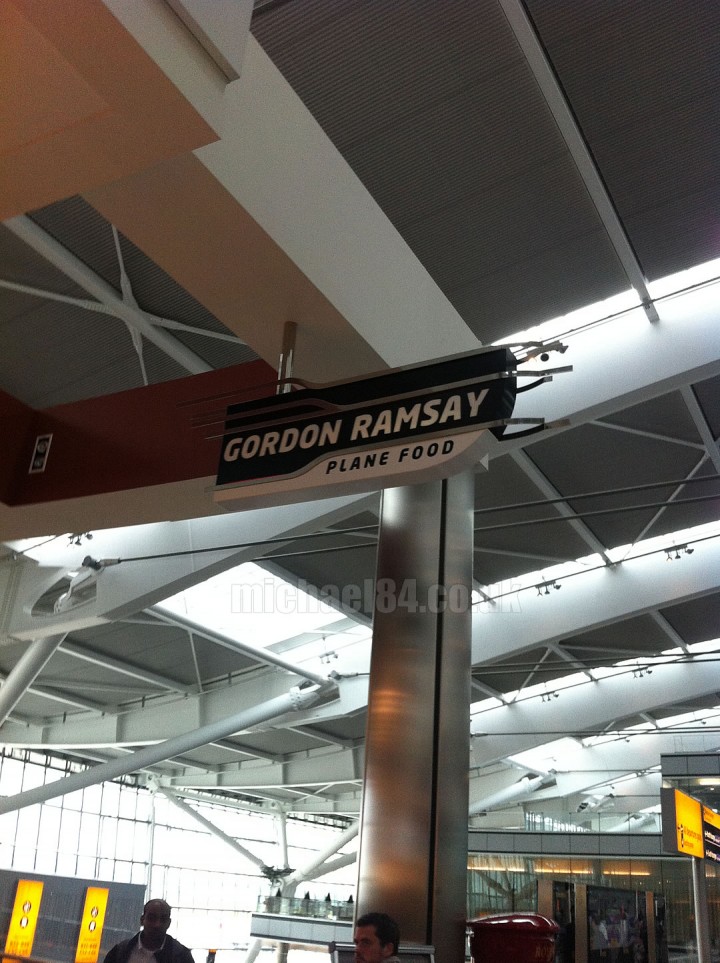 I was flying with B.A. and there always seems to be people complaining about them and they are rubbish etc. I have to say I was quite impressed.
I got myself the app for my phone and had my boarding pass on my phone, and did online check-in too. I was a bit apprehensive about it because I had never done that before so was worried something would go wrong; Nothing did, it was all good, and in fact it is much easier to check-in online and have a boarding pass on your phone.
So the plane; It was the biggest plane I have been on; 2 aisles and 3 rows of seats, and I was near the front which I prefer, I think it is better it seems to be more smooth for take off and landing…or maybe I am just paranoid haha 😛 The leg room is pretty good, I just got a standard ticket and I cannot complain about the leg room. When I got on the plane to go to my seat they said the words everyone wants to hear… "turn left please" 😉
On board you get a sandwich and choice of drink, diet Coke for me obviously 🙂 and you can use iPads and electronics on the plane when you are in the air so I was happy. The flight was good, nice and smooth, a little turbulence but it felt fine.
I got to Arlanda airport Terminal 5 and did the usual going through security/passport control to the baggage claim. I got my bag and was checking it when a little old woman came up to me and said "That is my bag!" she was right, it was 😀 It was the exact same bag as mine; Same brand, colour and size, luckily she had tied ribbon on the handle which I then noticed. Around 15 minutes later I finally got my bag.
On the way out I was happily walking and then was stopped by customs, I freaked a little bit 😀 He started talking in Swedish and I told him I was English, it was the most serious looking guy ever

He asked me a couple of questions and then as simple as that said "OK thanks" and that was that :O It was a little weird haha. I don't think walking through with the 1L bottle of vodka in a clear bag was a good idea 😉
So then it was time to get out the airport. I thought about getting a Taxi, but I really wanted to see a bit of the city and do the whole local thing instead of being a boring tourist so I got the train to Stockholm Central Station, the Arlanda Express. It is actually faster than a taxi, and only takes 20 minutes to get to the centre of Stockholm.
I got to Stockholm Central Station and it was around 5 or 6pm, so basically rush hour on a Friday 😀 I wanted to use the subway and planned on using that for the time I was there so got an Access card for the weekend, which is similar to an Oyster card. I had to wait ages in the queue but finally got it then experienced my first ride on the Stockholm subway and got it to Östermalmstorg which was the closest station to my hotel.
Walked around for a little bit in the right direction to my hotel, and then walked down the wrong street, oh well, it's part of the experience

After realising I got back on the right track and was at my hotel in around 10 minutes.
Checked in, unpacked and relaxed for a little while. Stockholm, I have arrived 😉
Thanks For Reading...Want More? 🙌
Hi, I'm Michael 👋 I'd love you to subscribe to my newsletter for exclusive content & updates on my blog straight to your inbox. (No spam, I promise!)