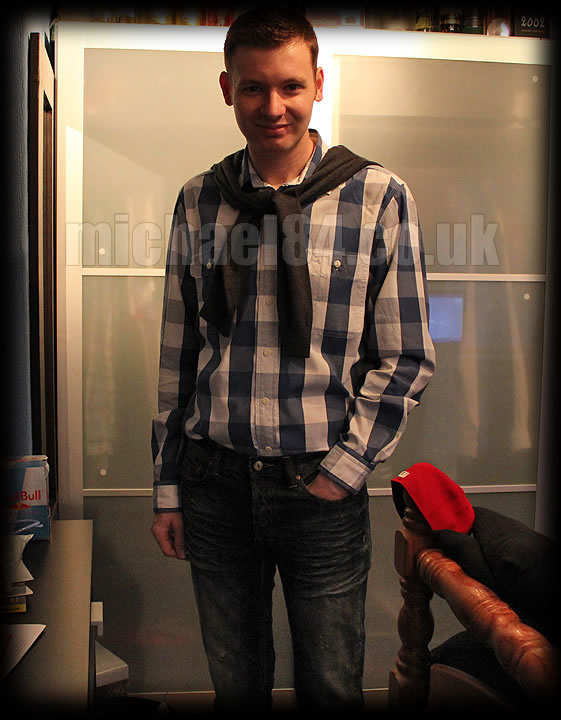 Gant Shirt, Hugo Boss Knit, PRPS Jeans, MR KG Shoes
Hey blog!
So I was out in Newcastle last night, just for a quiet couple of drinks. We went around the central station area and stayed there for most of the night, but headed to Label for one drink. We went to Milecastle, Centuiron, Rafferty's, O'Neils and North; There was a band on in O'Neils…Well I say on, they played 1 song in the 40 minutes we were there, and did not sing anything other than the chorus of "Knocking On Heavens Door". 😀
We were messing with the jukebox in one bar, so I had to put a couple of songs on; So Sold Crew – 21 Seconds, Robyn – Be Mine and Tinie Tempah – Written In The Stars. Quite a strange mix I know 

I could not help killing myself laughing when So Solid kicked in, what a hilarious moment to hear that song in a bar, and hear it 11 years after it came out too 😀
It was the opening weekend of "House Of Smith" but I decided we should go to Label instead. We had cocktails, they claim it's buy one get one free….However when they mix it with a cocktail shaker and glass there is enough drink to fill the one mixing glass…But then they get 2 empty glasses, throw loads of ice into them and  split up the mixed drink so you aren't really getting 2 for 1! The measure only looked 35ml of alcohol at best too so definitely not a proper 2 for 1.
I was trying out my camera on my iPhone, it seems to be just as bad in low light as the iPhone 4, not the best but reasonable. Here is a ceiling, guess the bar… 😉
Thanks For Reading...Want More? 🙌
Hi, I'm Michael 👋 I'd love you to subscribe to my newsletter for exclusive content & updates on my blog straight to your inbox. (No spam, I promise!)