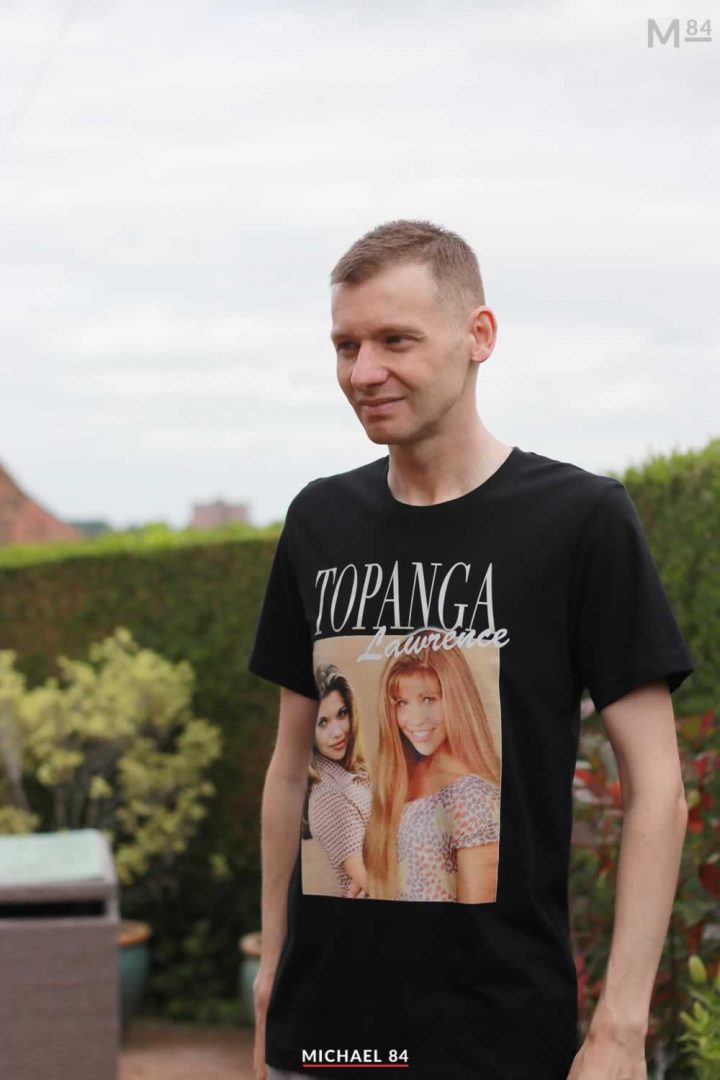 I got myself a new T Shirt, and this is it. For today my outfit consists of this new Topanga Lawrence T Shirt.
If you recognise the image you'll get it, and if you don't, this is what it's all about.
Years ago there was a show on TV called Boy Meets World which I used to watch. If you are old, you might remember it, and if you're not, then you'll probably have no idea what I am talking about!
One of the lead characters was Topanga Lawrence, who everyone loved, and that's who's on the front of this T Shirt.
I saw this graphic T Shirt a few weeks ago somewhere, and I had to get myself one. I love a good graphic T Shirt, all T Shirts for that matter, so adding this one to the collection was a no brainer.
I am always worried about this type of print, as it's a photo. There's good and bad quality, and there's no way of knowing when you're ordering online what the finished product is going to be like.
But once I had it in my hand I was happy with it.
Sometimes photo prints like this are hard, or feel weird or just uncomfortable. This isn't the softest photo print I've ever had, but it's soft enough. With screen prints you can't feel the print which is good, and with this one you can feel the printing. But like I have said, it is soft, so it's not the biggest of issues.
This is usually the case with photo kinds of printing. I am not sure on the process used, I don't think it's been digitally done. In terms of the quality, it's very good. A vibrant print which really stands out.
Overall I like the T Shirt. It's a nice fun thing with some retro pop culture which I love. It's something to wear out and anyone who sees it will recognise Topanga and be reminded of the funny memories of the show.
Thanks For Reading...Want More? 🙌
Hi, I'm Michael 👋 I'd love you to subscribe to my newsletter for exclusive content & updates on my blog straight to your inbox. (No spam, I promise!)