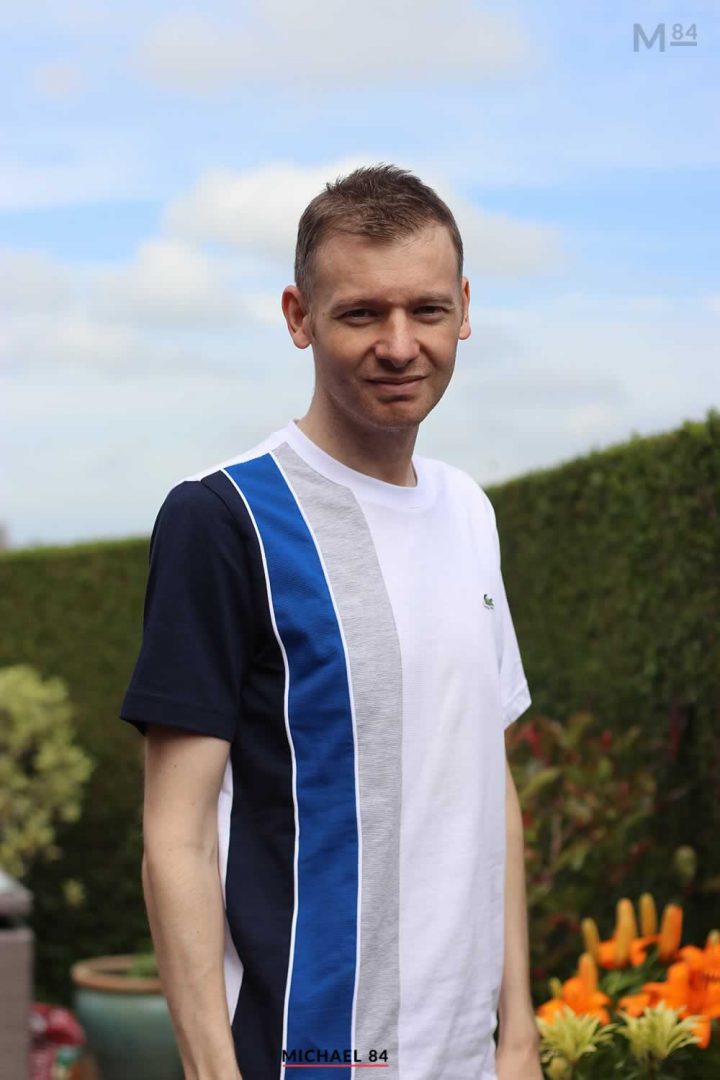 Happy Friday!
I have something new in my wardrobe! I got this Lacoste T-shirt a while back but haven't posted it. Now is the perfect time to wear it for my outfit of the day.
Here's everything you need to know about it.
It's a predominately white T Shirt with a stripe design. It's an interesting take on the design, with a royal blue and grey stripe covering a lot of the right side of the shirt. The sleeve is also another colour, being navy blue.
The design is something different to other tees I own. Some have all over prints or stripes, some are plain, and some have logos. This one is different to the vast majority I own.
I kind of like the asymmetrical style of this design. As with most things Lacoste, it's finished off with the trademark Lacoste croc which is embroidered on the front left chest.
The material is an interesting choice. The stripes aren't just a printed pattern, rather than a cut and sew style. What that means is that they're stitched together as panels, which is a different kind of construction to a standard T Shirt.
It's made from 100% cotton, but not a smooth cotton. This is a kind of knitted cotton, and can deal with moisture and sweat well, coming from the Lacoste Sport line. It would be great to wear doing sporting events or any kind of activities when you're likely to sweat.
I'll just be wearing this one as a casual T Shirt. I'm styling it with a pair of sweat shorts, to go with the sporty nature of this top.
It's a pretty cool thing to wear, I mean that literally. It does make me feel cool in the hotter temperatures. Definitely needed for today!
Have a good Friday.
Thanks For Reading...Want More? 🙌
Hi, I'm Michael 👋 I'd love you to subscribe to my newsletter for exclusive content & updates on my blog straight to your inbox. (No spam, I promise!)