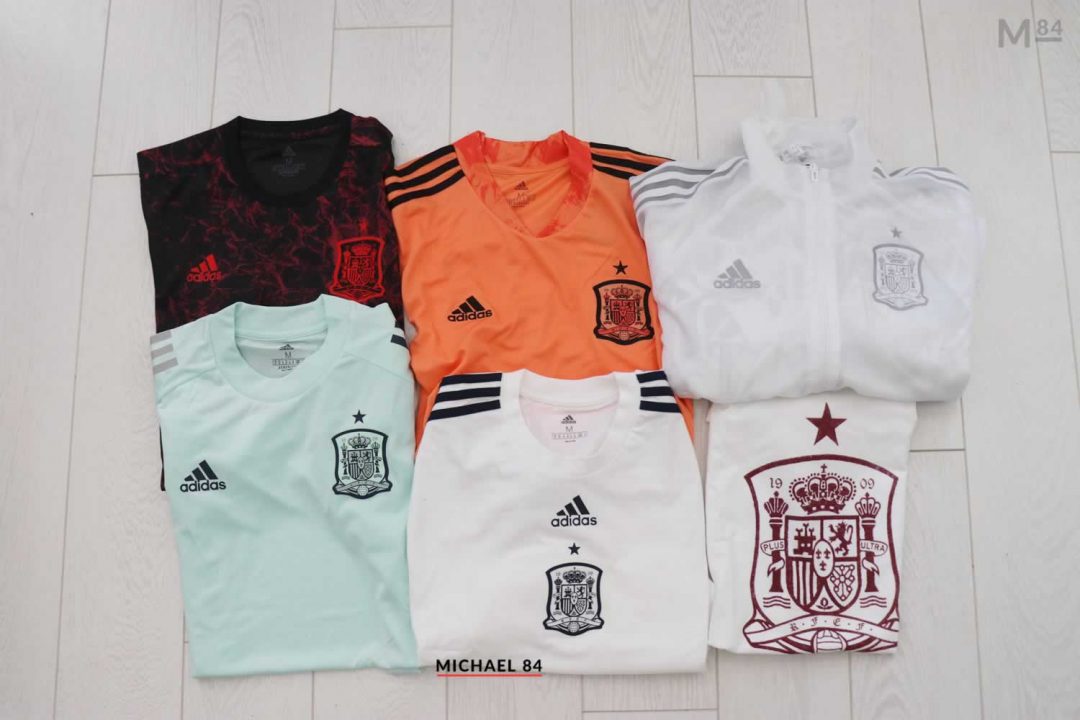 Euro 2020 may be over, but that doesn't mean a thing when it comes to football clothing! Immediately after Spain were eliminated from the Euros, Adidas had a great sale on most of their clothing and shirts.
I had to get myself a piece of the history. Even though they didn't win it was a good tournament, and I've really liked seeing these pieces since they were released.
Here's what I picked up, including the pre match jersey, training shirt, anthem jacket, seasonal shirt and graphic T Shirt.
White Spain Anthem Jacket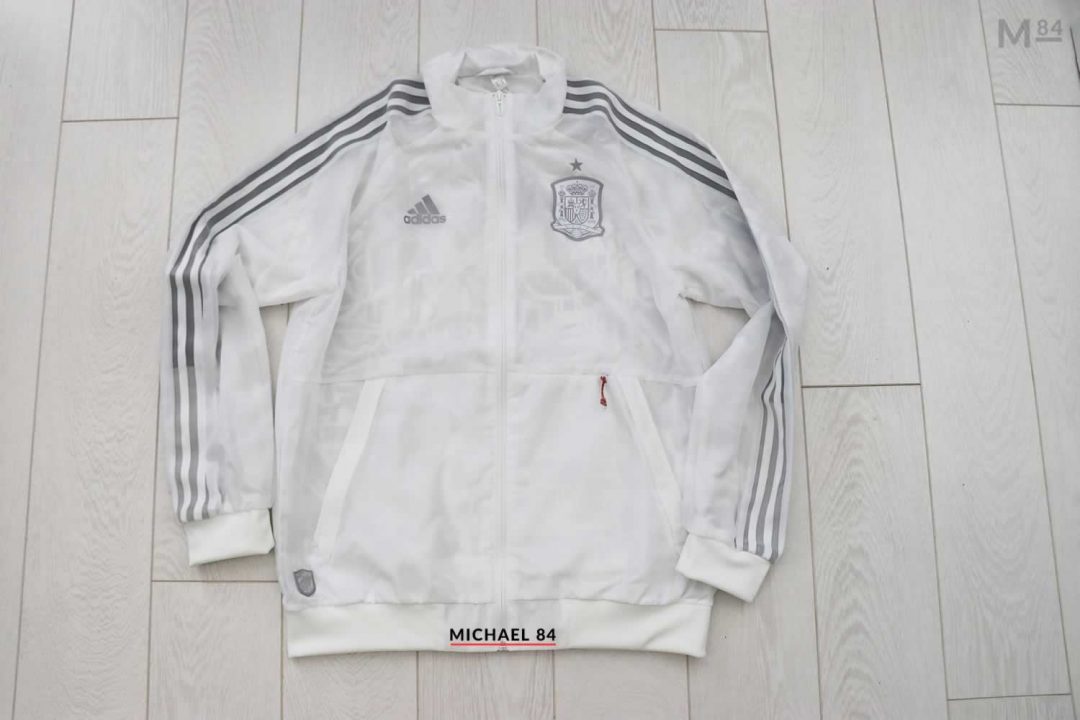 First up is the white Spain anthem jacket. I saw this throughout the Euros as the team walked out and lined up for the national anthem. I saw it on the Adidas site a few weeks prior, but seeing it live on the players made it look better.
The only thing I did not know what the material: What it a thin and soft jacket, or something thicker? I can now tell you that it's a light and thin water resistant jacket.
It does feel very soft and silky, almost like nylon, but this is polyester. The interior is lined with a breathable mesh style of lining, keeping everything light. It's a jacket which is made for the summer.
In terms of the design, it's very minimal. It has the Spain crest and Adidas badge to the front in a tonal silver colour, with España wording on the back of the neck in a vertical orientation.
Near the bottom of the front there's also an Adidas hologram for authenticity.
It comes with three pockets, two to the sides and an additional pocket which has a drawstring pull.
Pre Match Jersey In Red And Black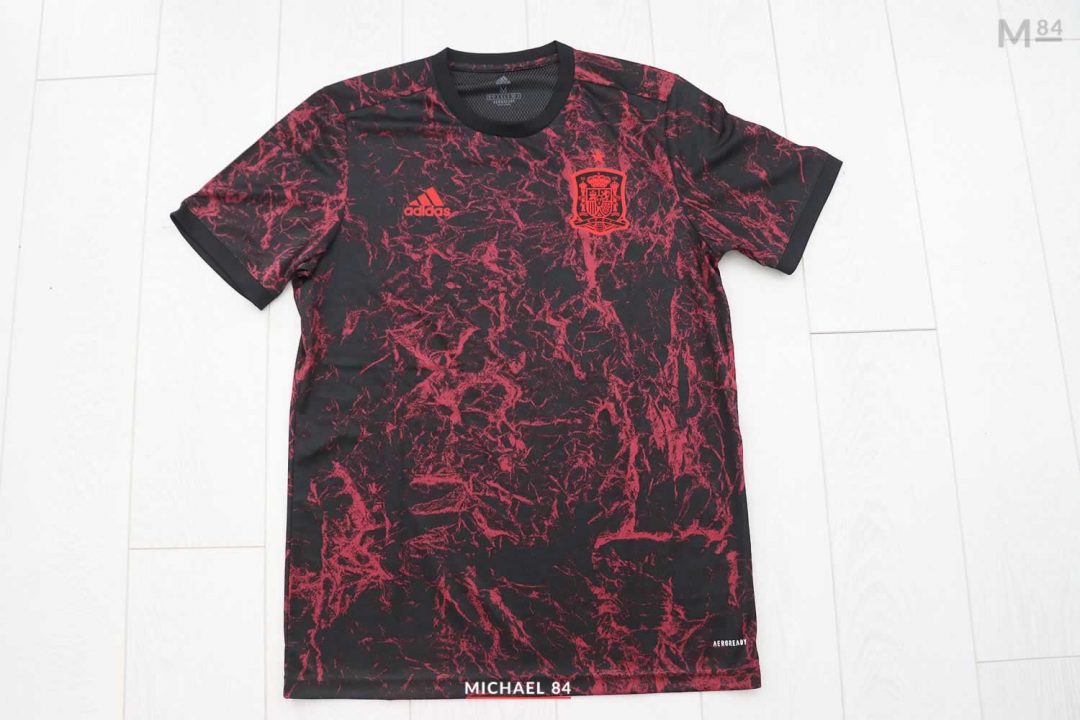 If there's a shirt which is going to catch your eye, it's the Spain pre-match jersey. Look at that design, it's so striking!
As you'd have guessed, this is usually worn pre-match, before the teams play. When players are warming up on the pitch, this can be seen. I've seen many of the players, including Pedri wearing this before matches.
It's black and red with this crazy pattern which is said to be a hand painted design. It's made from AEROREADY double knit fabric which is really nice and comfortable to wear, and keeps you cool.
Both the Spain crest and Adidas badge are heat seals, as is the España wording which is placed at the bottom on the back left side of the shirt.
Mint Green Spain Training Jersey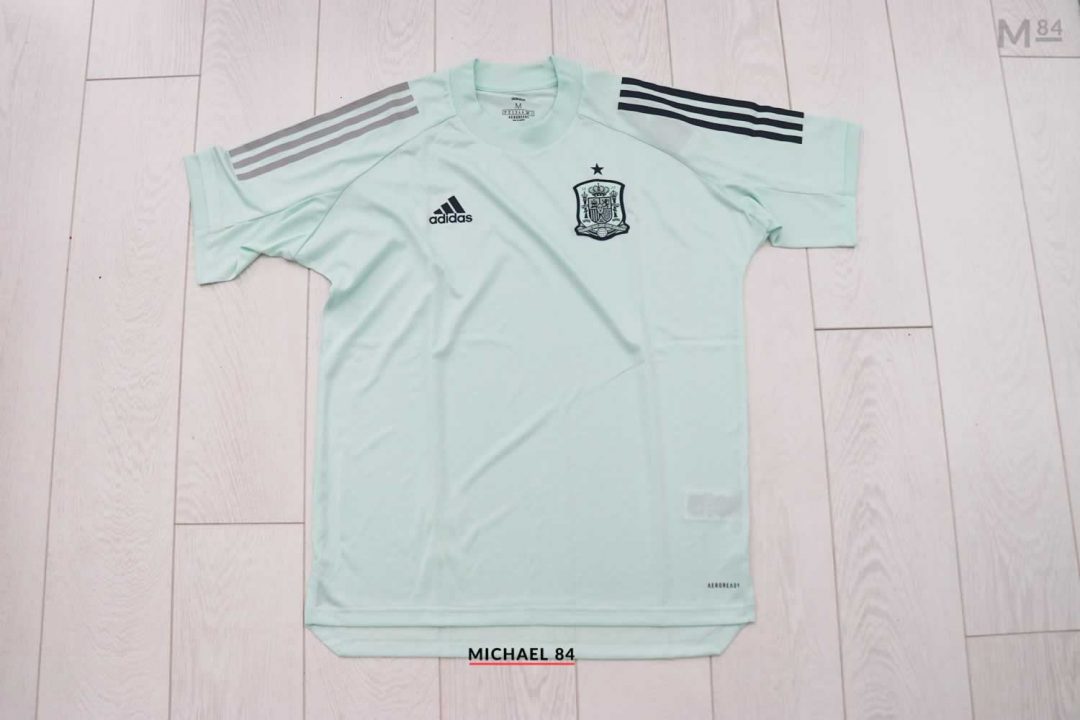 I love the mint green Spain training jersey. I think that this could have been used as a 3rd, or even a goalkeeper shirt. But it wasn't, instead this colour is being used for a training shirt.
As with the other jersey's it's made from AEROREADY fabric, but this is made from a special mesh making it even more breathable. All the badges and the Adidas 3 stripes on the sleeves are heat seals rather than embroidery.
White Special Seasonal Jersey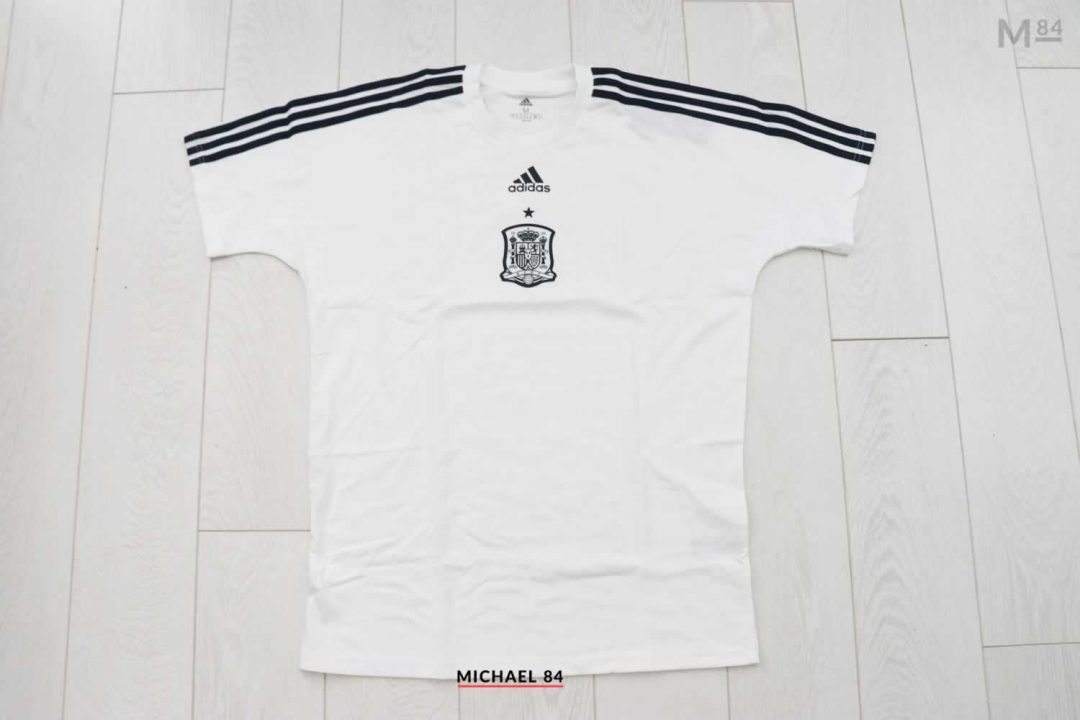 The Spain Special Seasonal Jersey is something I have seen Spain players wearing for travelling, or as a casual shirt. I really like the simplicity of the design, and the colour being white makes it timeless.
It's quite a loose fitting T Shirt, I have plenty of room in this and could have sized down. It's made from 100% jersey cotton rather than the more sporting polyester material.
The design is different to the other shirts, with the Spain crest being a raised heat seal in a tonal blue colour, and is positioned in the centre of the shirt.
Spain Crest DNA T-Shirt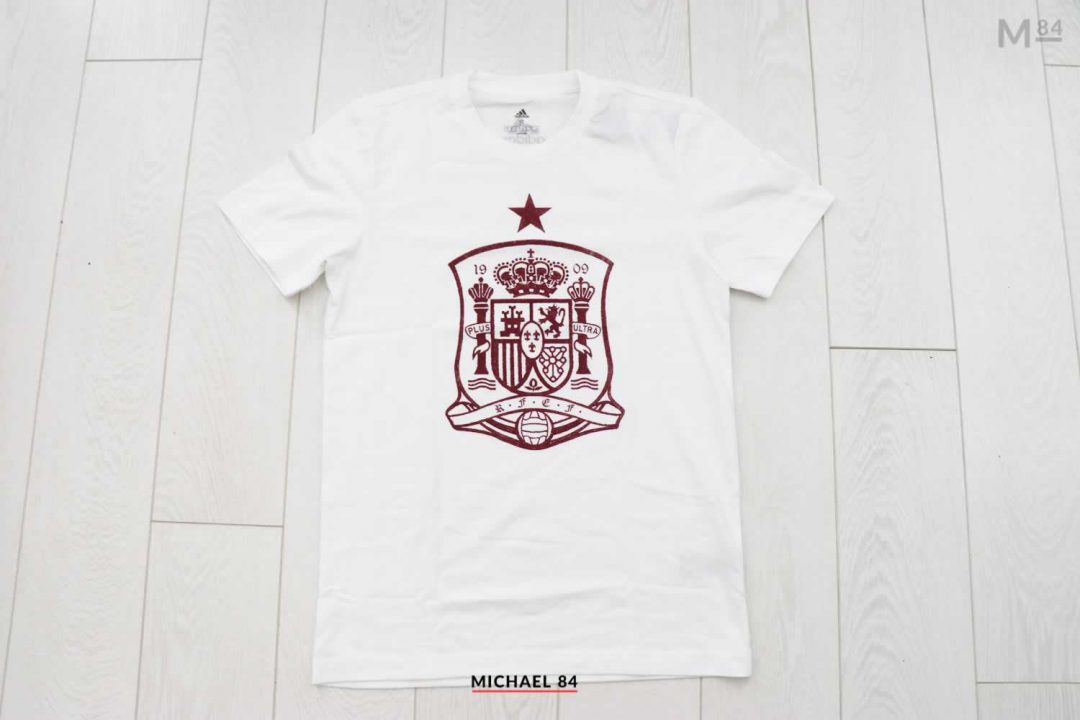 The Spain crest DNA T Shirt is more of a fan and supporters T Shirt rather than a football shirt. It's 100% cotton, and has all the essentials of a regular T Shirt.
This is of course combined with the large Spain badge which is an oversize screen print right in the centre of the shirt. There's no mistaking this for a Spain shirt.
I also got the Spain 2021 Orange Goalkeeper Shirt which you can check out in more detail.
And that's the Spain 2021 clothing I've recently bought. I like all of these pieces, which I'll be wearing as well as keeping in my collection.
I'll be able to wear these pieces when Spain play in the Olympics, as well as the other games Spain play. There's the World Cup Qualifiers, along with the finals of the Nations League. There's so much life still left in the Adidas 2021 Spain clothing.
Thanks For Reading...Want More? 🙌
Hi, I'm Michael 👋 I'd love you to subscribe to my newsletter for exclusive content & updates on my blog straight to your inbox. (No spam, I promise!)