Today is football shirt Friday!
I've been wearing football shirts quite a bit lately, but today is a special day. Since it's officially Football Shirt Friday 2020, I thought I would mark it with a special shirt.
It's my Newcastle United Away shirt from 1996-97.
This isn't a new shirt, it's not a reproduction. It's my actual shirt I wore in 1996. It still fits!
It fits because back in the day we wore our football shirts pretty baggy. Very baggy.
You could probably say they were too big, and they probably were. But this was the 90s! Everything was oversized.
Add to that you're expected to grow, so you obviously never wanted to grow out of your football shirt. Buying a bigger shirt was always the thing to do for all boys and teens back in the day.
Another thing to do was to get a footballer printed on the back. Can you guess who I got?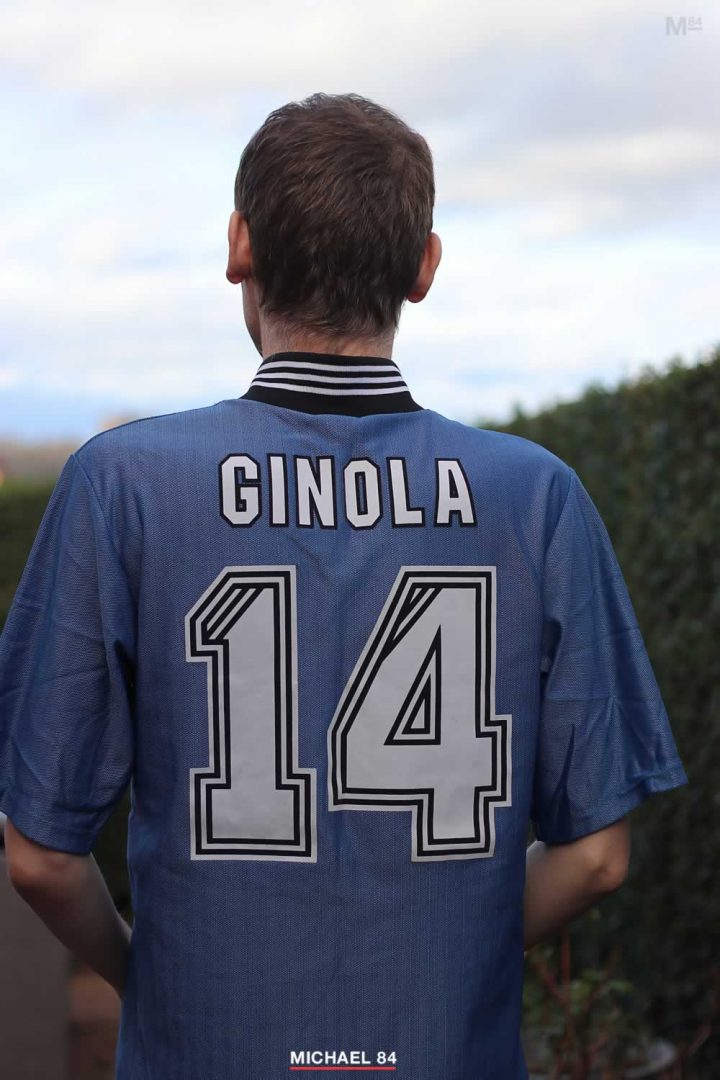 David Ginola! I always loved him as a player. He was skilful and had crazy technique, and was one of the best imports the Premier League had seen. I always liked wingers and people who created as well as scoring goals, so Ginola was a good choice.
I will always remember getting his name on the back and then people telling me that we were selling him after I had it done. There were rumours, but he played that season. We did end up selling him the next season though.
But this shirt though…Look at it!
They don't make them like they used to, and that's such a shame. I like modern kits, but many of them look the same, with templated designs and made from the same materials.
This one was made with 80% polymide and 20% polyester. It feels so different to a modern football shirt. It's a blue denim colour which looks really cool, not just your standard blue colour.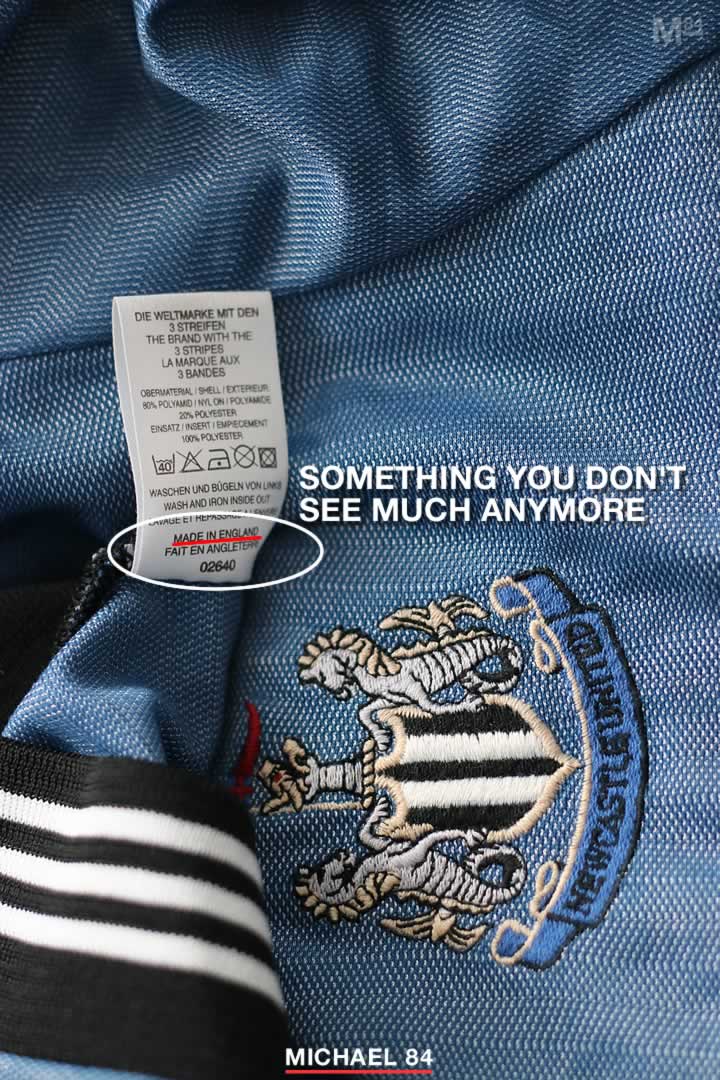 There's something you've probably never seen too…A tag that says "Made In England". When was the last time you seen that on a football shirt!?
The collar is different too. It's a kind of V-neck, but really high like a round neck collar, and is made from a more elastic material. The front design has a black band with Adidas three stripes, and the sponsor logo in the middle. That would be the infamous Newcastle Brown Ale, the most well known and loved sponsors Newcastle has ever had.
It's not just the sponsor, but the logo is applied using flock giving it a really nice feel. The Adidas and Newcastle crest on the front of the shirt are both embroidered on too. The name & number 14 on the back are made from flock too.
There's an embroidered rectangle patch on the bottom right of the shirt too. It's designed with "The Magpies" written along with a few retro club crests and the current one.
I love details like this, and remember both Adidas and Nike using patches stitched on to their sportswear and football shirt in the mid to late 90s.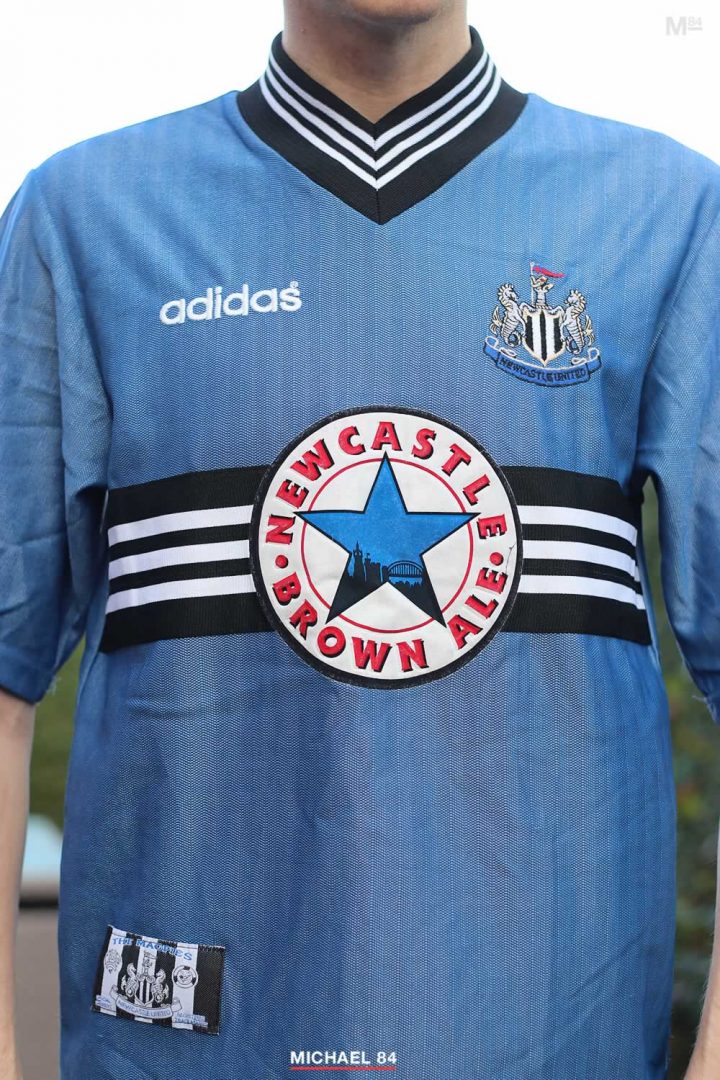 There's no doubt that the modern ways of plastics printing for the badges, names and numbers and 100% polyester shirts are more comfortable to wear. This is especially true when actually playing sport or doing any activity.
But there's just something cool and nostalgic about these proper genuine retro football shirts.
This is from the 1996-97 season, so the shirt is 24 years old! I'll always remember getting this shirt, and going straight out to play football on the field with my friends.
I got this and only a few days later I went on holiday, and of course wore this shirt. Wearing football shirts abroad is such a British thing to do, it's what we do and I loved that!
If you'd like to donate to the official Football Shirt Friday fund raiser you can go to footballshirtfriday.org here. Don't forget if you're wearing a shirt to take a selfie and use the hashtag #footballshirtfriday
Thanks For Reading...Want More? 🙌
Hi, I'm Michael 👋 I'd love you to subscribe to my newsletter for exclusive content & updates on my blog straight to your inbox. (No spam, I promise!)