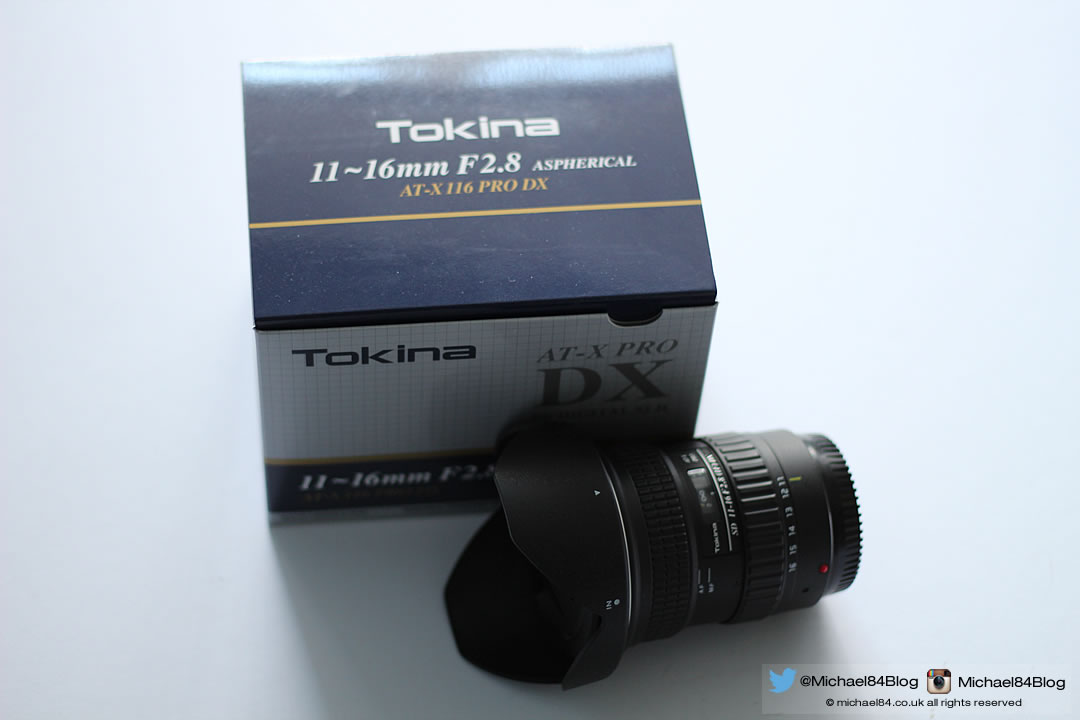 Yes, I got yet another lens!
After getting my nifty fifty only the other week, I have added another lens to my now-growing collection. I wanted and needed a wide angle lens, and after reading reviews and info for a couple of weeks, I finally decided on the Tokina 11-16mm f2.8 AT-X 116 PRO DX lens, and took the plunge and bought it. I do have a specific reason for this lens which will come clear later in a few weeks on my blog 😉 but I have always wanted and needed a good wide angle lens for my camera.
If you have a Canon 600D or any of the crop sensor cameras you'll know that it's 1.6x factor; That means even with the lens kit which is 18-55mm the actual range you get starts at 28.8mm, so it not too wide. This lens has been made for the APS-C sensors in mind, so the 11mm is really wide, and you get a great range. This is also the first "good" lens I have bought….The others have been the standard, plastic-cheap (although not cheap!) lenses, and they have been really good so far. When I got this I was impressed with the build quality, I read everywhere that it was "built like a tank" and it is! 😀 The first thing you notice is the weight; As I say I have only ever used the Canon lenses at the entry level range, and in comparison this is so heavy and feels very well built.
I am not a pro photographer so this lens is absolutely brilliant for me, at £425 it is hugely expensive for my usage, but since I do take lots of pics for the blog as well as taking it with me if I travel, it's worth me having. If you are into cameras then you'll probably know that this is not that expensive for a lens, such as a £2,000 Canon L series for instance 😛 For the regular folk who just like taking good pictures, this is expensive, but it is an investment 🙂
It does have a zoom feature, it's only a few mm but I decided it was better than a prime with no zoom. The other lens I could have got was a Samyang 14mm, it was quite a bit cheaper, but this had far better reviews, it's wider and has that little bit of zoom. The autofocus and manual focus are easy to operate, just slide the larger ring either up or down depending on what you want. It comes with a hood, which is detachable, it's larger at 77mm so my filters I have for my other lens will not fit, but I am not worried about that.
This will be a great lens for landscapes, travel photography etc. so I really look forward to using it, I'll probably be using it for general blog photography too, we'll see how it stacks up for that 🙂
Thanks For Reading...Want More? 🙌
Hi, I'm Michael 👋 I'd love you to subscribe to my newsletter for exclusive content & updates on my blog straight to your inbox. (No spam, I promise!)