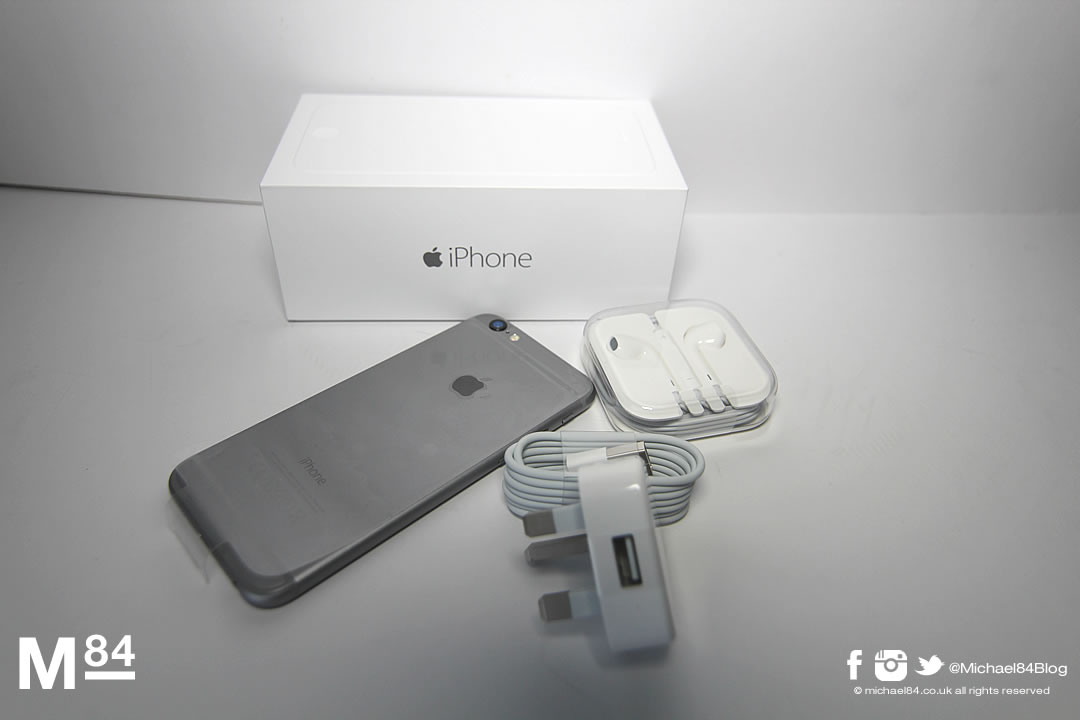 If you're Apple then you're saying that the iPhone 6 and 6 Plus phones are "Bigger Than Bigger". If you have an iPhone or follow technology, it's been no secret that the new iPhone would be bigger, and the rumours were true, they did indeed release 2 models which they've named the 6 and 6 plus.
I have had a few iPhone now; The 3G, 4, 5 and now 6. This is the first iPhone I have ever bought on release day, and the first direct from Apple. It's also the first time I have gone back to buying a SIM-FREE phone, and will change from a contract to a 30 day rolling plan. This is expensive up front, with the handset costing £699, however it does work out just over a hundred quid cheaper over 2 years which most contracts are. I got the 128GB iPhone 6 in Space Grey, the same handset would have cost me £209.99 and cheapest tariff of £48/month for 2 years! This is too expensive, I was paying £43 which I thought was also too expensive, so I wanted to bring the monthly cost down; I'll be getting a plan which is around £22/month. Not only is it cheaper, I will not be locked into a deal for 24 months.
The iPhone 6 Size – Is it too big?
OK let's get down to it. The biggest noticeable change is the size of the phone. It is bigger, it has a 4.7″ screen whereas the 5 has a 4″ screen. The screen size is very noticeably larger when you're using it, and that's a good thing. A bigger screen for apps, games and even email and messages is always going to be better, and let's be honest, that's why we use these devices. But we have to consider the fundamentals, this is a phone, and you will be carrying it around with you, day in, day out. The iPhone 6 is very slightly wider, and a little bit taller, however it is a lot thinner. Since it's a lot thinner it fits in jean pockets very easily, and although it's bigger, it's not too big for jean or jacket pockets.
The weight is also only slightly more; The iPhone 6 is only 17 grams heavier, and because it's a bigger device, the weight is spread across it so does not really feel much heavier if at all. It's also lighter than the iPhone 4, and in fact all other previous models (other than the 5/5S). The most important factor in the size is that it's super thin, and has rounded edges rather than a squared block-brick style has before.
What about using the phone, as a phone? Yes, it's a shock some people out there use their phones to actually talk to people. Holding it in one hand is certainly different. I have large hands, and although it's fairly comfortable, because it's so thin and is larger than any other phone I have held, it's an adjustment.
iPhone 5 height – 123.8 mm
iPhone 6 height – 138.1mm
iPhone 5 width – 58.6 mm
iPhone 6 width – 67.0mm
iPhone 5 depth – 7.6mm
iPhone 6 depth – 6.9mm
What about the battery life?
Another key point for mobile devices such as phone is the battery life. If you've got and iPhone or previously owned one, you'll know that the battery is not great, in fact it's pretty poor. It's probably the one thing which has not really made much in the way of development, the standby time is quoted at 250 hours, which has been more or less consistent in the iPhone ranges over the years (the £g/3GS/4 was allegedly 300). In the real world of using it, I have not noticed any improvements, however it's also not getting worse, and since this is a bigger device and using more power, many may say that it is in fact a net improvement.
Apple still have the internal battery which you can't remove, it would be really nice to see a swappable battery, where you could always have a spare to swap-out. If Apple ever did this, I am sure they would sell a LOT of batteries for those who want to do this.
What's it like to use? – Should I upgrade from the iPhone 5/5S?
In terms of using the device, It feels slightly faster, and slightly more fluid, so you can feel a bit of a difference, albeit small, when you're using it for day to day stuff. The camera is slightly better too, and the speakers sound much better, clearer and louder. It has NFC however there seems to be no option, and it's said that this will be locked down to Apple Pay only. Other changes which are in iOS8 will be available to the iPhone 5/5S.
I want the iPhone 6 Plus because it's better – Why did you not get that?
I love technology, and I want the best possible device. The iPhone 6 Plus has a couple of more bells and whistles than the 6. For instance, it's got a bigger screen, at 5.5″. Not only that, the resolution is better, at 1920×1080 which is Full HD. It's got OIS (optical image stabilisation) in the camera too, and the quoted battery life is better. There's no doubt, the tech specs on paper show the 6 Plus as being a more powerful device. However it is far too big! I tested this by using a cut-out of the 6 Plus, and it's not only a huge amount bigger than the 5, it's even much bigger than the 6. I decided that it was just too big for me, my pockets and my life. I would love the big screen and the rest of the good stuff, but I think it's just too big to live with.
How would the iPhone 6 be better & What's missing from it?
The 6 has a few things missing from it, for instance the front facing camera is still the same 1.2MP FaceTime camera as was on the 5, with slightly better aperture. With everyone taking selfies, you would have thought that they'd make improvements in that area. The camera on the rear is also 8MP, the same as the 5, but with the better aperture and focus pixels which promises to make images better. The battery life is not improved, and cannot be replaced. It has the new A* and M8 for power, but the RAM is still 1GB however it is DDR3 rather than the DDR2 of the iPhone 5.
The Verdict
I like the new iPhone 6. The new size is good, I like the design and the slenderness of the phone, and as usual it's just a nice device to use, if you've got or had an iPhone there's not much of a transition to make. If you have an iPhone 4 or 4S then it's definitely worth the upgrade. If you love the latest and greatest thing then you'll be upgrading. If you have a 5/5S and are happy with it, and aren't bothered about a bigger screen, then you may not want to upgrade. If you are looking for an upgrade or a new phone, it's worth considering 🙂
UPDATE: Is an iPhone 6 still good in 2020? Find out here.
All the pics below…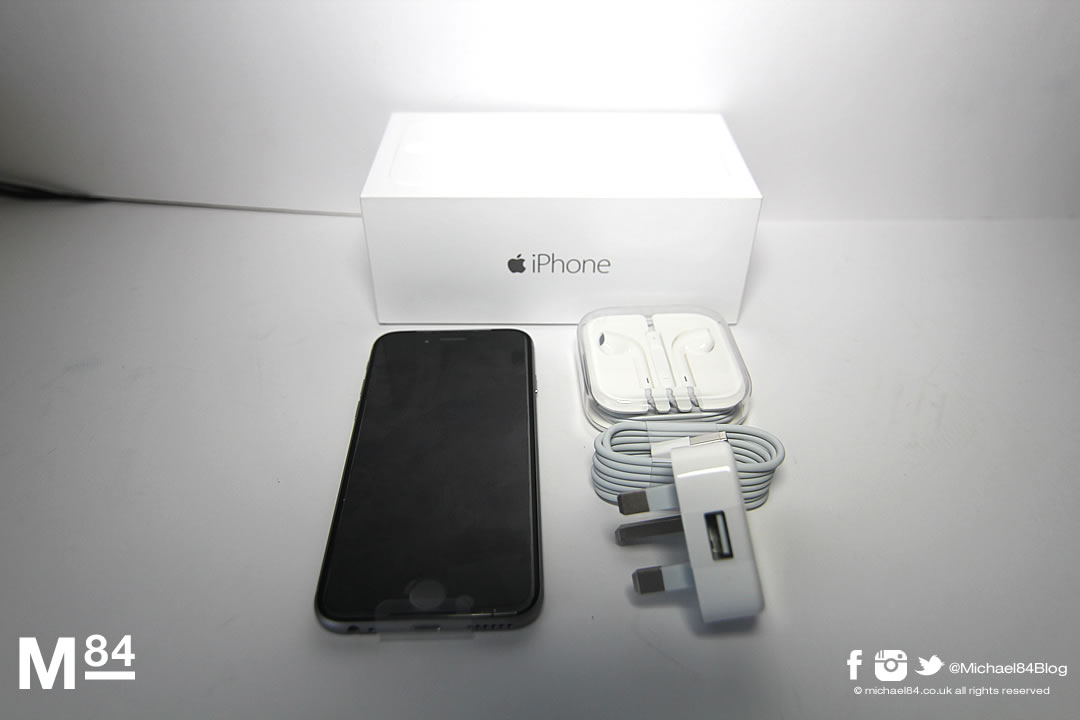 iPhone 6 unboxing. Complete with ear buds and charger.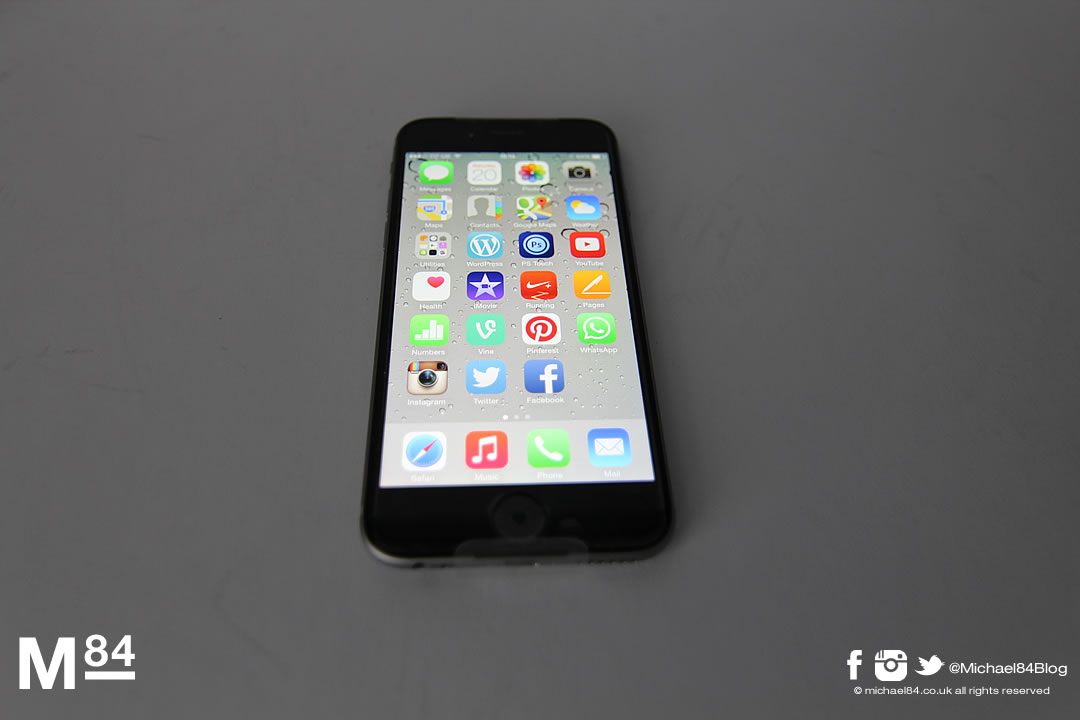 iPhone 6 switched on.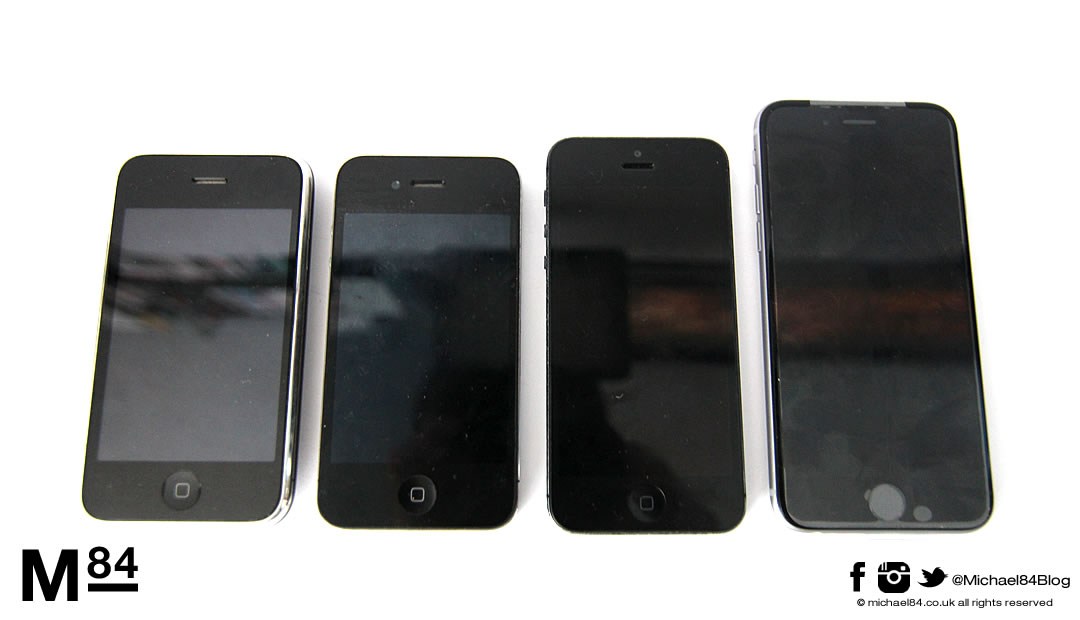 The iPhone Line-up. 3G, 4, 5 and 6.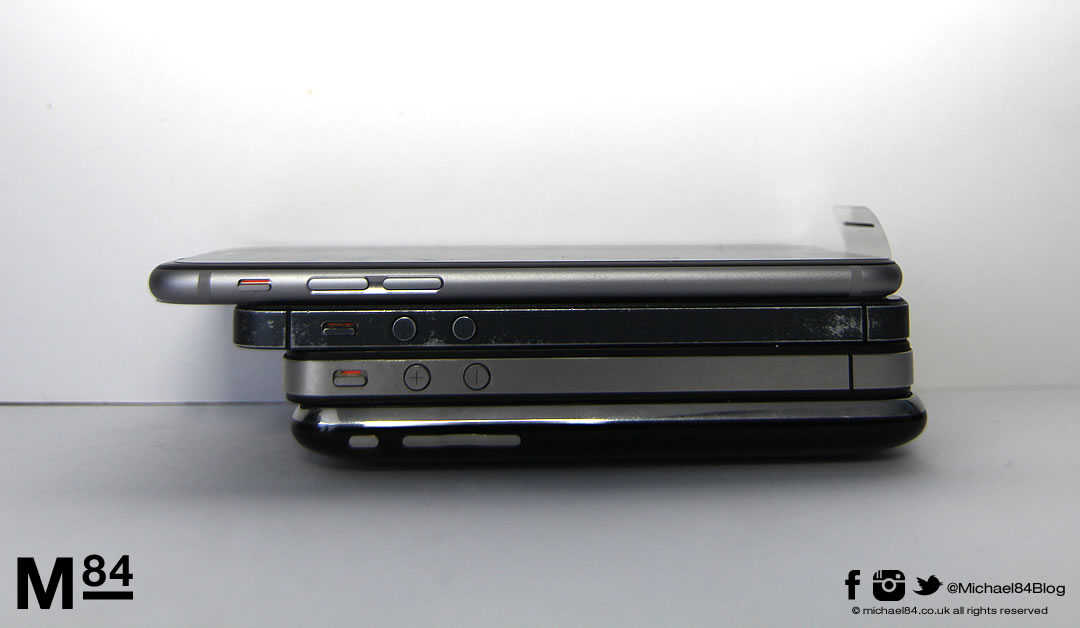 How thin is the iPhone 6? Here it is stacked up against it's predecessors.
Thanks For Reading...Want More? 🙌
Hi, I'm Michael 👋 I'd love you to subscribe to my newsletter for exclusive content & updates on my blog straight to your inbox. (No spam, I promise!)