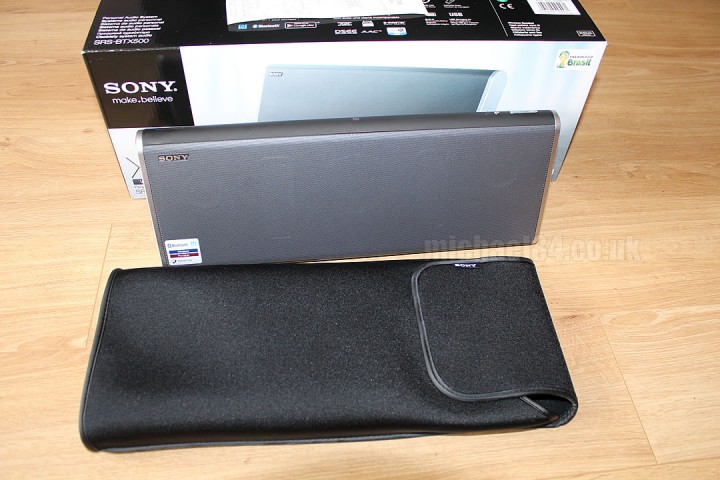 You have heard me talking about this for a little bit, but yes, I finally got my Sony SRS-BTX500, and could not be happier 😀
First of all the look; It looks fashionable, trendy, premium, high end, and it's all of these. The brushed aluminium on the sides, the lovely front grill and glowing blue light on the front to the rubber feet on the base to ensure it doesn't slip around, everything about it is really nice and well put together.
Sound
Well it sounds like you may expect, it's great 😀 Obviously far better than the Beats Pill I had. It is loud, crisp, plenty of bass, and works well quiet or loud. I have tried this in my bedroom and living room, and the sound more than fills the room. Outside in the garden it's plenty loud enough for a usual situation.
Connectivity
It does have NFC, but since I have no NFC devices I can't talk about that. It has a USB port on the back which you can use to charge your phone, no need to hunt around for the adapter just plug your phone in here and it will charge.
The biggest draw is obviously the Bluetooth. I connected my iPhone effortlessly, and I love this idea of having my phone control all the music or volume without being anywhere near the speaker.
I wanted something to connect to my PC too. I have lots of music and videos on my computer so I wanted to play from there as well as having the choice of using my iPhone. So I bought a Bluetooth dongle for it to connect. In all honesty, I thought it would be a pain to set up, so much so that I bought a wired AUX in cable, just in case I could not get the Bluetooth setup.
Once again it was easy! Connect the Bluetooth dongle to my PC, install the software/drivers and then discover the BTX500; Start playing music through my PC and it comes out the speaker 😀
As mentioned above there is an AUX in port (3.5mm) so you can connect through that if you have something which does not have Bluetooth.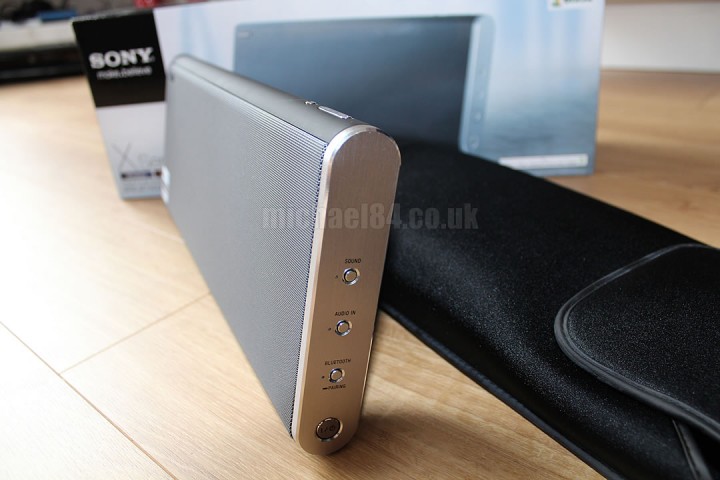 Portability & Battery Life
It actually seems smaller than when I first saw it online. It comes with a softcase to take it places, and it is not so hard to transport around. It's probably too big and heavy if you want to take this abroad or if you plan on travelling around, but it's perfectly capable of being taken to a friends house or party, or some other place.
Since I have just got it I have not had a chance to test the battery life, it's only quoted at 6 hours which is not so good.
The downsides
If you want to hunt around for downsides to this speaker I can come up with a couple, but it's being really picky.
No supplied 3.5mm cable – You don't get much in the way of accessories; Only the speaker, power adapter and softcase as a matter of fact.
Power adapter is big and bulky – In the age of small plugs with USB connectors this has quite a big adapter/plug to go in the wall. It can be impractical if you are using a 2-way adapter socker for example.
Battery life not the best – Even though I have not had a chance to use the battery fully, the quoted 6 hours is not very long, there are other speakers such as the Bose which quote a much better battery life, in fact the little brother of this (The BTX300) quotes 8 hours.
Conclusion
The downsides are really quite small, and really don't make much difference if any for me. This is a great speaker, it does everything I want it to do, sounds great and looks the part.
Thanks For Reading...Want More? 🙌
Hi, I'm Michael 👋 I'd love you to subscribe to my newsletter for exclusive content & updates on my blog straight to your inbox. (No spam, I promise!)