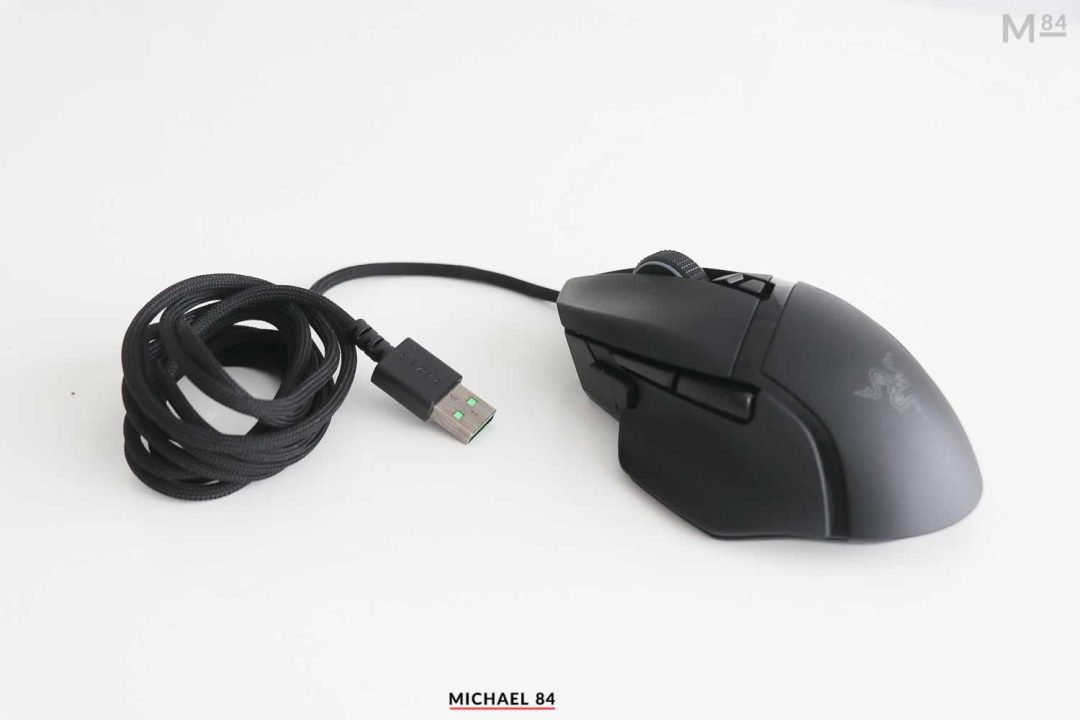 My mouse was on the way out. It kept disconnecting which means there was likely a problem with the cable. I can't complain, I've had it for years.
I wanted to replace it like for like with another (it was an Anker precision gaming mouse) but since it's so old it was impossible to get. After searching for a new mouse I came across a few, but went for this.
I decided to get the Razer Basilisk v3 mouse. It costs a lot, so is it worth it?
Here's what you need to know.
What I Was Looking for In A Mouse
For me a good mouse has a few things. It has to be comfortable, have at least 6 or 7 buttons, a good (and changeable DPI) and have a nice weight and build quality.
The mouse this was replacing had all of those features, and came in at a really good price too (I think I paid under £20 for it).
After looking around, reading reviews and watching YouTube reviews, I decided on the Razer Basilisk v3. It looked like a mouse I wanted to buy, and had all the features I wanted.
Razer Basilisk v3 Price
I will start with the price. There's no doubt about it, it's an expensive mouse. The Razer Basilisk v3 is £50. It's not the most expensive mouse in the world, but if you're not a hardcore FPS gaming which I'm not, this is an expensive mouse.
I do however like a good mouse, which this is, and I'll get into that right now.
Razer Basilisk v3 Build Quality
The build quality of the Razer Basilisk v3 is very good. The buttons feel very clicky and nice, just as you'd expect from a new mouse.
It has programmable RGB lights to the bottom which is a really nice touch, and the logo and mouse wheel to the front also have backlit lights giving it a really nice premium feel.
Razer Basilisk v3 Feel And Ergonomics
The mouse feels good in my hand. The Razer Basilisk v3 has a thumb rest which is something I have been used to for years and now couldn't go without. It just adds to the comfort of holding a mouse.
There is apparently different ways of holding a mouse, all with different names. This is a palm grip, which as you'd have guess makes it easy to grip in your whole palm. Other grips are claw and finger tip, I think it would work for all of them.
Since it has the thumb rest this mouse is best suited to a right hander, which is fine for me.
Razer Basilisk v3 Features
The main features of this mouse which I have found are the changeable DPI/sensitivity, 10 programmable buttons, rgb lighting, and a smart mouse wheel which has a clutch.
The mouse wheel can be put into tactile mode which you can feel nudge forwards and backwards. There's also a free spin mode, which means you can spin it fast, scrolling the page really fast.
There's also a smart reel option. This will keep the wheel tactile for normal scrolling, but if you scroll really fast it will go into free spin mode, speeding up. That is pretty cool!
Speaking of the wheel it is a button which is kind of normal, but it has two more. You can press it left or right, which can scroll left and right. That is a new feature for me.
Programmable Buttons
The programmable buttons are now a must for me. It let's you create macros for specific buttons to do a certain action. I had this on my old mouse and used it a lot.
For example you can have one button launch a program or browser. You can have it launch the calculator, or use buttons as play/stop/pause/mute. This is a feature I do use a lot, and really wanted in a mouse.
For all of the functions and features to work properly you have to install the Razer software, Razer Synapse.
This isn't too much of a problem itself, but at over 400mb to download, it seems a bit bloated just for a mouse. If you don't install it I don't think there is a way to get the macro/programmable buttons to work.
Razer Basilisk v3 – Is It Worth It?
As I have said, the Razer Basilisk v3 is a £50 mouse which is expensive for someone who doesn't game a lot. But this is a device which I don't buy a lot, and hopefully should last for several years.
So with that considered, I have to say that the Razer Basilisk v3 is worth it. It's a really nice mouse to hold, has a lot of features, and if you're into gaming the DPI/sensitivity range it goes from 100 up to is 26,000 which is INSANE!
I'm looking forward to using this mouse for years to come.