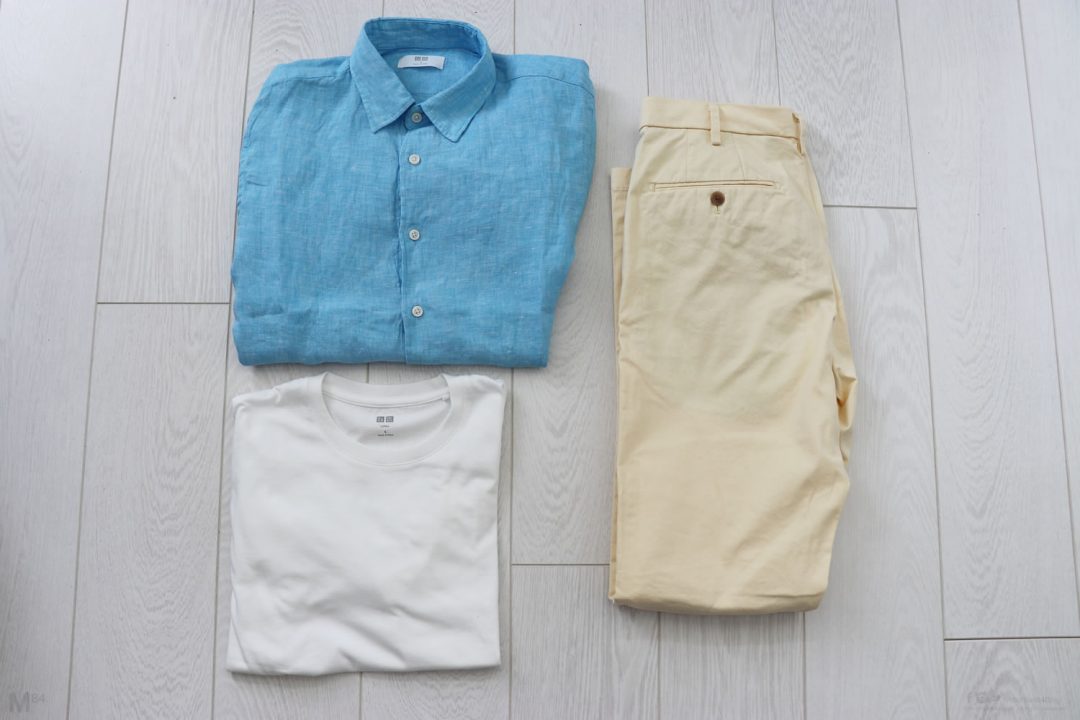 Hey guys!
So since we're getting into the Summer, I thought I better upgrade my Summer style and add a couple of things. Some of these you'll have seen before, because I've featured them in a little preview, and they're all from Uniqlo.
I've never bought anything from Uniqlo before, but they've been on my radar for years. Since they don't have any shops near me, I've had to buy them online. They only seem to sell them on their own site, so it's never been a huge priority to sign up and get some things.
But I finally have, and this is what I've got!
I picked up a linen shirt in blue, white Supima cotton T Shirt in white, and some chinos in a cream colour. Basically a whole outfit, and the cost? Less than £50! I am really happy with the quality of all the items, the fit is good, so here's the details on each piece.
I've featured this linen shirt before, and I was so tempted I had to buy it. Linen is perfect when it comes to dressing for the hot weather, and I love the colour. I've got a shirt which is very similar to this, but it's a looser, bigger fit. I wanted a more fitted style but not too tight, and the fit of this shirt is perfect. I love the material too, Uniqlo call this premium linen, and I'm pretty pleased with it.
The T Shirt is a 100% cotton shirt, from their infamous Supima range. If you've read my Best Basic T Shirt guide you'll know all about Pima cotton and it's soft touch. I've got a couple of these tees, and they are really good.
This one was only £10, and standing up against my other Pima in a similar price range, it's as good, with the fit on this one being better (My other Pima was £12.99 and has a baggier fit). It's not as good a fit as my Derek Rose, but that comes in at £40, 4x more expensive.
Finally the chinos. They are a cream/beige/sand colour, and I really do like this colour. I didn't want a super "beige-ey" brown colour, something a big brighter, but not too "Yellow-ey". I am happy to say the colour is very since, sits in the middle of everything I want it to, and will be good for the Summer. The fit is nice, a slim fit leg with the waist not too tight, I am happy with these.
These pieces could make a complete outfit, but I really bought them as separates to wear with other things; But don't be surprised if you see me wearing all three, as I think all the clothing compliments each other really well.
Have you got any menswear on your radar for the Summer?
Thanks For Reading...Want More? 🙌
Hi, I'm Michael 👋 I'd love you to subscribe to my newsletter for exclusive content & updates on my blog straight to your inbox. (No spam, I promise!)