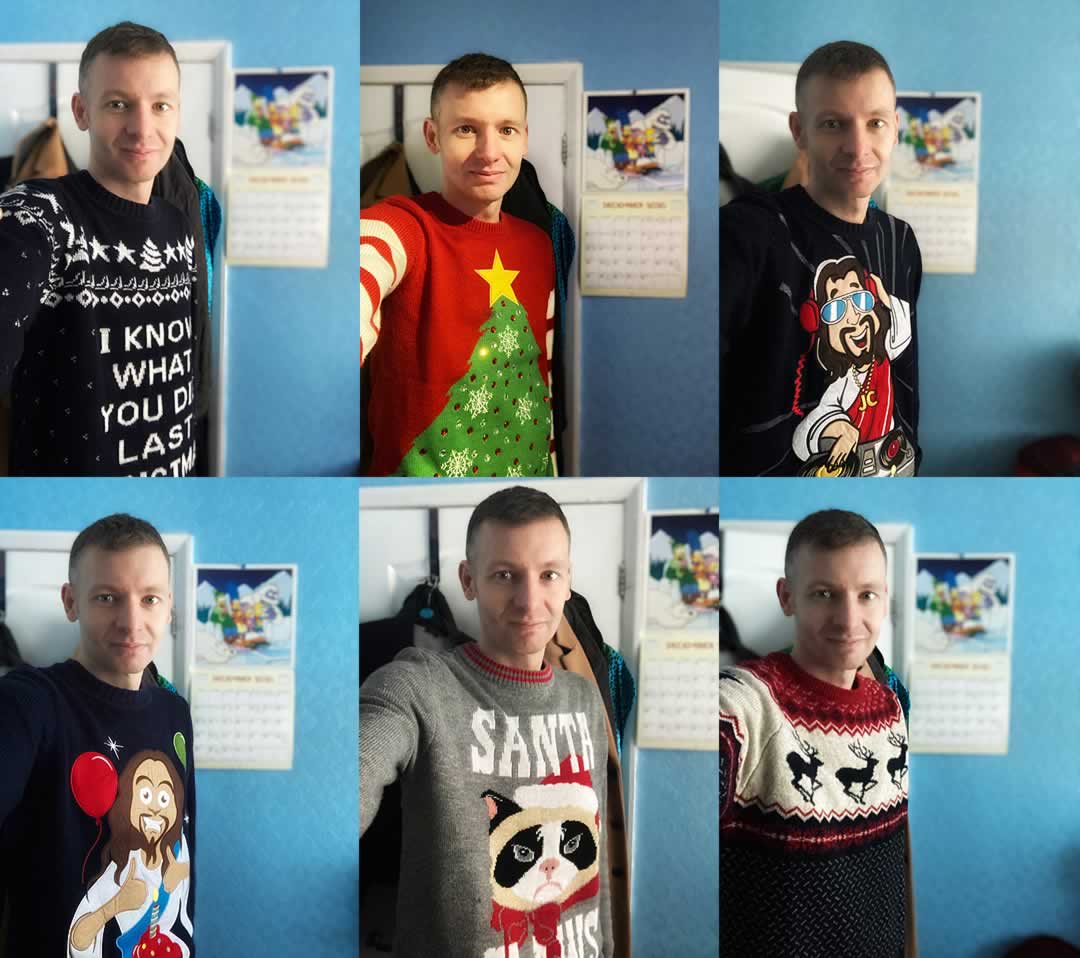 Hey guys!
It's Christmas week! We actually made it despite all the craziness this year has brought to us.
If there's one thing that can bring at least a little bit of normality, it's Christmas. No more work for a while, festive songs, lots of food and drink, traditional films and of course Christmas Jumpers!
Here's what I've been getting up to in the run up to Christmas.
I've been wearing a different Christmas jumper each day. I have these 6 in my rotation, which is plenty. I do have a couple more, but I can't seem to remember where I put them, so these 6 will have to do.
I have also been watching plenty of Christmas films. So far I've been able to watch: The Royle Family Christmas Specials, Die Hard 2, and Elf. Tonight I plan on watching Trading Places, and finally I have Love Actually and National Lampoons Christmas Vacation which is my Christmas Eve tradition.
As for TV shows, I love the Christmas specials! I watched Gordon, Gino & Fred Desperately Seeking Santa last night which was really good. I've also watched The Misadventures of Romesh Ranganathan Christmas Special which was in the Hebredies, as well as Mortimer and Whitehouse Gone Christmas Fishing.
I think the only other thing I need to watch is The Grand Tour, "A Massive Hunt", which was filmed last year and has only just made it's way on to Amazon last Friday.
And then there's music, you can't have Christmas without it. I only really like a handful of songs, including:
Mud – Lonely This Christmas
Slade – Merry Christmas Everybody
Wizzard – I Wish It Could Be Christmas Everyday
Mariah Carey – All I Want For Christmas
Wham! – Last Christmas
East 17 – Stay Another Day
and I think that's pretty much all of them.
But THIS performance from Mud on Top Of The Pops always brings back memories! I remember they played it more or less all the time when I was growing up on Christmas Top Of The Pops.
It's Mud basically having a laugh with their own song which is supposed to be sad, messing around. It's brilliant!
So that is it!
I am not sure if there will be any more blog updates before Christmas or New Year, so if there isn't, I'll say Merry Christmas and Happy New Year now 🙂
Whatever you're up to, have a good one ?
Thanks For Reading...Want More? 🙌
Hi, I'm Michael 👋 I'd love you to subscribe to my newsletter for exclusive content & updates on my blog straight to your inbox. (No spam, I promise!)