Hey blog!
How are you today? I am good, still pissed off about the Barca result last night haha 😉 I had a good day of work, I got a lot done, I still have lots to do in my never ending task 😛 Today I was updating products, I have over 500 to do, and I have done probably half of them.
Weather is shit as it usually has been over the week, it was like a storm just before. Today I got petrol, 139.9p for unleaded!? Cost £42 for 30 Litres, it just seems to go up and up.
Tonight I will watch the final Champions League semi final, Real Madrid vs Bayern Munich which is on soon.
Today I have been wearing some Spain things. My new jacket which I have never worn until today, my trainers and watch.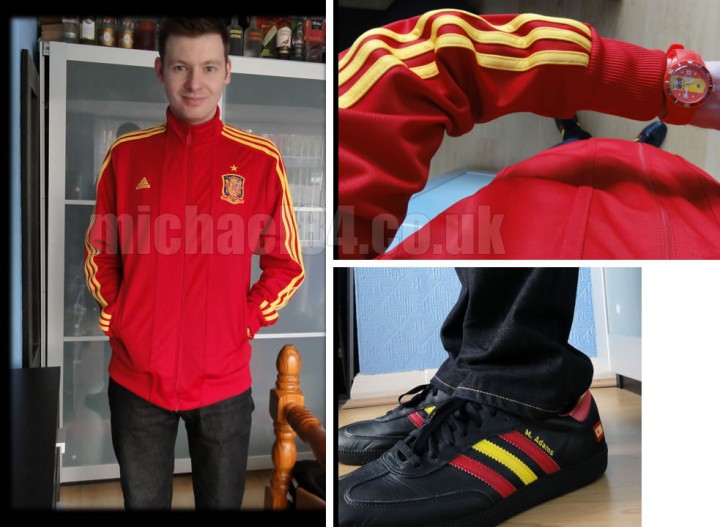 Spain jacket by Adidas
Adidas custom made trainers
ICE Watch, Spain edition
Acne Jeans
I love this jacket, I imported it from Spain. It is the Spanish anthem jacket, the one they wear when coming out on the pitch before the game. There are some other jackets, like the presentation suit and training jacket, but I prefer this one. It took a while to get.
The trainers I got custom made for the World Cup 2010 which I custom made myself via Adidas. They have red/yellow/red stripes, a Spain flag, my name and a red and yellow Spain flag pattern on the back too. They took about 4 weeks to come, but are completely unique, you cannot buy these!! 😉
The ICE watch I got after the 2010 World Cup too, I don't wear it too much now but I do like it.
Thanks For Reading...Want More? 🙌
Hi, I'm Michael 👋 I'd love you to subscribe to my newsletter for exclusive content & updates on my blog straight to your inbox. (No spam, I promise!)