Hello blog!
I can't believe how fast the weeks and months are flying by…At the weekend we have to put our clocks forward, and from next month my "new bought" car is not new, it's 3 years old which means it will need an MOT for the first time! 🙁 Today I have had to pay for a tax disc, £115 which is not so bad I suppose for 12 months. But then I have insurance, MOT, and service, all at the same time more or less.
This is what I wore today: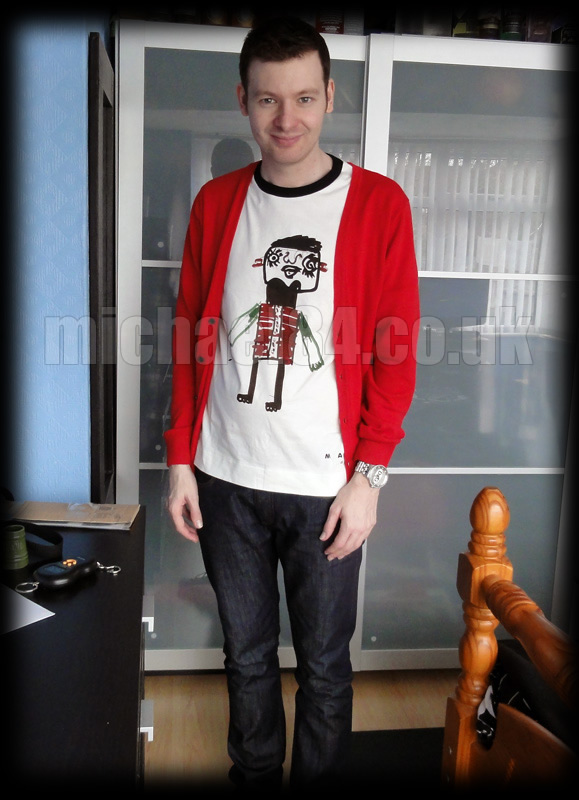 Marni for H&M T Shirt
H&M Cardigan
Versace Cruise for H&M Jeans
D&G Watch
haha! I just realised writing this that almost everything is H&M in some way! 😛 I do like their things, they are cool, you really do get your money's worth there!

People accuse me of only liking "high end" brands and labels, well you can't say that today 😉
Today I have ordered some new Converse, I really want a few new colours this summer, and I am happy with what I have chosen, I just have to wait for them to be delivered. Can you guess which ones? 😛
I have to have a good look around the fashion world and clothing sites too…It feels like I haven't written any fashion related posts for a while, which is mainly because I haven't been looking for anything for myself other than Converse.  I have to listen to some new music too…I am stuck in a rut of listening to the same old stuff which I love, but need to find new songs for today and future hits too, I have not done that for so long!
Thanks For Reading...Want More? 🙌
Hi, I'm Michael 👋 I'd love you to subscribe to my newsletter for exclusive content & updates on my blog straight to your inbox. (No spam, I promise!)