Hello blog readers 🙂
Oh what a day it has been…I woke up this morning and realised it was already Wednesday, half way through the week already!? Crazy stuff 🙂 I am still happy-drunk from my London experience 😉
Any how today I have been busy with the usual, work, and now I have done loads so will have a bit of a break. Yesterday I emailed loads of people for advertising, i.e. me paying them lots of money, how many do you think replied? 2 out of about 20!! Why would you not want money? Or even have the decency to reply!? I always reply to my emails the best I can, I think its rude not to, if someone has gone to the trouble of emailing you. Maybe they are just late…..
Did you hear, last night someone won the Euromillions! It has taken so long, and its only 1 winner, from the UK who gets €185 MILLION! or £161M if you want it in pounds 😛 I also won!!!! First time ever! I got 2 numbers, so won the massive sum of £2.49

Here is what I wore today: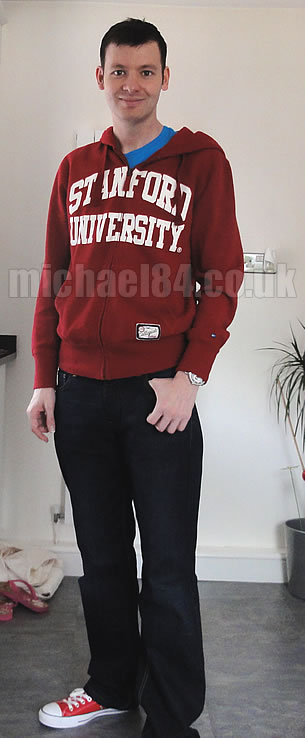 Hugo Boss T Shirt
Armani Jeans
Converse Trainers
D&G Watch
Stanford University Hoodie
I haven't worn this hoodie for a while, and it didn't look nice this morning so I thought why not. I do like it, it cost £60 from Republic. I blogged about it when I got it; I had to buy a small, as its the only size they had left 😛 Fits like a glove though 😉
I also finally updated my blog software, from 3.1 to 3.2. I know that means nothing to you if you don't blog, and its not a big deal either 😀 It is lots nicer in the admin panel where I write, but its just cosmetic. I usually try to keep all the software up-to-date as most updates are security ones…I can't believe there are so many bloggers out there running software which is out of date, and in some cases very out of date!
Thanks For Reading...Want More? 🙌
Hi, I'm Michael 👋 I'd love you to subscribe to my newsletter for exclusive content & updates on my blog straight to your inbox. (No spam, I promise!)