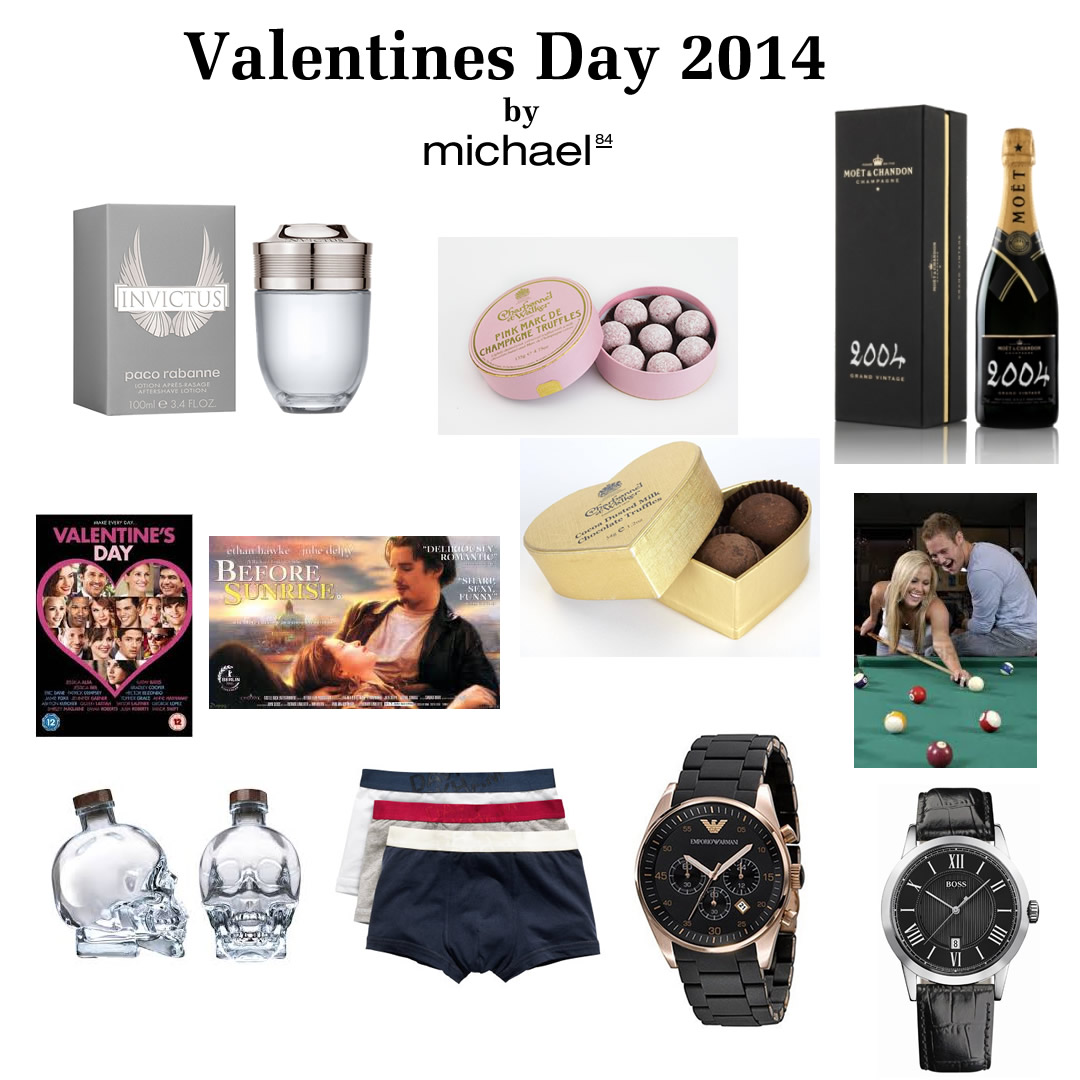 It's that time of year again, Valentines day! If you are a girl struggling to find something for your guy, or you're a single guy and want to treat yourself, here are some ideas.
Chocolates
The good thing about buying chocolates for someone else is that they'll not eat them all themselves, so you're basically buying yourself a present. If they don't share, you should probably get up and walk out…Taking the box with you obviously! My chocolates of choice are Charbonnel & Walker champagne truffles or Lindor by Lindt. The champagne truffles are amazing, you can buy a box of 3 for around £5, and you can get a heart shape box for the occasion. A bigger box of 8 will set you back £12.50. Lindt from Lindor cost around £4 for a medium-ish sized box, or a heart shaped tin for £8.
Aftershaves / Scents
I love to smell good, and so I love EDTs, aftershaves, scents etc. I have so many, but you can never have enough. Most guys don't love them as much as I do, but most do like to smell good. It's a great gift to buy a guy, if he's not much of a fragrance man you know he'll always wear the one you buy, and if he is then he'll appreciate it.
Invictus from Paco Rabanne is a scent which was released last year, so is fairly new, but I can recommend it. It's a seductive scent and slightly woody which gives it a masculine edge. You can pick up a 50ml bottle for £35. If you want to pay more for something extra special, Tom Ford Noir is another great manly smell. It's a lot more expensive at £60 for 50ml, but it's worth it, and since it's an EDP lasts a very long time.
Champagne & Alcohol
I say this every time I write about champagne, but here it goes again. My favourite 'reasonably priced' champagne is Vintage Moet, 2002 or 2004. They are really nice, and cost around £40-45 which is £10-15 more than the standard Moet. It is worth the extra money, you can honestly taste the difference.
If you're not much of a champagne person, there's plenty more alcohol out there! Crystal Head vodka is a great unusual present, vodka in a crystal head bottle. It's not just a gimmick though, it's a premium vodka, and is actually part owned by Dan Ackroyd. I have a bottle, and it's really smooth, and a good premium vodka. A standard 70cl bottle is around £40.
Boxers
Of course a great thing to buy a guy is a pair of boxers, and there are always deals on packs. Calvin Klein, Armani, Gant, Diesel and a whole host of brands do 3-packs for £20 – £40 depending on the brand. David Beckham has just released his latest collection with H&M, so you can get the new Bodywear range which includes a 3-pack of boxers for £20.
Activity – Play pool?
Do girls play pool? I can't say I have ever taken a girl to play pool, not that I can remember anyway. I see it more of a guy/male thing to do, since I have always done it with my guy friends from being a teen to now. But it could be a fun thing to do, girls are always complaining of doing the same old stuff, maybe they've not done this. If you can find a cool spot in the city to do it then it could be fun. As long as you go to a cool place, a nice open space which is fun, it could be a good thing. A dark and dingy pool hall, probably a no-no. Sorry if you're a girl reading thinking "I would never do such a thing, how unromantic/juvenile/boy-ish…" I am in a real pool playing mood 😉
Of course there are some other things such as bowling which are fun, but maybe this is done a bit too much. How about Table Tennis aka Ping-Pong? I used to love to play, it got really big in the U.S. a while back, and they have some cool venues, maybe there are some in your city. Go-Karting is also a good idea for those wanting something a bit special.
Stay in, watch a film
You could always have a night in and watch a film. For a rom-com, or romantic type of film you could try Valentines Day, how fitting for the night. One of my favourite films is Before Sunrise, guy meets girl on a train, falls in love, spend a night together and go their separate ways. It's amazing. If you want a bit more action I can recommend 2 Guns with Mark Wahlberg and Denzel Washington, a really good action type film.
Time for a watch
Buy your man a watch, there's nothing more manly than a good watch. You don't have to break the bank with a precision, Swiss made timepiece, you can get a really nice, fashion watch for a reasonable amount of money. I found two pretty decent ones. I prefer a minimal, simplistic style of watch, the black Hugo Boss is exactly that, and you can pick it up for under £120. If you prefer a chronograph, the Emporio Armani is a really nice piece, and will set you back around £165.
That's just some ideas to get you started. Get shopping! 😉
Thanks For Reading...Want More? 🙌
Hi, I'm Michael 👋 I'd love you to subscribe to my newsletter for exclusive content & updates on my blog straight to your inbox. (No spam, I promise!)