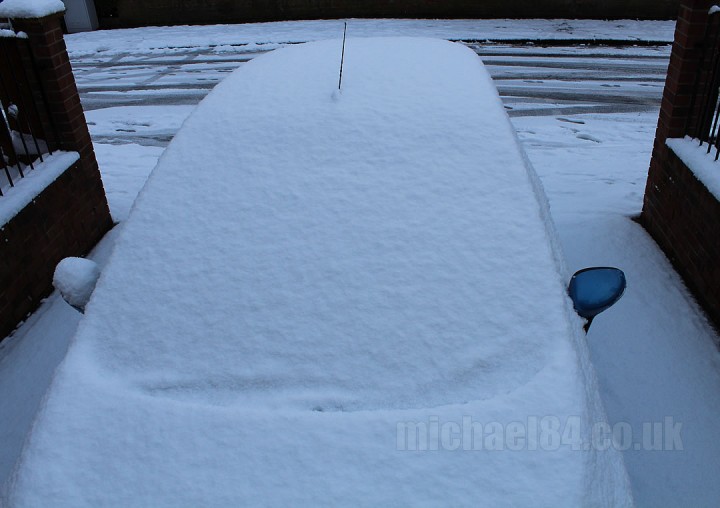 Hello blog 🙂
So last night it was snowing again, and this morning I found my car covered in it. It must of snowed quite a bit because it was pretty deep.
Today I got my furniture parts from IKEA 😀 The bottoms of my drawers have been falling out for a long time, so I needed the part to stop it from happening. They give you 1 part per drawer when you buy, which is not enough! But their customer service is great, I asked for a lot so I could put 3 or 4 on each drawer and they sent me 50 pieces 😀
So apart from my usual work, today I have been tidying and cleaning up, sorting out my drawers, throwing out old clothes and just general sorting things out. But I REALLY hate to throw things out, I suppose you can call me a hoarder haha 😉 I have around 8 pair of jeans to go, but I really don't want to throw them away 🙁 There are 3 or 4 pair of Evisu jeans, as well as other high end brands, most do not fit any more.
I have 2 drawers of fragrances; I have my drawer for the ones I use, and another drawer full of ones which I no longer use, or if I do it's very rare. That drawer has some old ones in, and even some empty bottles, or almost empty. Here are the ones I have to throw out…
There is D&G The One and Armani Code, I wrote about getting new bottles of those previously, in fact I have a 50ml D&G and a brand new large 100ml D&G so even though there is a tiny amount in this one, I am not so bothered about throwing it away 😀
There is also Emporio Armani Pour Homme, Giorgio Armani Attitude and Bvlgari BLV Pour Homme. I like these three but will probably not get any more, they were never true favourites although they are very nice. The Armani's for night and the BLV for day; It's really fresh, like a freshwater kind of smell, the bottle is also cool.
Of course the good thing about throwing stuff away is that it makes room for nice new things! 😉
Thanks For Reading...Want More? 🙌
Hi, I'm Michael 👋 I'd love you to subscribe to my newsletter for exclusive content & updates on my blog straight to your inbox. (No spam, I promise!)