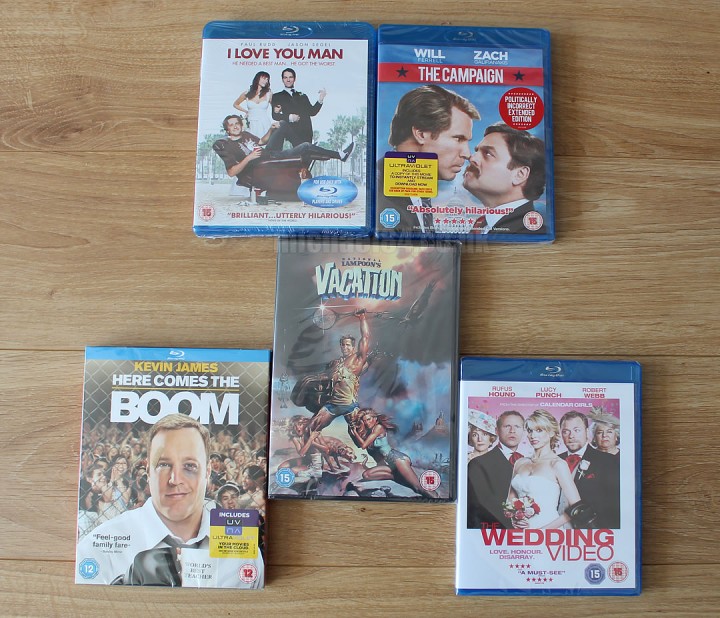 Hello 🙂
So today I have been doing the usual work, pretty much all day, it's not good to be back at work 🙁 Today I got yet more films, I have not bought any for a while and I had been watching a few over Easter, I think I have seen most of my blu rays now, many quite a few times 😀 So I thought I better get some new ones, or at least some classics.
I got National Lampoons Vacation, I Love You Man, The Campaign, Here Comes The Boom and The Wedding Video. I have seen National Lampoons a few times, I love this kind of classic retro comedy. I Love You Man…Hmm I have seen bits of this but not the whole way through, it sort of seemed good but I am not so sure now. Here Comes The Boom and The Campaign are two films I have not seen but I am looking forward to watching them. I will probably watch one at the weekend.
Earlier I watch the Dortmund – Málaga match; I probably should have watched Real Madrid since the Málaga game ended 0-0 and was not the most entertaining although it had a few moments. Real Madrid beat Galatasaray 3-0. Tomorrow it's the Europa League and Newcastle vs Benfica.
Now I must read some blogs! I have been saying for a few days I would catch up on what other bloggers got up to over Easter and I still haven't :O
Thanks For Reading...Want More? 🙌
Hi, I'm Michael 👋 I'd love you to subscribe to my newsletter for exclusive content & updates on my blog straight to your inbox. (No spam, I promise!)