It is that time of year again, the time where I want a new camera, but cannot decide on what to get 😛 The same thing happened the last time I wanted a new camera, and I chose a Sony HXv5 which I like, it has sweep panorama which is such a cool feature, but in reality it is a feature I have only used a handful of times. Still, I am glad it is there, I have some amazing shots with it.
However the quality does not seem to be too amazing now that I have been using it for an entire year, and there are newer/better options out there. Of course with the options comes with pros and cons, just like the last time, and once again I cannot decide which I should choose, and in fact if I should bother at all.
Here are the options (for now).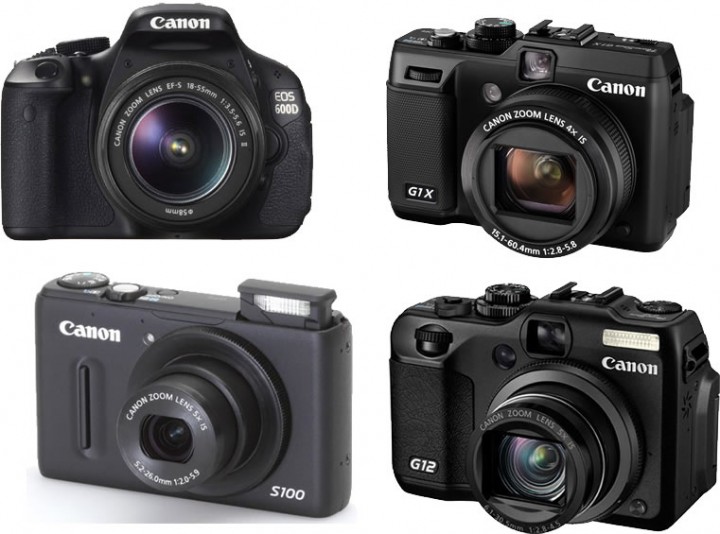 So the four cameras are all Canon, and they are the EOS 600D DSLR, G1X, S100 and G12. Each one has its own plus points, as well as negatives. Here is my breakdown and comparison of them.
600D – It would be my first DSLR, the picture quality will be amazing in comparison to the rest without a doubt. It now comes at a nice price, around £600 which is decent for a camera of this size. CONS – The size. I don't know how much I would use it because of the size, I may be reluctant to take it places because it is really big in comparison to the rest.
G1X – Unreleased so far, but the sensor is supposed to be big for a camera this size, which should mean the image quality should be great. I read that the sensor size is bigger than a four-thirds camera, which is why I have once again ruled all of those out. It is also smaller than a DSLR, It may fit in a jacket pocket (I'd have to try) which is a plus. CONS – Still too big for jean pockets, and the big issue is price. Since it will be brand new it's RRP is around £700 which is MORE than the DSLR, and the DSLR is more camera. £700 is a lot for this camera, and the price will come down eventually, but it may take a while.
S100 – The camera I have been looking at for a long time and been thinking of getting the most. It is a high end compact, and will fit in jean pockets. It is better than my current camera, and also slimmer, for this camera it is all about the size. CONS – It is not cheap at around £400, that is not my biggest issue with this camera. The bigger issue is that will the images be THAT much better than my current Sony HXV5?
G12 – Rank outsider. It is an old model, and being replaced by the G1X. However just because it is old does not make it rubbish. The image quality is great, and now it is around £350 which is a good price for this camera. CONS – The obvious, it is now old, and I don't wanna buy a model that has already been replaced, and it's not the smallest either. 
So, I still cannot decide which to get, IF I get a new camera!

Thanks For Reading...Want More? 🙌
Hi, I'm Michael 👋 I'd love you to subscribe to my newsletter for exclusive content & updates on my blog straight to your inbox. (No spam, I promise!)