This week's Throwback Thursday I look at something which was a big part of my internet life when I first went online…In fact a big part of anyone's internet life back in the late 90's and early noughties…I am talking about ICQ!
If you have never heard of ICQ then I guess you are just waaaay to young! 😉 Either that, or you never went online before 2003. So for a brief history lesson; ICQ (I Seek You) was a computer messenger so you could talk to people all around the world, or your friends.
It was a time on the internet where you used a nickname, and for ICQ everyone had a UIN (Unique Identification Number) and a time where more often than not, you'd talk to people you didn't know about similar interests, or just to have a little chat.
There was plenty of ASL asking going on, and you could search for people with similar interests to talk about stuff, it was 1 on 1 chat rather than a chatroom, so it was much slower paced than the other way to chat online, which was chatrooms with too many people.
It was a time where there was much more innocence online, and more security, because it was completely normal to use an alias or nickname, you'd never use your real name (or at the most, your first name) and nobody put up pics online, so there was not a judgemental element based on appearance, and nobody knew what you looked like.
The other element was talking to your friends online, which was the thing to do, and such a massive novelty too…You have to remember this was a time when teenagers just got mobile phones, and text messages cost 10p a go, calls were even more expensive, and that's if you even had the credit to text!
Some people did not even have a mobile, and it was obviously a time before smartphones and millions of apps. Instant messengers were a complete godsend and became our way of talking to each other, ICQ was the starting point for a few years, before MSN Messenger took over and dominated.
The iconic logo of ICQ was a flower…this flower. ICQ was a big part of the internet for me in my youth, I loved it and had so much fun, and I'll never forget it. So I decided to create this, an ICQ tribute T Shirt. If you loved the 90's and were online then you'll instantly recognise this little flower;
It told you when you (or your friends) were online, offline, busy or whatever. It's printed in neon yellow and green, with black and red thrown in there too on a red tee.
I miss those days! 😀
Check out my 90's men's fashion trends to take you back to the day. Get some tips and advice on what 90's clothing to wear, from T-shirts to track jackets and the most popular trainers making a comeback.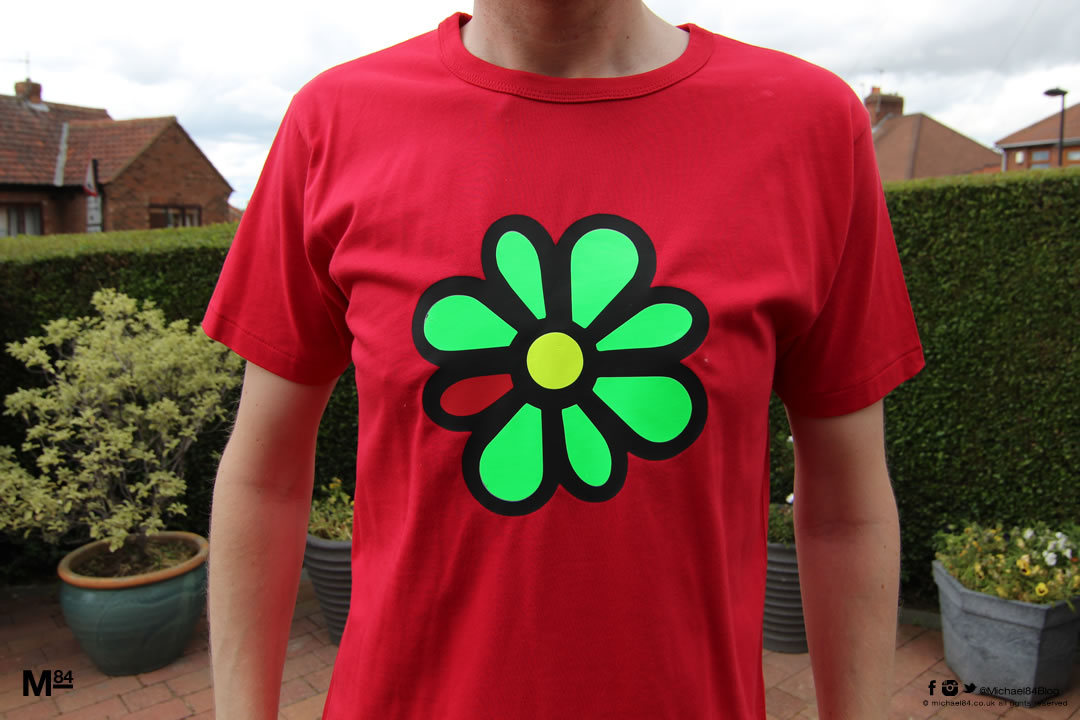 Thanks For Reading...Want More? 🙌
Hi, I'm Michael 👋 I'd love you to subscribe to my newsletter for exclusive content & updates on my blog straight to your inbox. (No spam, I promise!)