haha 😉
Hello blog!
Today I have not done too much, blogging, reading, working etc. quite a boring day yet again. It is 1st September, and according to myself and the MET Office, it is now the end of summer 🙁 The summer of 2011 will not be remembered for anything for me; I did not go abroad, there was no football, I did not do very much, it was pretty boring as a whole. I did have some great nights out, some good times like going to London, but all in all it has been a quiet summer.
I have started to notice that the nights are getting dark early, soon we will put our clocks back and be in the winter which I hate. It also means wearing warmer clothes and putting away some t-shirts I know I will not wear, but I will be able to get our my lovely sweaters and knitwear which I do love, my scarves and snoods and of course my Canada Goose coat!

Today I got some products which I ordered online from Boots yesterday. They are mainly hair products, this is what I got: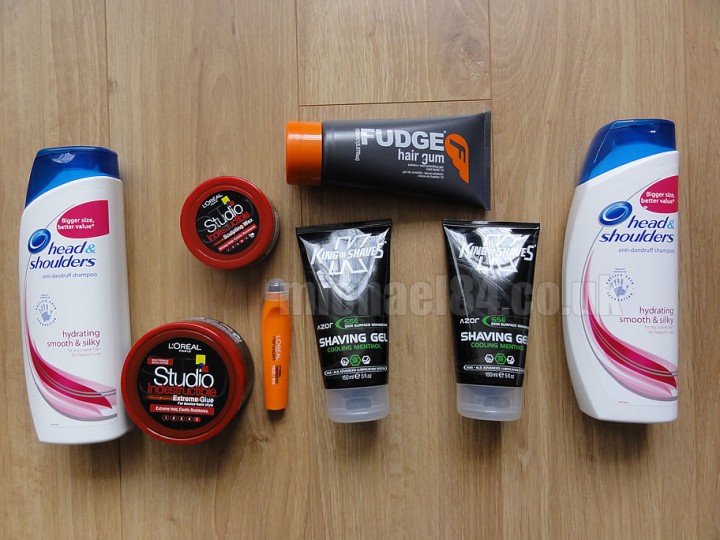 So new hair products which I have never had. L'Oreal Studio Line for my hair. I got the Indestructible extreme glue, and the sculpting wax which I will try out. I also got FUDGE hair gum, something else I haven't had so I thought I would give it a try and let you know how it is. At the moment I use Trevor Sorbie Wax and Clay, as well as Soap And Glory Wax, so I will give these others a go and see how they compare.
I got my usual shave gel, King Of Shaves menthol cooling gel, you cant beat it really 😉 I got a L'Oreal Men Expert Hydra Energetic eye roll on too; I have had a few of these before, they are good. They have caffine in them which is supposed to be good for your eyes.
I also got my favourite brand of shampoo, Head And Shoulders. Once this was a brand which people were embarrassed to buy, but it is my favourite brand, I love it and it really does work well. These days I use product in my hair which means you get flakes sometimes, so this is essential to have. I got 2 massive bottles, 500ml each so I don't run out 😉 This is the "smooth and silky" version, I will see how it goes. 🙂
Thanks For Reading...Want More? 🙌
Hi, I'm Michael 👋 I'd love you to subscribe to my newsletter for exclusive content & updates on my blog straight to your inbox. (No spam, I promise!)