Wearing my light blue ripped Cheap Monday jeans in the Summer a while ago
2018 is now over, and it looks like it was the last year for Cheap Monday, the Swedish fashion brand who've been making cool and affordable jeans for just shy of 10 years. It is a sad story, since I have always liked Cheap Monday, featured lots of their clothing on the blog, and have been buying some things since around 2011.
But the fashion industry has seen challenging times, especially when there's a large growing number of fast-fashion shops and in particular websites which are selling super-cheap clothing, it's hard for high street brands to compete.
Cheap Monday was known primarily for the skinny jeans it produced, and I really liked the slim jeans they made for guys. I don't think the trend of fitted jeans and skinny jeans is going away just yet, but I guess that if you want them, you'll have to find a new favourite brand.
H&M have owned the brand for a number of years, and decided to close it down. Unlike other brands in the group such as COS, ARKET, Monki and the main H&M label, Cheap Monday was a brand which were sold in other stores along with it's own, relying on the traditional business model of clothing.
H&M said: "Cheap Monday has a traditional wholesale business model, which is a model that has faced major challenges due to the shift in the industry," H&M said in a statement. "There has been a negative trend in the Cheap Monday's sales and profits for a long time." via vogue.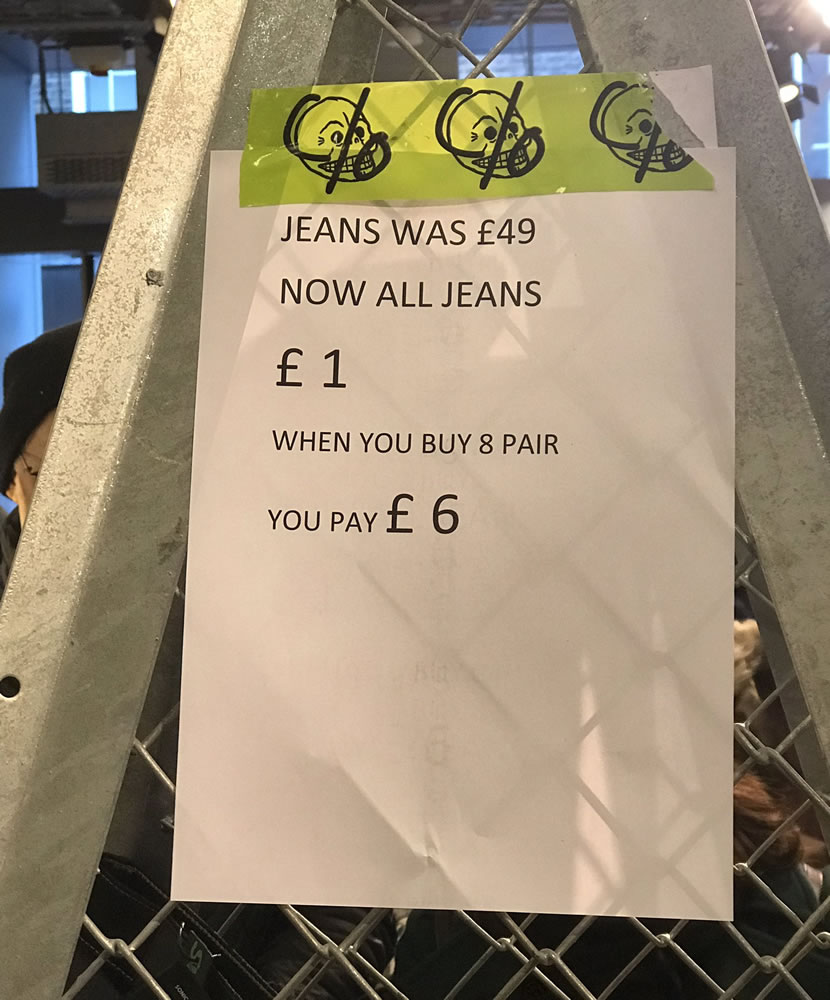 Image via Twitter
If you happen to live in London, the Carnaby store were selling jeans for £1, reduced from £49, with queues of people wanting to get their jeans. The store closed on 31st December 2018.
For me it was one of the go-to denim brands when you wanted a good pair of high street priced jeans. There's the denim connoisseur brands which I love like Nudie Jeans, there's high end fashion labels, and then there's a few high street labels which I really like, Cheap Monday being one of them.
It is sad to see them go.
I have ordered one last pair of jeans which I should have soon, and the brand is still available for now, until all the stock is gone. H&M have stated the closure will be complete by the end of June 2019 so if you like Cheap Monday, you should get it while you can.
Cheap Monday confirmed via Twitter that they would be selling a Spring/Summer 2019 collection, which will be available at ASOS, Zalando, Weekday, Nelly, Bootz and Junkyard.
Thanks For Reading...Want More? 🙌
Hi, I'm Michael 👋 I'd love you to subscribe to my newsletter for exclusive content & updates on my blog straight to your inbox. (No spam, I promise!)