Since we have had amazing sun and summer is coming, I thought I would write my little sunglasses guide for 2012. There are a few different things to think about when getting sunglasses, which are: style, shape, size, and brand. Sunglasses can be a good investment, even in the UK where we get hardly any sun 😉 You can have a good pair for years, if you pick the right pair.
Stick with the classics
If you are not sure what to buy then my advice is to stick to the classics, and I have probably the only two pair that you actually need to own; A pair of aviators and a pair of wayfarers. Both of these styles are timeless and have been around forever. My brand of choice for both of these is the timeless brand, Ray Ban. They are really cool, and they are the brand of sunglasses to own. You can pick up a pair of each of these for around £100, in an array of styles, colours and sizes. You cannot go wrong with these and once you get a pair, it will be the only brand you want to own!
Aviators or Wayfarers?
Well Aviators are called so for obvious reasons, they were used by pilots which is where the name comes from. Today they are worn by many, you can get a large number of different styles, colours and sizes, different lenses, many different combinations. Usually very thin frames with rounded oval style lenses.
Wayfarers are more famous for the rock and roll lifestyle, rockstars and the like. Famously worn by The Blues Brothers in the movie of the same name, these have been around for such a long time and will never go out of fashion. Usually Plastic framed in a sort of squared oval kind of shape.
Other shapes and styles
There are other shapes and styles of course. Round, square, rectangular, rimless wrap around and more.
Which size is best for me?
This is the hardest question to answer. The best bet is to go and try some on. If you buy some sunglasses and it tells you the size (e.g. 58mm) it is hard to imagine what that actually looks like on you! Go to a store and try some on, then you will know, if the store is expensive you can always remember the brand/model number and go online to check out the prices. You can get small, medium, large and over-sized glasses, so it depends on the look you are going for and what you think suits you best.
Sunglasses brand vs Fashion label
OK, if you are buying a brand who specialises in sunglasses such as Ray Ban, Carrera, Oakley etc. there may be a lot more options and variations to choose from over a fashion label. For example Ray Ban do many styles of sunglasses, but within those style they do different colours, and within that they do those in different sizes, so they have a huge number of options for each style.
If you go for a more prestigious name in the fashion world such as Louis Vuitton, Roberto Cavalli, Bvlgari etc. then you might find a great style, but the sizes/colours will be limited and they are usually more expensive because of the brand.
The quality of sunglasses
Something you may want to know is the quality of sunglasses, i.e. are they well made? Well, if you buy a good pair then they should be. However remember that these are sunglasses, yes made from glass, so they are quite fragile.
A company called Luxottica who are the biggest eyewear company in the world are the company who manufacturer a huge number of sunglasses which you buy, and are made in Italy. Luxottica not only own a few brands such as Ray Ban, but they also make sunglasses for others too. So if you buy a pair of Ray Ban, Oakley, Chanel, Prada, Burberry and D&G to name just a few, they could all come from the same place.
Personal favourites
Well my personal favourites are my aviators which I love and wear the most, followed by my wayfarers. Here are the sunglasses I own at the moment.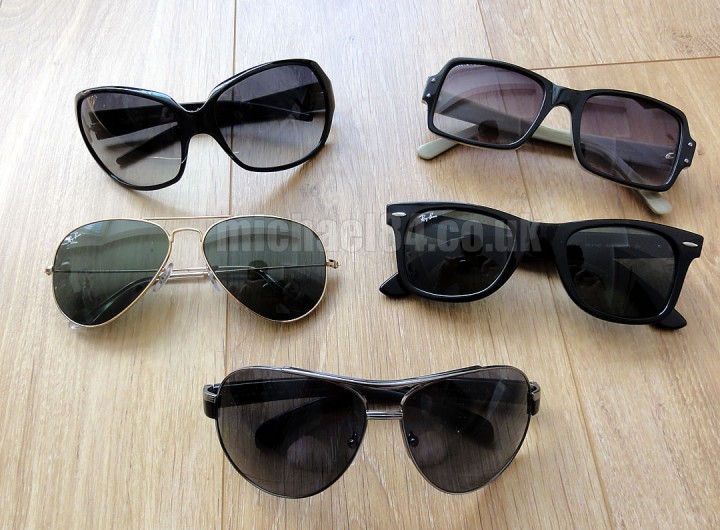 D&G Sunglasses, Marni for H&M, Ray Ban Aviators, Ray Ban Wayfarers, Prada Sunglasses.
What to buy for 2012?
Well last year I was looking at these from Louis Vuitton to buy for this year, I think they are cool and will be quite exclusive…
I still like them, but not as much as when I saw them. However something else has caught my eye, from Ray Ban (again!) I really like the "Ray Ban Caravan" style. I think these are cool sunglasses for this year. If I get some new sunglasses this year then it may be these, although I already have so many pair!
What do you think of the Caravan from Ray Ban?
Like an aviator, but a more angular and squared style, I think these look great. Again since it is from this brand symbolic of shades these are available in many sizes, frame colours and lens colours.
Thanks For Reading...Want More? 🙌
Hi, I'm Michael 👋 I'd love you to subscribe to my newsletter for exclusive content & updates on my blog straight to your inbox. (No spam, I promise!)