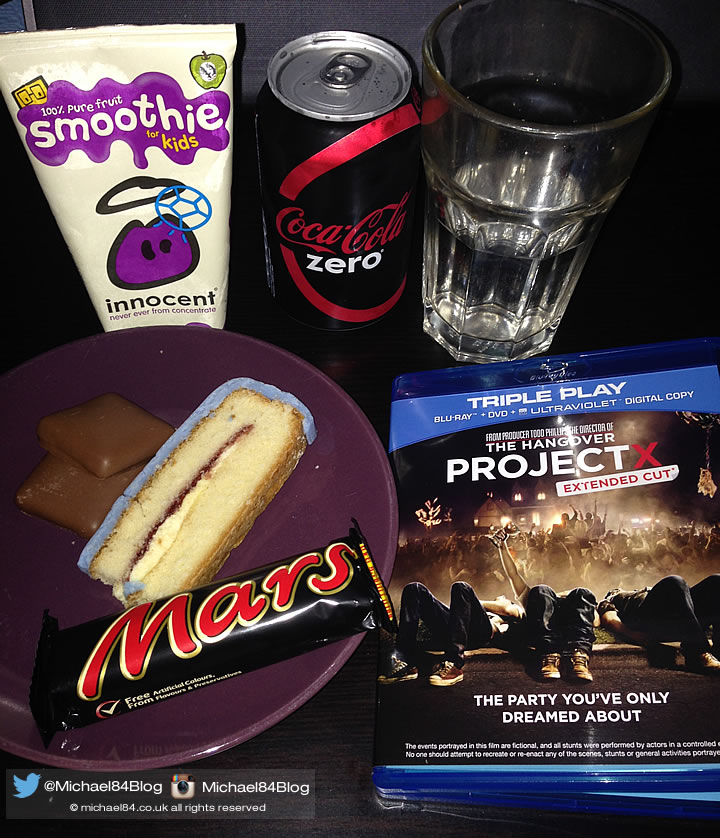 Hello everyone 🙂
So yesterday was a busy old day, pretty much filled with TV of some sort. Since it was a bit of a binge day (as a Sunday should be) I went on a run early on, to relive any guilt and have a feast of junk food. With a little run done, then came a film for movie night, Project X.
It's not a brand new film, but you wouldn't call it really old either. It's another one of those high school/college drunk party type of films, but it is quite different. The whole film is based on the party, with not too much of a backstory on the characters, apart from the teenager who's party it is, who is a bit of a loser. It doesn't have the plot of something like American Pie, or much of a plot at all. This is however made up of how big the production is, and it's like a Hollywood blockbuster of fire, riots and huge mass partying, lots of nakedness, the scenes make American Pie look like a tea party. A good film if you want all-out partying, not huge in terms of depth if you're looking for that.
Then came TV; MR Selfridge and The Magaluf Weekender are by the by for a Sunday night, but it was the return of Top Gear! I love the show, and it was brilliant. It seems to get better and better, one of the few shows on TV that can do this. After that it was Super Bowl time!
I am not an NFL fan, but usually watch at least the first half of the Super Bowl, and have for 3 or 4 years. This year it was the Denver Broncos vs Seattle Seahawks, and the Seahawks won…By a lot. The game was effectively over by half time, they were 22-0 up. With that said, 12 seconds into the 2nd half and the Seahawks scored, just to confirm they were going to win. The halftime show was done by Bruno Mars featuring the Red Hot Chilli Peppers, and it was great, Bruno Mars killed it as he always does.
I did watch the whole game, my first full Super Bowl, one of the most one-sided apparently, it finished at 3AM, 43-8
I am still quite tired now :p
Thanks For Reading...Want More? 🙌
Hi, I'm Michael 👋 I'd love you to subscribe to my newsletter for exclusive content & updates on my blog straight to your inbox. (No spam, I promise!)