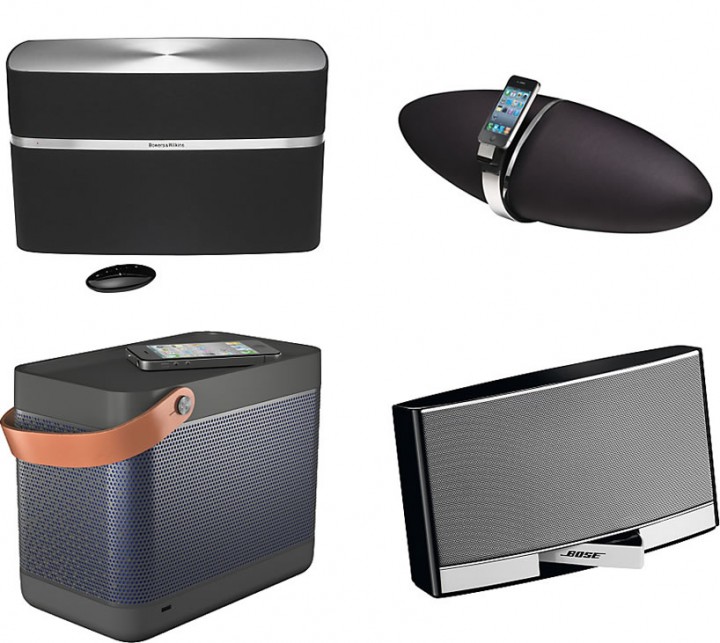 The way we play music is changed a fair bit, most have gone from playing CDs and compilations to creating playlists from the MP3s which we have. I don't actually have a hi-fi or anything for playing music out loud, other than my TV, I have no speakers. That is partly because I like to play my music loud and don't want complaints from the neighbours, but I also have my music on my computer or iPod or iPhone.
I have been looking at Sounddocks at the premium end of the scale, where not only do they produce high quality sound, but they are stylish too. I want something which is wireless, but also offers the option of hooking it up with a cable so I can play music direct from my PC like a conventional speaker. I have selected four which are pictured above.
First there are a few from Bowes & Wilkins aka B&W. If you want premium sound then you have got to give these a look. The first model is the A7, which is the new for 2012 sounddock from B&W. It offers simple style along with power, 150 Watt output to be precise. It has really good reviews, and you can play your music via Airplay which is very cool and clever, and also via USB or AUX in, so it has a lot of connectivity options. The pricetag is rather large, at £699. You can get it's less powerful little brother (80W) the A5, for £399. Read all about the A7 and see it in action here.
The Zeppelin Air is another one from B&W and you will probably have seen it's iconic design before. It's an older model, but that does not mean you get any less quality. While the design looks very cool it is quite wide, and is not as contemporary as the A5/A7, and has a visable dock for your iPod/iPhone, but also uses Airplay.
The third is simply the most stylish and fashionable sounddock for your iPod I have seen. It comes from high end audio producers Bang & Olufsen and is called the Beolit 12. It's beauty hits you immediately, and comes with a genuine Italian full grain leather strap and smooth aluminium grille and comes in various colours too. One of the best features is that it is truly portable, because it has a Lithium battery which offers up to 8 hours of music playback. It has Airplay, USB and AUX for your sources of music. It packs 120 Watts of power, slightly less than the B&W A7, but unlike the A7 it does not have a Subwoofer, so you will feel less bass. It is however £100 cheaper, at £599, and does offer battery as well as a mains power connection. You have to check it out from the official site here.
You cannot talk about premium audio without talking about Bose. They have the Souddock 10 which costs £499, but I have picked the Portable Bose sounddock as my choice. Like the Bang & Olufsen it has a battery which offers up to 8 hours playback, and has a visible dock for your device at the front. Unlike the others, the wireless connection is not Airplay, but uses Bluetooth. Airplay is an Apple technology so only Apple products have it, however Bluetooth is supported by multiple devices. You can connect your device up to this via Bluetooth or AUX so any phone you have with Bluetooth will be able to be connected to this and play out some tunes. This is the least expensive option, at £329.
So which is best? Which would I buy? I am unsure! I love the style of the Beolit 12 Bang and Olufsen, it also has a battery which would come in really handy, however it does not have a Subwoofer like the A7 from B&W. BUT the A7 is £100 more, and it's £300 more than it's little brother, the A5. One thing is for sure, they are all high end quality products.
Most Stylish – Bang & Olufsen Beolit 12
Most Power – Bowes & Wilkins A7
Most Portable – Bang & Olufsen Beolit 12
Most Bang For Your Buck – Bowes & Wilkins A5
Thanks For Reading...Want More? 🙌
Hi, I'm Michael 👋 I'd love you to subscribe to my newsletter for exclusive content & updates on my blog straight to your inbox. (No spam, I promise!)