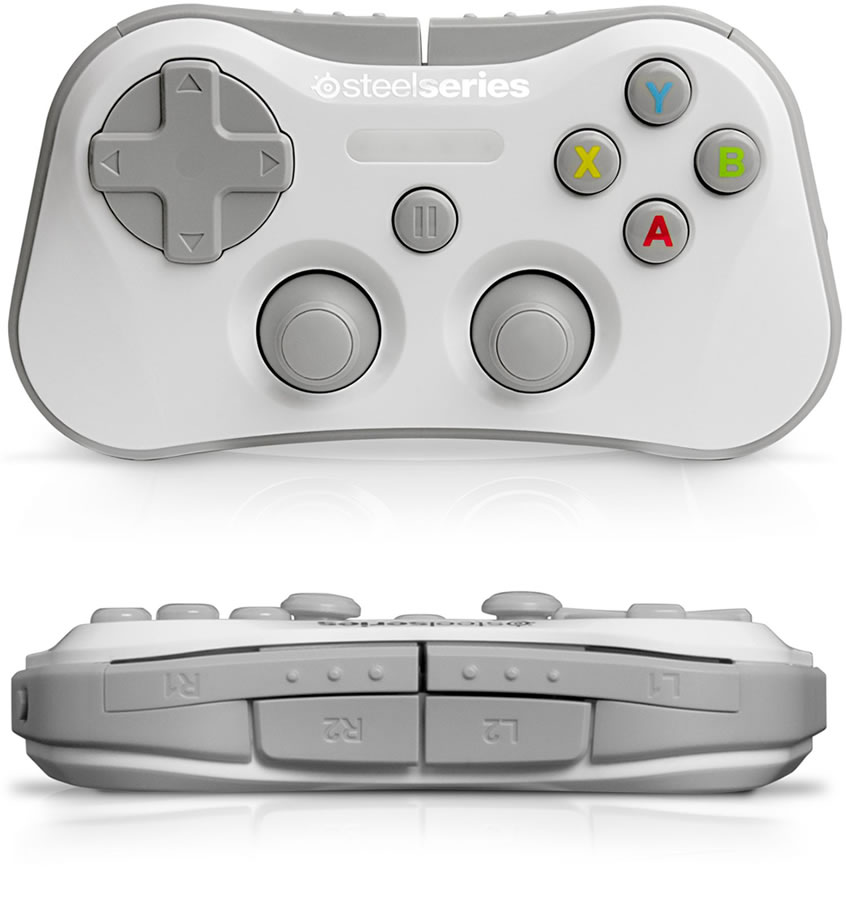 Apple and iOS7 introduced a new way to play games on your iPhone or iPad, with much needed controller support. If you've ever tried to play an action game, especially on the smaller screen of an iPhone, you'll know it can be difficult since the controls for the game are on the screen, the same screen you're trying to look at while playing. A controller for such games is really a necessity, and since iOS7 there have been a few options out there. Apple have announced iOS8 which is due out in the Autumn, and with it Metal, which promises to improve games, so are Apple now going for gamers too? They'll need a good controller to play with these games.
The Steelseries Stratus Controller
Steelseries have launched their Stratus controller which is a Made For Apple (MFI) device, which wirelessly connects to your iOS7 device to enable you to play games. It's a smaller, wireless controller which connects to your device via Bluetooth, allowing you to play games without having to touch your screen. You get pressure sensitive buttons, Bluetooth 2.1 and a battery rated to last for 10 hours in a compact body.
Build Quality
The build quality is pretty good. It's made from plastic but feels pretty decent despite it's small size. The D-pad is not brilliant, but it's usable and the analog sticks feel very good and quite premium, you can feel them 'click' around all the different points. It comes with a familiar 4 button layout, A,B,X,Y along with 4 shoulder buttons on the top. The buttons, along with two analog sticks and the D-Pad means you have everything you need to play most games, and more. At 75g it's extremely light, and it's small enough to fit in your pocket for ultimate portability. It has an additional clear plastic cover for the back, which can double up as a grip, it clips on the back but does not always feel totally secure.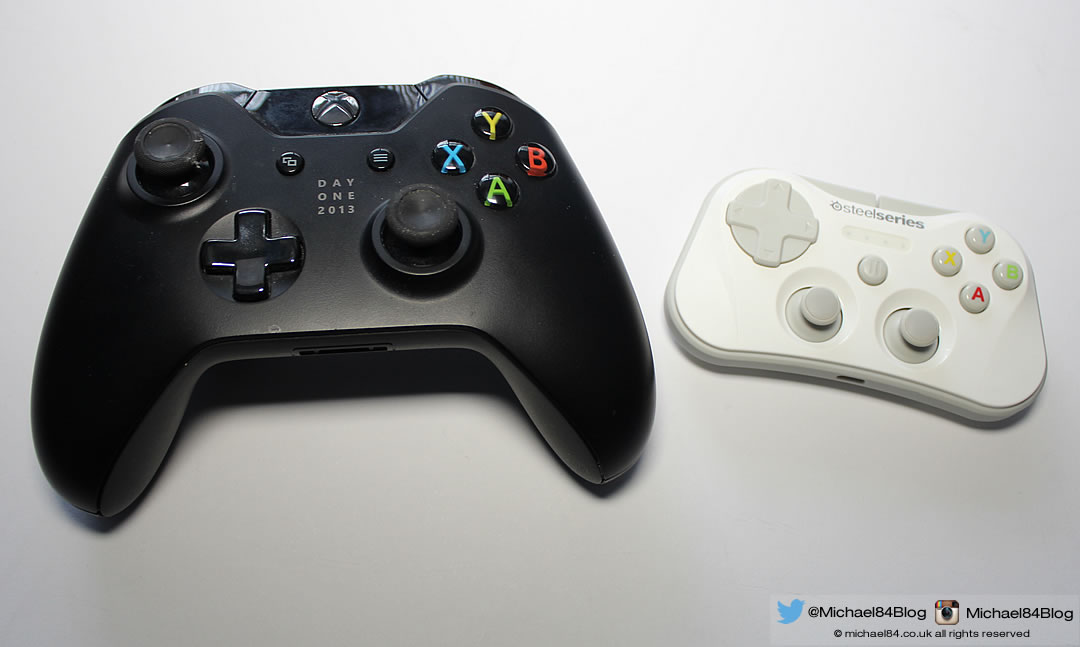 Connectivity & Easy Of Use
As mentioned the connectivity is Bluetooth, and it's a piece of cake to set up. There's an on/off switch on the side, flick that to on, go into the settings on your device and try to discover it via Bluetooth, it will pick it up and connect. That's it! Once you start up a game which is compatible it will pick up the controller and you'll be all set to play. It's a very small device, as you can see from the picture next to an XBOX ONE Controller, which is a giant in comparison. Despite the small size it's still easy for my large hands to use, the biggest problem being the "L&R" buttons on the top, which are not in the traditional shoulder position, rather at the top in the centre which takes getting used to.
Currently A Lack Of Gaming Support
The biggest problem with all gaming controllers is the lack of the support in the games. This is not the fault of the Stratus or any other controller, as the support for these devices was only introduced in iOS7. This means that games developers have to code in support and make their games work with the controller. For old games, and even newer ones, they have not done this for whatever reason. This is disappointing, as there's a whole host of great arcade classics such as the Golden Axe and Streets Of Rage Series and Final Fight which are on the App Store but for the moment at least are not supported. There is surprising no support for any Street Fighter title, which is hugely disappointing, a game which we've all loved at some point in the arcades or on older consoles such as the SNES. It's not just limited to these old classics, GTA 3 and GTA Vice City also don't support it, however GTA San Andreas does. Hopefully with the release of iOS8 these games developers will add the relevant support for these and other games so we can all enjoy them using a Stratus.
Testing The Stratus
I did find a few titles which have controller support, there's a list on the Stratus website here. Some games in the Sonic series are supported, so I had to get Sonic 2 to test out this controller. I am happy to say that it performs well. I had my reservations about the connectivity and the response, but it feels great, like any console, there is no lag, and works as well as you'd expect.
Final Word
At around £60 it's quite an expensive device, and at the moment there is not a huge number of titles available, with key favourites not supporting any controllers. Once iOS8 is available and newer games are released, this may change. If you love to play games such as Real Racing or GTA San Andreas then this will be perfect as both titles already support controllers, sadly however for the time being at least the classics available in the App store are currently not supported.
You can buy the stratus from SteelSeries here for €79.99
Thanks For Reading...Want More? 🙌
Hi, I'm Michael 👋 I'd love you to subscribe to my newsletter for exclusive content & updates on my blog straight to your inbox. (No spam, I promise!)