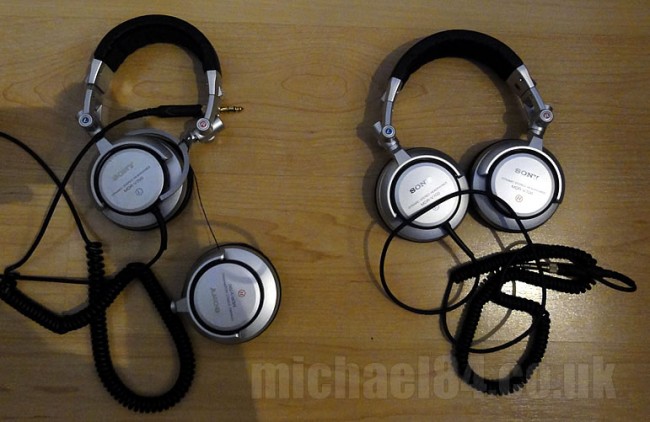 It is such a sad time! I have heard that the Sony MDR-V700 headphones have been discontinued! 🙁 They were the first good pair of headphones I got, and I loved them. They did end up breaking, but after a really good 2 years worth of use, and I loved them so much I replaced them with another pair! :p But now they are no more.
It's a shame, my current ones are getting a bit old and tired, so I decided to check to see the price of new ones, and what I found was that Sony seems to have stopped making them 🙁 I do love everything about them, they are pretty heavy in comparison to your standard set of headphones, the coil wire is cool even though I hated that at first, and they were pretty powerful for the price. Had I of known that they were on their way out I would have bought at least one more pair 🙁
Sony have seemingly replaced them with a model called the MDR-V55. They look pretty nice, but seem to lack the features and power of the good old V700. The spec seems to be less powerful, there is no coiled cable, it's a sad!
The MDR-V700 has a lot of love and hate from people, they were a little flimsy, my original pair did break as you can see, but they are (or were) such a great pair of headphones for the price.
I will now have to treat this pair extra special and be really careful with them now I know I can't buy them any more

Thanks For Reading...Want More? 🙌
Hi, I'm Michael 👋 I'd love you to subscribe to my newsletter for exclusive content & updates on my blog straight to your inbox. (No spam, I promise!)