Hello blog!
It is the weekend, and its international football week!

So happy, I can see my beloved Spain play tonight, against Chile in a friendly. You can also watch it if you are in the UK, ITV4 have bought the rights and are showing the game. It kicks off at 19:45 I think.
So today it was a little cold but not much, no real need for a coat, and since we are out of summer I got my Canada Goose snood out and wore it…And still wearing it, I love it! 😀
Here is what I wore today:
Canada Goose Snood
Spain 2011 Away Shirt
Cheap Monday Skinny Jeans
Adidas Spain Trainers
So I bought Driver San Fransisco too, which did NOT come 🙁 I bought it from Amazon UK, and there policy of "You can have this delivered on release day" which it was not! 🙁 I just got a confirmation today saying it has been dispatched, so maybe I will get it tomorrow.
So my plans for tonight are to watch the game, probably on TVE with Spanish commentary rather than ITV4, or maybe ITV4 with Spanish Commentary 😛 I will have some Turbo Drinks while I am watching, I still have some left, they are nice 😉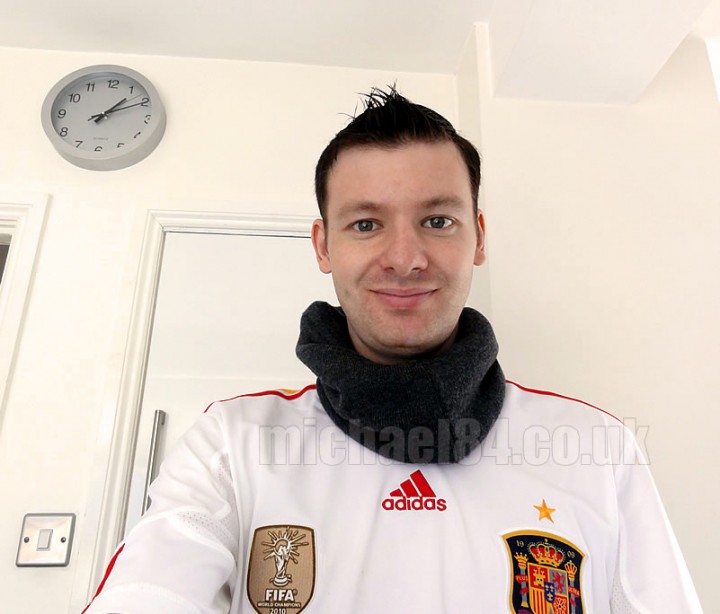 Snoooooooooooooood! 😀 Look at the shirt, A star and a special badge for the World Champions 😉
I also bought some official printing for this shirt, I have chosen to get the Number 8 and Xavi. I have already got Spain Shirts with Torres, David Villa, Fabregas and Iniesta, so I thought I would get Xavi. It could be the last time, he is getting old now. I have been meaning to buy the printing for ages and never got round to it, I thought I better now, while it was still available.
Thanks For Reading...Want More? 🙌
Hi, I'm Michael 👋 I'd love you to subscribe to my newsletter for exclusive content & updates on my blog straight to your inbox. (No spam, I promise!)