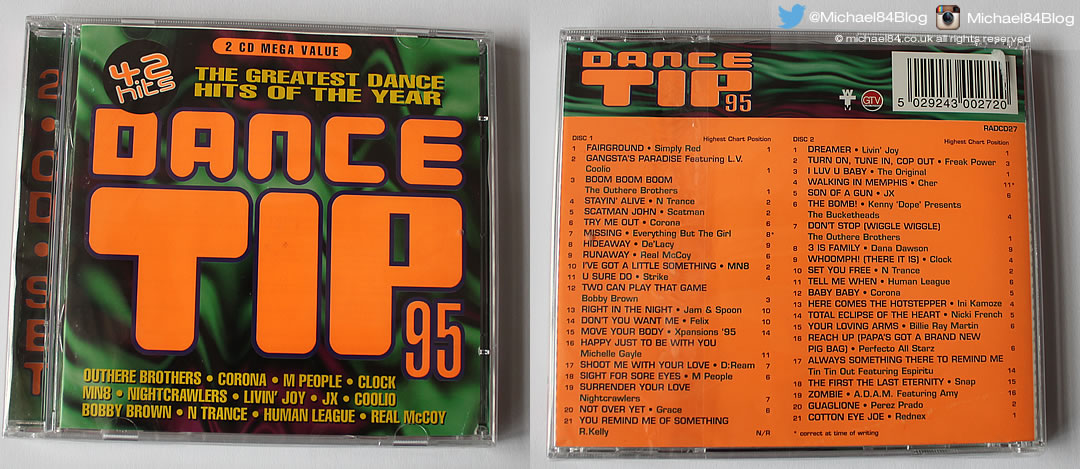 I listen to 90s music all the time, it was a golden generation of so much music! Pop, eurodance, rap, Britpop, Dance, the decade had everything. One of my favourite ever compilations from the mid 90s was undoubtedly Dance Tip 95.
I had this on cassette and played it so much, in fact I loved it so much I even got the CD, £15 back in the day was a lot, especially since I already owned the tracks on cassette 😛 Anyway, since that was almost 20 years ago I lost the CD, or maybe I still have it somewhere, but I have not seen it in years. For some reason I got thinking about old CDs, and decided to see if I could find any places selling it…And I did!!!!
Yes, a brand new Dance Tip 95 sealed in it's box, this is like music heaven

So many hits on this CD, so many memories! Tracks from artists like Corona, Outhere Bros, The Real McCoy, Everything But The Girl, Bobby Brown, Scatman, Coolio, and that's just disc one! It's definitely one of the most played compilations I had in my youth.
If you're off to a 90's house party, you're likely to hear pretty much every song on this double CD. There are far too many bangers and anthems.
Full track listing below
Disc: 1
1. Fairground – Simply Red
2. Gangsta's Paradise – Coolio
3. Boom Boom Boom – Outhere Brothers
4. Stayin' Alive – N-Trance
5. Scatman John
6. Try Me Out – Corona
7. Missing – Everything But the Girl
8. Hideaway – De'Lacy
9. Runaway – The Real McCoy
10. I've Got a Little Something – MN8
11. U Sure Do – Strike
12. Two Can Play That Game – Brown, Bobby
13. Right in the Night (Fall in Love With Music) – Jam & Spoon
14. Don't You Want Me – Felix
15. Move Your Body – Xpansions
16. Happy Just to Be With You – Gayle, Michelle
17. Shoot Me With Your Love – DReam
18. Sight for Sore Eyes – M People
19. Surrender Your Love – Nightcrawlers
20. Not Over Yet – Grace
21. You Remind Me Of Something – R.Kelly
Disc: 2
1. Dreamer – Livin' Joy
2. Turn On, Tune In, Cop Out – Freak Power
3. I Luv U Baby – Original
4. Son of a Gun
5. The Bomb! (These Sounds Fall into My Mind) – Bucketheads
6. Don't Stop (Wiggle Wiggle) – Outhere Brothers
7. Three Is Family – Dawson, Dana
8. Whoomp! (There It Is) – Clock
9. Set You Free – N-Trance
10. Tell Me When – Human League
11. Baby Baby – Corona
12. Here Comes the Hotstepper – Kamoze, Ini
13. Cotton Eye Joe – Rednex
14. Total Eclipse of the Heart – French, Nicki
15. Your Loving Arms – Martin, Billie Ray
16. Reach Up – Perfecto Allstarz
17. Always Something There to Remind Me – Tin Tin Out
18. The First the Last Eternity – Snap!
19. Zombie – A.D.A.M.
20. Guaglione – Prado Perez
21. Cotton Eye Joe – Rednex
Thanks For Reading...Want More? 🙌
Hi, I'm Michael 👋 I'd love you to subscribe to my newsletter for exclusive content & updates on my blog straight to your inbox. (No spam, I promise!)