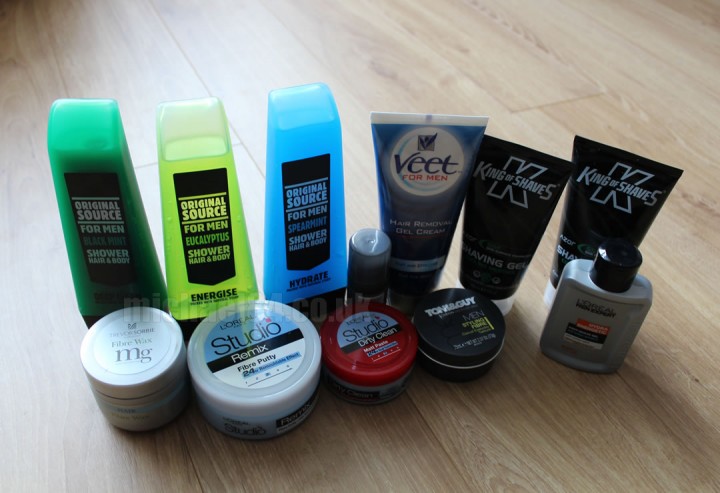 If you usually read my blog or you take a look at this picture, you will know that I am not the kind of man that can usually just go out and buy one of something

It's male grooming time, and some of this stuff I have needed for a while.
I have a few different shower gels, they are something I am not fussy over, but I do like the body tingling Original Source. I have never tried these three flavours so I will see how they are soon. I like the mint, but this version is "dark mint" so I will see how it compares. If I want something special I would get the Dolce And Gabbana "The One", I think that is so amazing, and I still have a little left I think 😀 But that is £20, and these are only £2 each, I'll save the D&G for something special 😉
More hair products!! I still cannot decide what I like best. I did a review on some which I had, and I like the Sacha Juan and Soap and Glory for Men the best. I have more or less ran out of those two, and it seems I cannot find the S&G which I previously had. I also like the Trevor Sorbie fibre wax, so I bought another one of those. The rest of them are to try and to see what I like best, if any. I got L'oreal studio line Remix fibre putty, Dirty Clean matt putty and Toni and Guy styling fibre. I'll be trying each of them out soon.
Veet for men waxing cream – Yes shock horror I wax! Just my chest/belly. It's 2012 so wake up cavemen! I go smooth, I expect girls to do the same 😉
Shaving products: King of shaves gel – I have been buying this for years and years and I love it. Nice and cool and smooth, I prefer this to foam of gel which "foams up" such as Gillette which I used when I first started shaving 😛 I got some post shave balm from L'oreal Men Expert. I have some which is nearly finished so I wanted to replace it, this is the same one but it seems like they have changed the bottle.
Thanks For Reading...Want More? 🙌
Hi, I'm Michael 👋 I'd love you to subscribe to my newsletter for exclusive content & updates on my blog straight to your inbox. (No spam, I promise!)