So I have had my 3DS for a while now, and I said I would write a review but I seem to have forgotten, and have been busy with other things. So, a little later then I imagined, here is my review of my 3DS from the point of ordering to now a few weeks after using it.
Pre-order from Amazon
I have never pre-ordered anything online before, I am always too afraid that it wont come and it would be just as easy to go to a shop on release day and get it. But Amazon were selling them cheaper, and I guessed it may sell out, so I decided to give pre-ordering a go. It was a bit touch and go, I ordered some games with it, and received emails saying they were all dispatched but not the 3DS itself, when 6pm rolled around I assumed that was it and I would have lots of games and nothing to play them on. But later that night I did get a dispatch email, and it did come on time, the day of release 🙂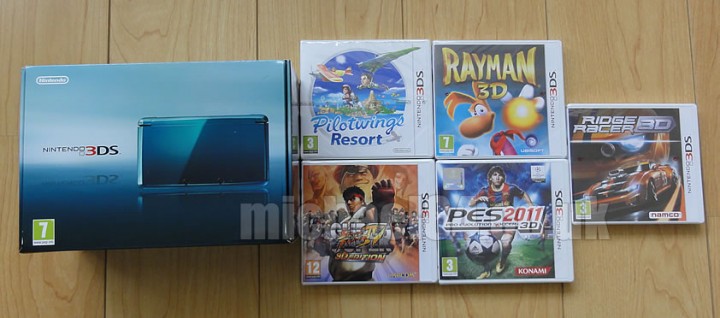 Games
Games which I got were Pilot Wings, Rayman 3D, PES 2011 3D, Ridge Racer 3D, and Street Fighter 3D. I have to say that all games are good, and exactly what you would expect them to be like. If you like Street Fighter you will love this, if you were a fan of Pilot Wings as a kid you will like that too. With PES 2011 if you want to experience the 3D you have to have the camera angle as over the players shoulder, this may look good but it takes a while to get used to, and if you dont like that kind of view you can change to the more classic end to end view, which doesnt show-off the 3D effects.
Unboxed, opened and turned on
Here are some shots for you, I am sure you will already know what it looks like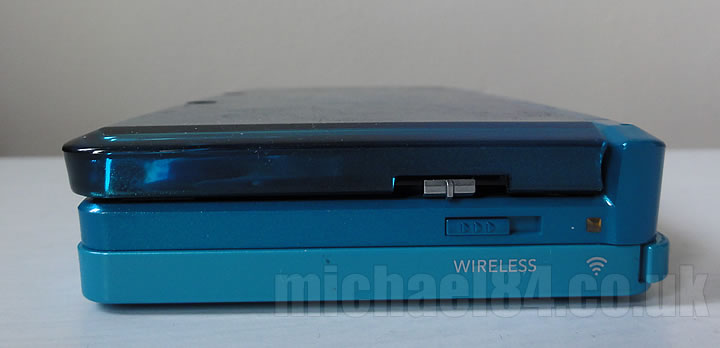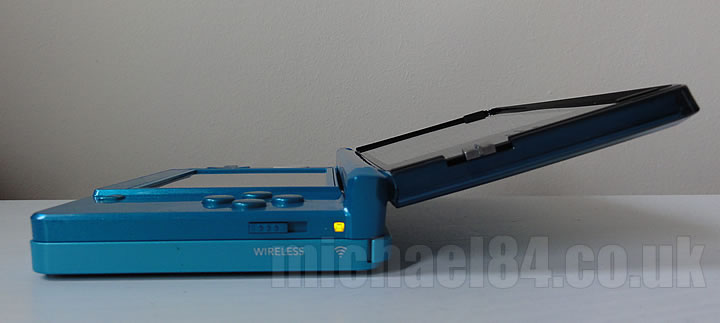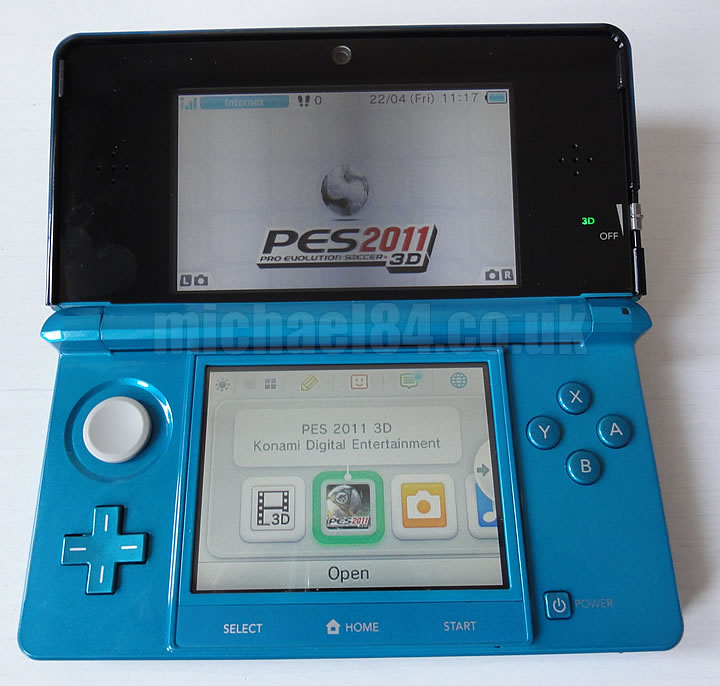 About the system
Well it is what you would expect it to be. The same/similar to my DS Lite, similar size, build quality etc. The screen is good and bright, the brightness is adjusted if you turn 3D on or off, turning it off makes it slightly brighter. The power button is on the main part of the system, meaning if its closed in your pocket you cant accidentally turn it on. The stylus is extendable, and comes out of the top of the unit rather than the side. There are a few built in things like face raiders, the camera, sounds and more. The built in browser is currently not available but will come in time. 
Is it really 3D?
Yes! It really is 3D. When you set it up it tests the 3D, and it shows the Nintendo logo, when I first saw it I said "wooh" because it really does "come out" at you. The effects of the 3D vary with game to game, I have found that out of the games I have Pilot Wings and Rayman 3D have the most "noticeable" 3D effects.
How good are the cameras?
I have only used them a little bit, in not great light conditions, and I have to say they seem very poor. Its not a complete failure for the 3DS because of this, it certainly isnt a deal breaker. It could just be because I am used to hi-res images like many these days.
Should you get one and the future of the 3DS
Should you run out and buy one now? If you want one 🙂 The facts are its a great little gadget, its fun to use, it is a step up from the DS's of old and if you have a previous DS you can play the games on it. However just like the Wii was when it was released, this is just the start. There arent too many games available yet, although like I said you can use original DS games on it. Its still an on-going "Work in progress", which most consoles are these days, and the 3DS will have more in the future such as more games, a browser, "arcade machine" to download retro games and much more.
If you want something to keep you occupied on the plane, you travel lots of just want a cool gadget/gaming device I would recommend this with 1 or 2 3DS games, and get the DS games Mario Kart (3D Mario kart is coming later-TBA) and Super Mario Bros.
Thanks For Reading...Want More? 🙌
Hi, I'm Michael 👋 I'd love you to subscribe to my newsletter for exclusive content & updates on my blog straight to your inbox. (No spam, I promise!)