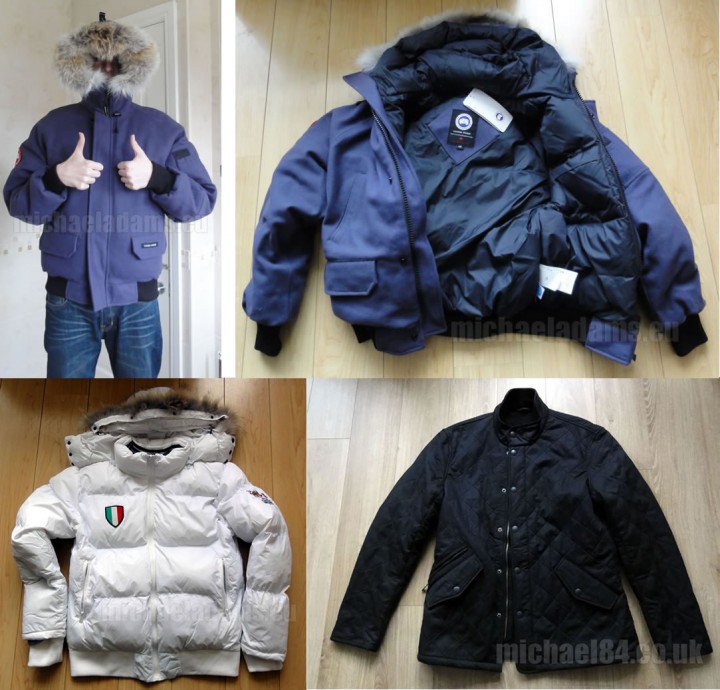 Winter is here, and even though I hate the cold and the dark nights, the good thing about the winter is you can get out your favourite warm jumper and really mix up your look with layers and combinations of knits, scarves, jackets, shirts and more. One thing you will need this winter is a coat. We have already had a few really cold ones, and as the days go by it's only going to get colder.
My little collection of winter wear is above. I got a Barbour last year, and the year before that I got a down filled Adrian Hammond coat in white which is warm and waterproof, a really nice jacket. It's warm, but it would not do the harshest of weather well, but lucky for me I got a Canada Goose too 🙂
I always talk about it being one of the best things I have bought, and I really think it is. It's toasty warm, and the quality of the jacket is obvious once you are wearing it. I would recommend anyone who needs a jacket to give these a look, however at upwards of £500 they are very expensive.
Fear not, here are a small collection of jackets which I have found online for this winter season.
If you are looking for a smart, understated jacket then a quilted jacket may suit you well. I have my Barbour which I think is great, and I have worn it for day to day as well as a smart but warm jacket for a night out. Barbour are probably the most notable of the brands which do these styles of jackets, but others including Armani and Reiss as well as a lot of other brands do them.
These are best used if you are going to be out in the cold for short periods of time. If you are doing a really long walk to or from work in the freezing cold they may not be enough, and you may need something a bit more rugged…
These Parkas button all the way to the top and feature faux fur hoods. They are very rugged and most offer lots of pockets and many are double fastened with zips and buttons. One of the bigger names in this style of jacket is The North Face, who do jackets for various prices, but can go up to around the £300 mark. The other premium brands above are Ralph Lauren and Ted Baker.
There are of course other styles available. At the moment I am also really liking a duffle, and there are padded "puffa" jackets which are nice this season.
The first jacket is a double breasted wool jacket from Mango. This will be a warm jacket but bear in mind that this is wool, so will not be as good in the rain as a polyester type. The navy padded jacket is also from Mango, with the last jacket being a really nice duffle from Ted Baker. It's a very luxurious jacket and it's simple style is contemporary and understated.
Thanks For Reading...Want More? 🙌
Hi, I'm Michael 👋 I'd love you to subscribe to my newsletter for exclusive content & updates on my blog straight to your inbox. (No spam, I promise!)