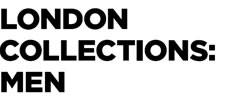 It's that time of the year again, it's London Collections MEN. With a return of the global brands such as Alexander McQueen, Burburry Prorsum, Margaret Howell, Moschino, Paul Smith, Tom Ford and TOPMAN. These are joined by new additions this season including Alex Mattsson, Aquascutum Men's, Barbour, Coach, Kilgour, MR PORTER presents Kingsman, Nigel Cabourn, Private White V.C., Several, Soulland, Todd Lynn and Universal Works.
Returning to the schedule after a break are Belstaff, CP Company, Manolo Blahnik, Savile Row, St James's & Woolmark and Thomas Pink. Presenting as catwalk shows for the first time are Dunhill, Hardy Amies, Maharishi and Pringle of Scotland.
You can see a selection of the shows below, right here on Michael 84. Check it out below, as well as the full schedule for this seasons LCM 2015.
Maharishi AW 15 at LCM
YMC AW 15 at LCM
Matthew Miller AW15 at London Collections Men
LCM AW15 Schedule
Friday, 9th January

12.30
TOPMAN Design
TOPMAN Show Space: The Old Sorting Office
13.00
London Collections: Men Opening Event
Designer Showrooms: The Hospital Club
14.00
International Woolmark Prize Menswear Final
Somerset House, WC2
15.00
MAN
TOPMAN Show Space: The Old Sorting Office
15.30
Kit Neale*
BFC Show Space: Victoria House
16.00 – 17.30
Coach
See invitation
16.30 – 18.00
Alex Mullins*
BFC Presentation Space: Victoria House
16.30 – 18.30
Universal Works
See invitation
17.00 – 19.00
Private White V.C.
See invitation
17.30 – 19.30
Aquascutum
See invitation
18.00
Christopher Shannon
TOPMAN Show Space: The Old Sorting Office
18.30 – 20.30
Barbour
See invitation
19.00 – 20.00
Todd Lynn
BFC Presentation Space: Victoria House
Saturday, 10th January

09.00
Lee Roach*
BFC Show Space: The Old Sorting Office
10.00
Lou Dalton
BFC Show Space: Victoria House
10.30 – 14.30
Several
See invitation
11.00
Maharishi
BFC Show Space: The Old Sorting Office
11.30 – 13.30
Nigel Cabourn
See invitation
12.00
Astrid Andersen*
BFC Show Space: Victoria House
12.30
Shaun Samson hosted by Fashion East
See invitation
12.30 – 14.00
Fashion East Men's Presentations
See invitation
12.30 – 14.30
Ede & Ravenscroft
See invitation
13.00
YMC
BFC Show Space: The Old Sorting Office
13.30 – 15.30
Hentsch Man
See invitation
14.00
Agi & Sam*
BFC Show Space: Victoria House
14.30 – 16.30
Soulland
See invitation
15.00
Hardy Amies
See invitation
16.00
Oliver Spencer
BFC Show Space: The Old Sorting Office
16.30 – 18.30
John Lobb
See invitation
17.00
Matthew Miller
BFC Show Space: Victoria House
18.00
Christopher Raeburn
BFC Show Space: The Old Sorting Office
18.30 – 20.30
Thomas Pink
See invitation
19.00
Sibling
BFC Show Space: Victoria House
Sunday, 11th January

9.15 – 11.00
Baartmans and Siegel
BFC Presentation Space: Victoria House
10.00
J.W. Anderson
WC1
10.30 – 12.30
huntergather
W1
11.00
Margaret Howell
W1
11.30 – 13.30
Joseph
See invitation
12.00
James Long
BFC Show Space: The Old Sorting Office
12.30 – 14.30
Turnbull & Asser
W1
13.00
Richard James
W1
13.30 – 15.00
Alex Mattsson
BFC Presentation Space: Victoria House
14.00
Moschino
See invitation
14.30 – 16.30
Kilgour
See invitation
15.00
Pringle of Scotland
See invitation
15.30 – 17.30
Duchamp
See invitation
16.00
Alexander McQueen
See invitation
16.30 – 18.30
Belstaff
W1
17.00
KTZ
BFC Show Space: The Old Sorting Office
17.30 – 19.00
CMMN SWDN*
BFC Presentation Space: Victoria House
18.00
dunhill
See invitation
18.00 – 20.00
Mr Porter presents Kingsman
See invitation
18.30 – 20.30
Gieves & Hawkes
See invitation
19.00
Casely-Hayford
BFC Show Space: The Old Sorting Office
Monday, 12th January

09.00
SANKUANZ presented by GQ CHINA
BFC Show Space: Victoria House
09.30 – 11.30
Manolo Blahnik
See invitation
10.00
E.Tautz
BFC Show Space: The Old Sorting Office
10.00 – 12.00
Paul Smith
See invitation
10.00 – 17.00
Tom Ford
By Private Appointment
11.00
Craig Green*
BFC Show Space: Victoria House
11.30 – 13.30
John Smedley
See invitation
11.45
Katie Eary
BFC Show Space: Victoria House
12.30 – 16.30
Louis Leeman Paris
See invitation
13.00
Burberry Prorsum
See invitation
14.00
Xander Zhou
BFC Show Space: The Old Sorting Office
15.00 – 17.00
Chester Barrie
WC2
16.00
Tiger of Sweden
See invitation
16.30 – 18.30
CP Company
See invitation
17.00
Nasir Mazhar*
BFC Show Space, Victoria House
17.30 – 19.30
Savile Row, St James's & Woolmark
See invitation
KEY:
Bold – Catwalk Show
Light – Static Presentation
*NEWGEN MEN sponsored by TOPMAN
Thanks For Reading...Want More? 🙌
Hi, I'm Michael 👋 I'd love you to subscribe to my newsletter for exclusive content & updates on my blog straight to your inbox. (No spam, I promise!)