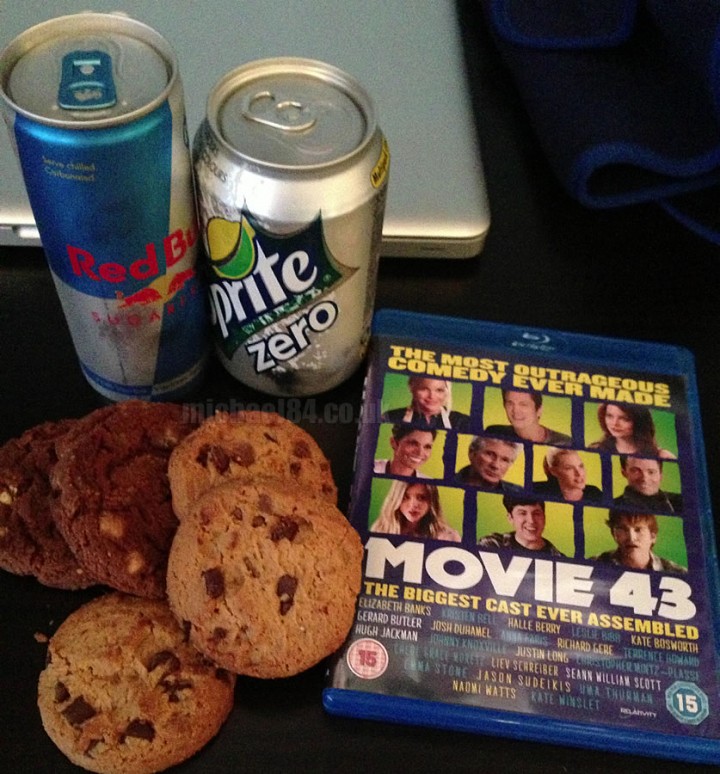 So last night was film night, I got Parker and Movie 43 the other day, so I decided I would watch Movie 43. It was not really what I expected 😛
It's supposed to be a comedy, and I thought it was going to be really good, and it was OK, but not what I expected. The main storyline is about some old-teen trying to get his own back on his younger brother by stealing his laptop and putting a virus on. He distracts him by telling him to help him find a banned movie on the Internet from his computer, all he knows about it is that it's called Movie 43.
From then on he searches for movies, and each time is a small sub-film within this film, all comedy type scenes with various Hollywood stars like Richard Gere, Stephen Merchant, Halle Berry, Josh Duhmal, Kristen Bell, Elizabeth Banks and a whole load more.
It's a sort of spoof, "gross out comedy" as Americans may call it, I did not think it was very good…It did have a couple of laughs, but in terms of scale I would say it's a tad better than Hot Tub Time Machine, the worst film I have ever bought on Blu ray.
It was not worth the £15, If you don't like spoof types of films I'd give this one a miss.
Thanks For Reading...Want More? 🙌
Hi, I'm Michael 👋 I'd love you to subscribe to my newsletter for exclusive content & updates on my blog straight to your inbox. (No spam, I promise!)