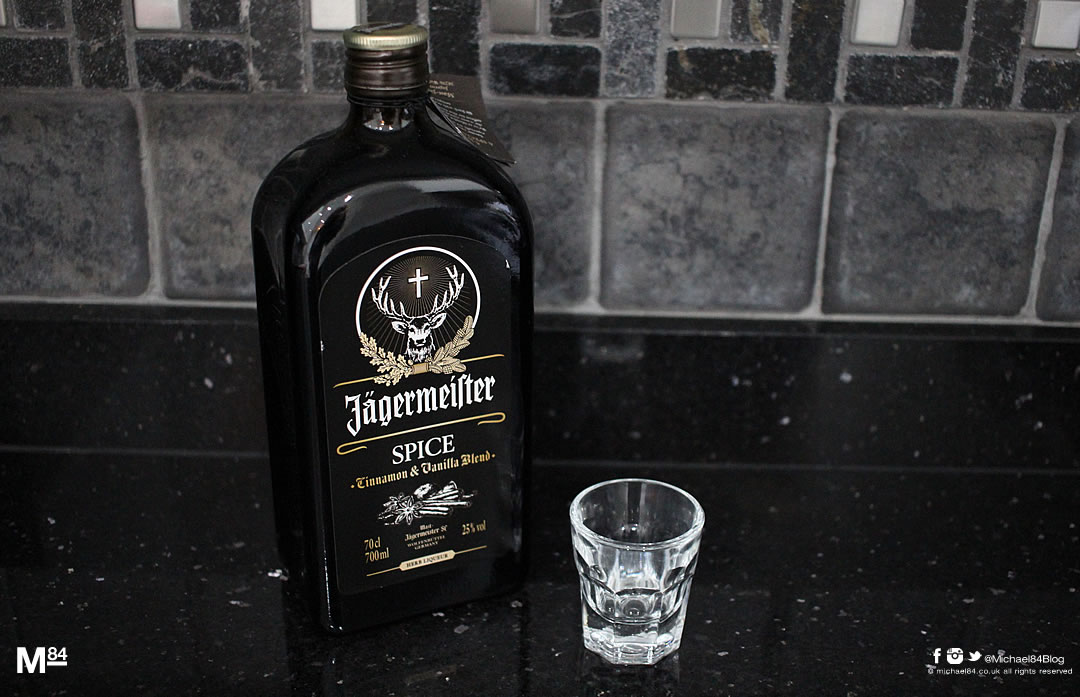 Who does not love a Jäger?! 😛 I love a Jägermeister, and have drank it for so many years. It seems to be one of those drinks that you can do with all your friends, either at home or out in a bar or club. It used to be all about Jäger shots, then around 7 or 8 years ago Jäger-bombs really started to take off, which is Jägermeister in a shot glass, which is placed into a larger tumbler glass which you half fill with Red Bull (I'm sure you already know this! 😉 ).
It's not all about just a shot though, and for the Christmas season Jägermeister has a brand new remix of their classic spirit, which is called Jägermeister Spice. It's got a festive twist, with enhanced notes of cinnamon and vanilla, making this the first variation in the history of Jägermeister.
You can serve this with your friends in a traditional way as you would as an ice cold shot, 'spice over ice', or if you prefer a cocktail or using a mixer, there's a couple of good drinks you can make.
If you don't have a lot of ingredients or mixers than a simple Jäger Spice & Coke aka Black Spice will work well. Pour out a 25ml (or 50ml if you prefer a double) shot of Jägermeister Spice over ice in a tumbler glass, top up with Coke and Garnish with a wedge of lemon or lime.
Hunter's Tea is the perfect Winter warmer. 50ml Jägermeister Spice, 25ml fresh lime juice, 12.5ml maple syrup, 25ml traditional English black tea, topped with 75ml fresh orange juice. Mix it all up and gently warm, serving with slices of orange and lemon.
If you like Jägermeister you can give this a try for Christmas, grab yourself a bottle from £18.
Thanks For Reading...Want More? 🙌
Hi, I'm Michael 👋 I'd love you to subscribe to my newsletter for exclusive content & updates on my blog straight to your inbox. (No spam, I promise!)