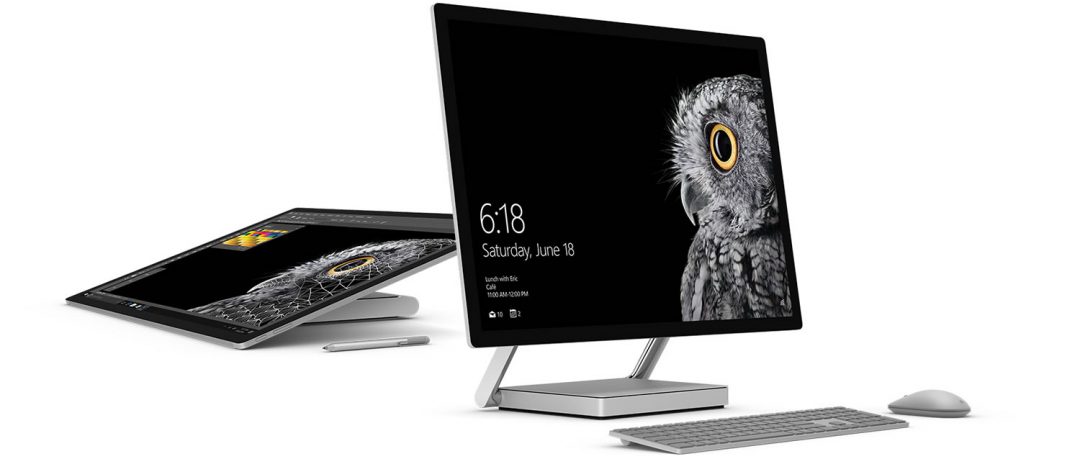 Today was the Microsoft event, and a few things were introduced, including a newer, more powerful Surface Book, but the story which everyone is talking about is another great brand new design from Microsoft, the Surface Studio.
Just look at it! Forget about what it can do, why you'd need it or the specs for a moment, and look at it! It looks beautiful, possibly one of the best designs of a computer for a very long time. The design is thin and sleek, minimal, modern and minimal. For a brand new machine, it looks like a brand new design, which is important these days.
First of all we have to talk about who it's designed for; This is a computer which is aimed at the creatives, and not the general consumer market; That's quite an important point and you'll see why later.
So what is it. Well it's a touchscreen PC, but this is not one of those old fashioned, under-powered all-in-ones which came around several years back. Other than the design, this is a real powerhouse from Microsoft. First off, it has a 28″ Pixelsense display, this is the same kind of display found on the Surface Pro and Surface Book which creatives adore and is widely regarded as one of the best screens for pen input out there. This one of course is bigger, and comes with a 4500×3000 resolution, and is perfect to use as a canvas.
Writing on an upright screen is probably not the best, and that's where the party piece of the Surface Studio comes into play. It has a special Zero Gravity hinge which allows you to lie it at an angle, perfect for drawing or writing.
In terms of spec, it comes with either an i5 or i7 CPU, 1 or 2TB Hybrid HDD, 8, 16 or 32GB RAM, Dedicated NVIDIA GeForce GTX 965m 2GB or 980m 4GB graphics; Expansion comes in the way of 4x USB 3.0 ports, SD Card Reader, Mini DisplayPort and 3.5mm headphone jack.
Another device to compliment this is the brand new Surface Dial. It can be used as a stand alone to control things, or place it on the screen and it can do more. All of this can be explained better in the video below:
The Surface Studio will start shipping in 2017, and comes in at a starting price of $2999, around £2499. This is a lot of money for a home machine, but remember that this is actually designed for creatives and studio types (hence the name) and not the home, although there'll be quite a few people wanting this.
Has Microsoft just changed the game?
Let me know what you think of this, I personally think it's brilliant!
Thanks For Reading...Want More? 🙌
Hi, I'm Michael 👋 I'd love you to subscribe to my newsletter for exclusive content & updates on my blog straight to your inbox. (No spam, I promise!)